Yesterday, over cocktails in mason jars and good old greasy grub, we celebrated the start of a new beginning for two friends; whom recently having graduated are flying in two different directions. It makes me happy and nostalgic to think that it has been 5 years since I've known these people (first year of Cegep). At first, we were merely classmates that exchanged glances or passed papers around in class and now they have become friends. One of them is going into optometry in Florida and the other is going to become an English teacher in South Korea for a whole school year!
For this special occasion we went to celebrate at a new pub that recently opened in Quartier Dix30:
Le Mile Public House
. Monkey's parents run a business in Dix30 and whenever they pass by this place, it is always filled with people and energy!
WARNING: food porn below, scroll down at your own discretion!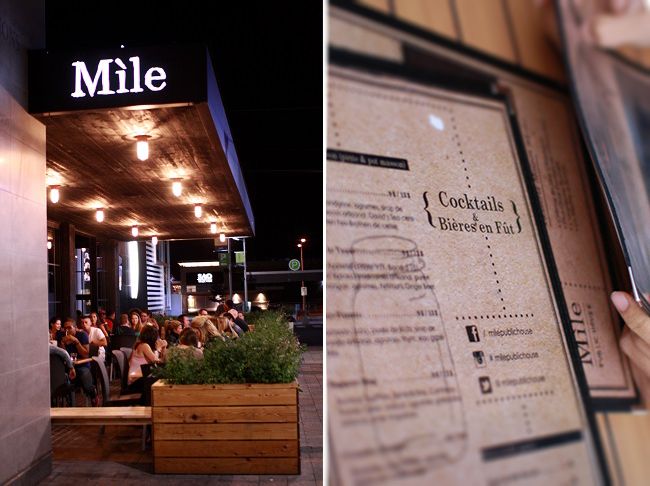 This place is a fusion of old school rusty barn/farmland chic with contemporary liveliness of the city. We had to line up for 25 minutes as they do not accept reservations (unless you're a big number of people). Even when we walked out at 9:30pm, the line was long!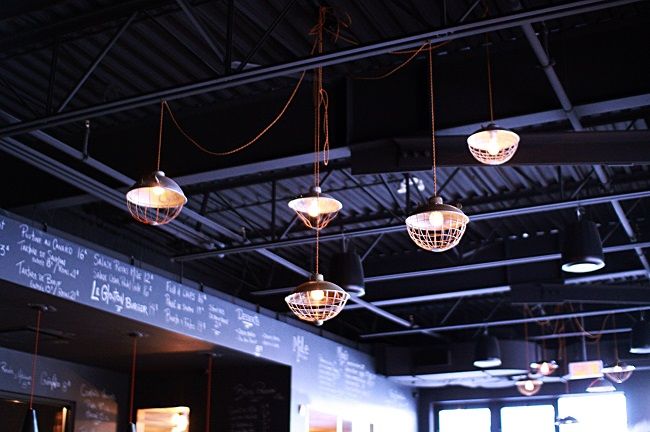 A lot of the reviews online complained about the food and it's true that it is nothing spectacular but it's definitely not as bad as some of the reviews claim. The service was a bit slow but they were friendly (gotta admit the place was PAAACKED).


Well-known for their cocktails in huge mason jars! Andy's drink on the left that gave us mixed feelings: we didn't know if we liked it or not, there was an awkward after taste lingering. Monkey got the red drink, it had a long spanish name that I cannot remember. It was actually pretty tasty!


I wasn't kidding about the giant mason jars!

Thank goodness it's the weekend! The week felt extremely long, there are so many problems at work with no solutions because everyone is so stubborn and unwilling to cooperate! I'm so mentally tired ~____~


Pretty Vy : )


Andy recently dyed his hair blond, then he decided to torture his hair even more by dye-ing it ash grey a few days later! This guy never leaves his hair alone, it has been all the shades of a rainbow!
If you're reading this Andy, I'm expecting blue or green hair once you come back from Korea!


Andy's duck poutine! It was pretty good and a huge portion at that! I feel like I have too many pictures of poutines on my blog now XP


Monkey and I both got a gourmand burger; it comes with the usual burger ingredients except that there's also an onion ring and deep fried pickle!


I'm not a big fan of burgers but this one I loved! The sundried tomatoes was the glue to this perfect burger recipe : 3


Vy and I jokingly agree that we love going to eat with our boyfriends because that means we get 2 for 1! We get to "taste" 2 different dishes >: ]


Wings even a man cannot finish! X-P *I'm looking at you Zhihao! You can be ashamed haha*


BLASPHEMY! THERE ARE LEFT OVERS? Actually, only the fries were left over. We forced ourselves to stuff the other food (the more expensive food) down our throats.
Recently, my phone died unexpectedly for a couple of days. When I went to get it replaced with an iphone, we find out that it is the charger that is broken : X So in the end, I didn't get a new phone *firstworldproblems*
I can't imagine the day I get an iphone, I'd be simultaneously holding my DSLR and phone trying to get a good shot before allowing Monkey to eat, he'd die X-P. For now, I will just steal the iphones of my friends and take ridiculous pictures while they're not looking ;D ;D ;D
We got the best seat in the place! It was out on the terasse (the whole reason we wanted to eat there) with a big table and benches (for the ladies) and much more leg space than all the other people kekeke!

Monkey was sweet and treated me to the pricey food because he knows that I foolishly mismanaged my money again ;___; THANK YOU FATTY!