July 5th is officially declared Panda + Sangria day in my honor *D*

by myself

HUEHUEHUE!
Yesterday was my 22nd birthday and although I didn't plan to do anything special, it turned out to be a special night!
I had work in the morning and I just wanted to get my lash extensions done in the afternoon with Lily. I was thinking of going home after the lashes (because I'm broke) but Lily asked me to help her take a professional headshot of her friend Nicole. I love taking pictures so I tagged along.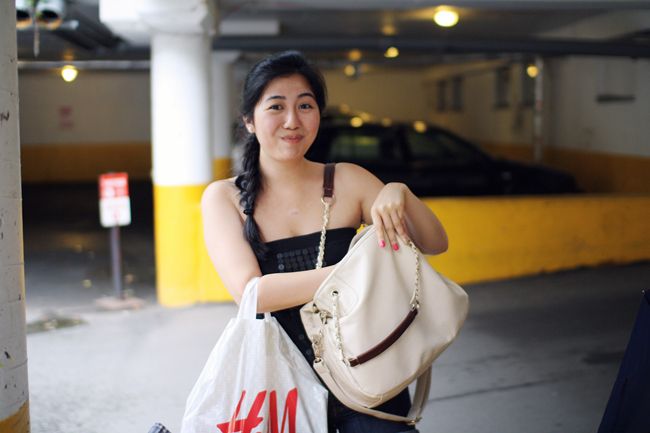 The day was super hot but as soon as we stepped out to go eat at Jardin Nelson, it started pouring rain TT___TT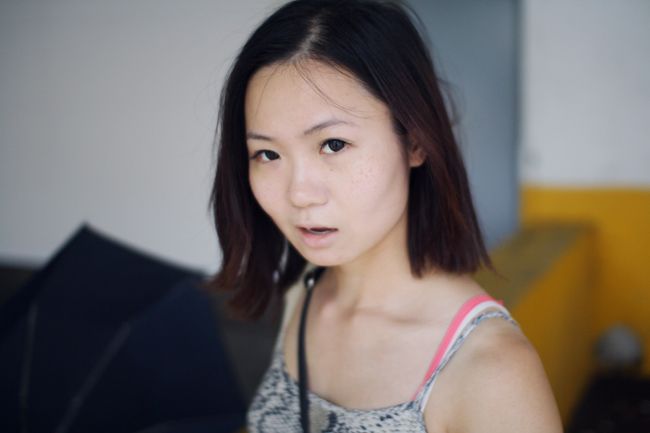 Lily's not too pleased that we have to change our plans : P Jardin Nelson has a great reputation for their terrasse, I'm planning on eating there once I have a real job so I can feel like those cooler older work people who go grab some happy hour cocktails on a terrasse hihihihi!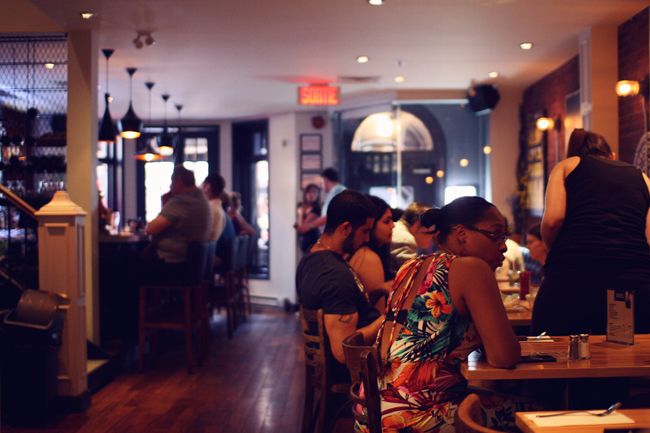 We ended up going to Burger Bar on Crescent street. I've wanted to try this place during the winter but I forgot about it. There are just so many foodie places to explore in Montreal that it can get overwhelming! Since I am broke 364 days outta 365, I usually go to "more expensive places" when I have a coupon from those discount sites! What would our lives be like without those awesome discount sites?!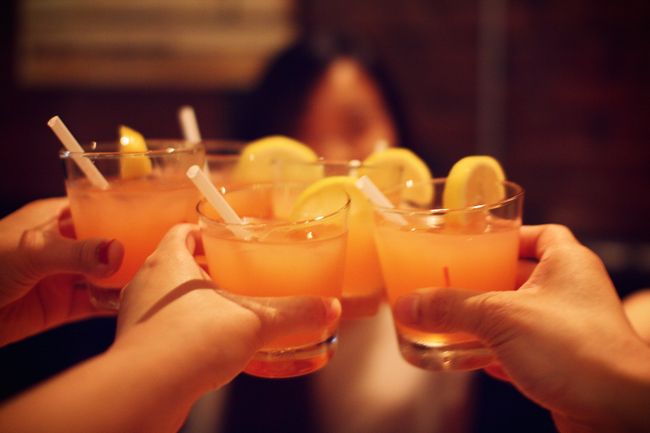 A round of sangria with white wine! I got to pick the drinks since it was panda day. Hence the name panda and sangria day because I just luuuuuurrrrrrbbb sangria! It's the only drink I can probably drink nonstop till I pass out. The whole time, the girls made me feel really special by exclaiming that it was my birthday. Erica told a funny story about how Nicole makes a really big deal outta birthdays and birthday cakes. Everyone must have a birthday cake on their birthday so when Erica didn't have a cake, Nicole got her a cake a month later.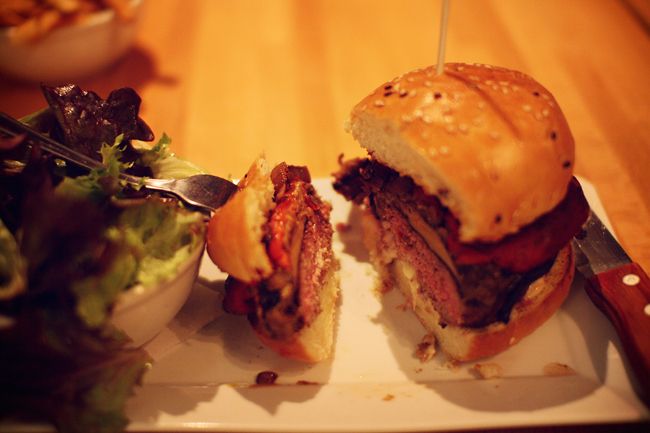 Finally the grubbbb! I got the baba burger which was loaded with condiments such as: grilled red pepper, red onion, zucchini, roasted portabello, babaghanoush, garlic mayonnaise. I still have no idea what the babaghanoush is... I like the first few bites of a burger but then it gets too greasy. I think the burger I liked the most in my life was probably the McDonald's happy meal burgers : P Yeshhh shameeee on me!
Nicole, Soo and Lily all got the hangover burger (prize-winner). It was filled with fried egg, American yellow
cheese, tomato, smokey bacon, lettuce, Dijon mayonnaise and poutine aka cholesterol over saturated fats over refined carbs over heart attack in a bun!
Soo's burger in particular was HUMOOOONGOUS!
Nicole is describing the burger's monstrous size! Look at her determined face! She's calculating how she will be able to fit that burger in her mouth!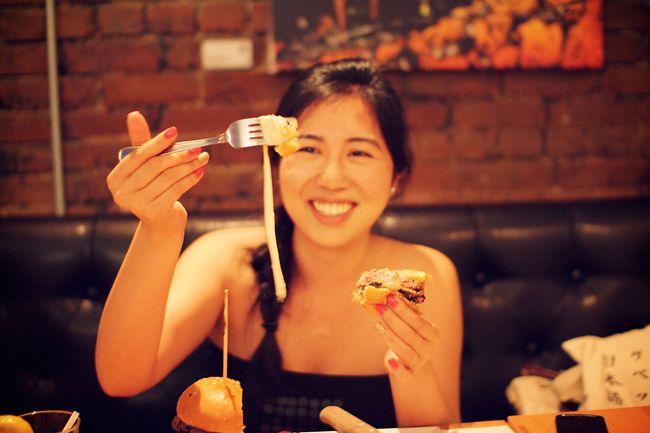 Dangling poutine cheese : ) It's not Montreal if there's no poutine!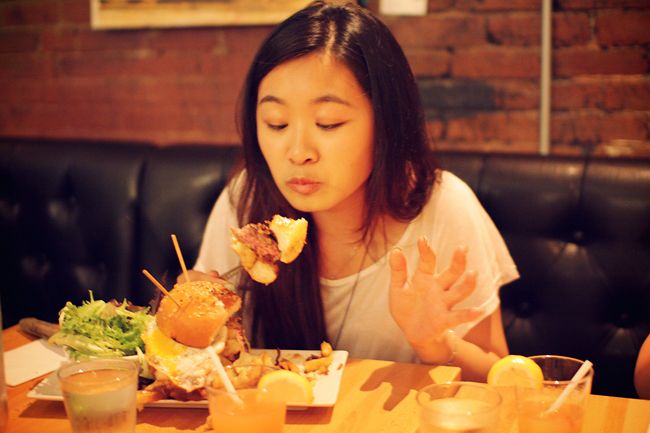 Nicole's relationship with burgers in a picture!
Lily looking at us because we're amateurs that couldn't finish our burgers.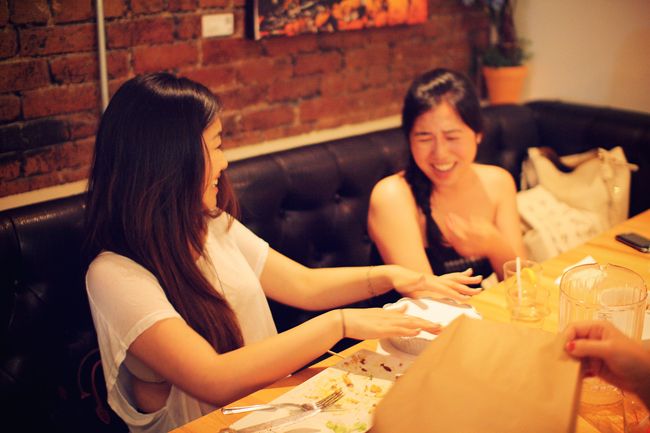 Nicole is leaving us because she's done with her undergrad at McGill. I'm sad that we didn't get to formally meet before because she's really cool!
Soo has beautiful long hair and long natural lashes!
YAY NEW FRIENDS AND OLD FRIENDS =]
It was a beautiful night out on the town; Montreal was buzzing with energy. The jazz festival was going on and fireworks were exploding in the sky! It was a memorable night and I'm so glad I ended up tagging along with Lily and meeting new friends!
On the other hand, today, I learned how to batch resize pictures on photoshop and now I feel my world has been flipped! It saved me so much time while I was editing these pictures, I don't even know why I didn't learn it earlier -screams-