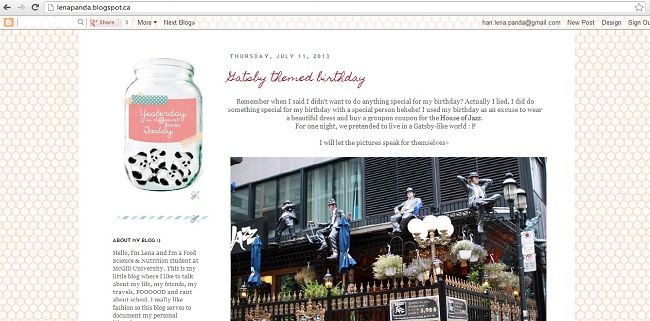 My blog has a new layout courtesy to
Miss Adri
, graphic designer extraordinaire!
It's been some time since I wanted to change the layout because I felt that my blog has evolved since the beginning. It started out as a fashion blog with mostly posts of my outfit of the day and gradually it changed to a more personal/lifestyle blog where I take my readers on a mini tour of my city : ) Now, I want to showcase my photography. This new layout is much cleaner and will allow my images to speak louder than the pink fluff stuff.
Look at that serious face, she's not playing! Watching Adrienne at work is so amusing : D Since she is incredibly detail-oriented, she has no mercy for outta place pixels! I love the new BLUE*favcolor* banner and I'm still hesitating whether I should add a background or not hmm... Any suggestions? : 3
It's already mid-July which means that I am almost done my internship! Prepare for some blogsplosion where I explore some fun places in Montreal : )
On a random note: My boss is watching Beyoncé at work : - p I am so excited for the Beyoncé concert on July 22nd! BWUAAAA!