How often do girls stare at their overflowing wardrobes and let out a discouraged: "I don't have anything to wearrrrr" sigh?
Sometimes dressing up in the morning can be more energy draining than an hour of mental math! That shirt + those pants = nahhh, (that jacket + that skirt - those boots) x that bag = hmm could work... At the end of it, I just throw on whatever is the most comfortable and crawl to school.
I've been wanting to do this challenge ever since I read about it last year on one of my favourite blogs: Sam is Home. Basically for an entire month, you can only wear 15 pieces of clothing of your wardrobe, mixed and matched into different outfits. Accessories, underwear/socks, work uniform, pyjamas are allowed and shopping is strictly prohibited. According to Sam: "The goal is to create a better understanding of our own personal style while creating a culture that doesn't rely on buying recklessly and disposing quickly."
This challenge will also encourage us to be more creative with the things that we already have instead of wanting more.
Why am I doing this challenge a midst finals period? Because having less clothes means less clutter and less "options" which can save you more time while getting ready in the morning. I'd love to have more time to study ;D KEKE!
Left photo: cardigan from Topshop, black top from G-market
Middle photo: cardigan from G-market, jeans and top from Zara, scarf from Japan
Right photo: cardigan, top and scarf from Japan, jeans from Zipia
I picked the most versatile and comfortable clothes out of my wardrobe for this challenge. These looks are all very simple and reflect my day-to-day university student attire.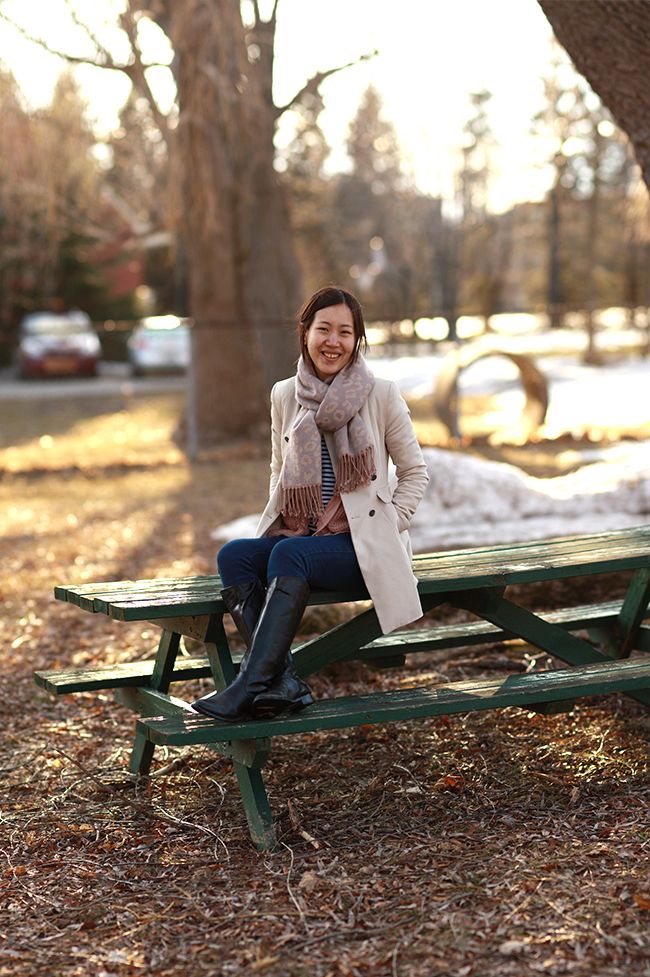 This is the first outfit of 15/30 project: very simple (oh how I wish my dressing routine could be simple too). I asked Monkey to take a picture using the Brenizer method that I raved about earlier. Other than my awkz modelling, the picture is really nice eh?
I'm not quite sure how often I'll be updating seeing as it is finals time soon but I will try my best to compile a big big big collage of all the non-repetitive looks at the end of this month!
I hope some of you will also try out this challenge. Think twice before you complain that you've got nothing to wear, most of the time what we really need, we already have :-)
Lastly, some food for thought: "It's easy to feel like you've got nothing to wear, but it's also a signal of identity problems. If you've got a well-developed sense of identity, you tend to know what's you no matter what the trends. Nothing I buy ever looks new, because I have my look down, and it's classic." Anjelica Huston (Harper's Bazaar, September 2006)