Having worked at Tim Hortons for 2 years in the past, I swore to myself that I'd never touch a donut again (that sugar glaze is way too sweet)! Because my shift was at 6am, I'd go to work on an empty stomach and survive on donuts/timbits until lunch time. The sugar rush kept me running throughout my shift! So now, I negatively associate donuts with Tim Hortons (oh how I hated working there TT~TT).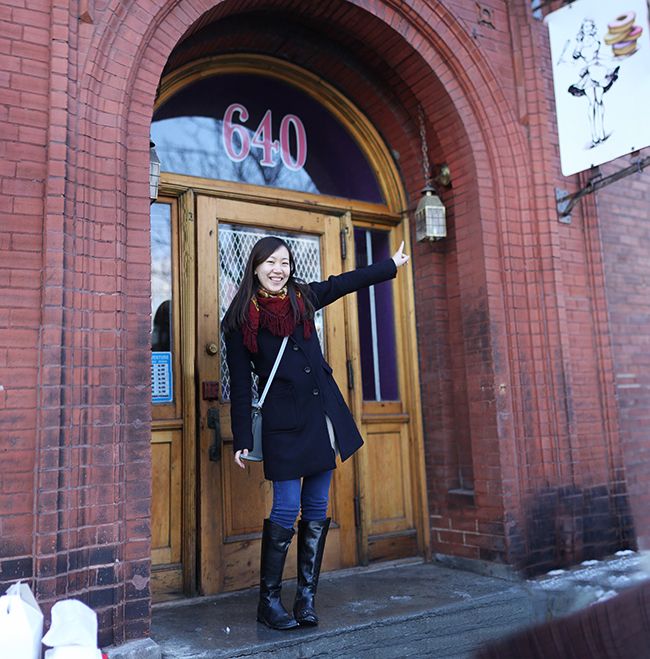 I decided to give donuts another chance when Lily showed me some pictures of Leche Dessert's handmade-on-the-spot-fresh-from-the-oven donuts.

My verdict: I LOVE IT! I might even like it more than the donuts I had in Japan!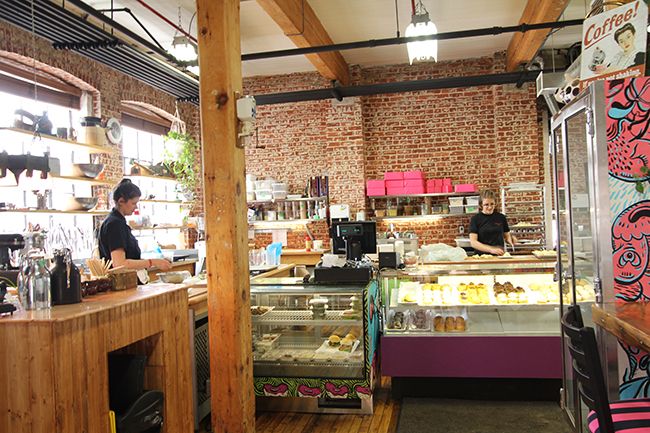 Monday to Friday 9am to 6pm
Leche doesn't only have donuts but a variety of food products from sandwiches to soups and coffees. Lily got a latte and it was creamy and light, just the way I like my foods! I loved the shop's spaciousness and industrial and vibrant atmosphere. Since it's a bit out of the way, it wasn't packed but people still came in and out for these delicious treats~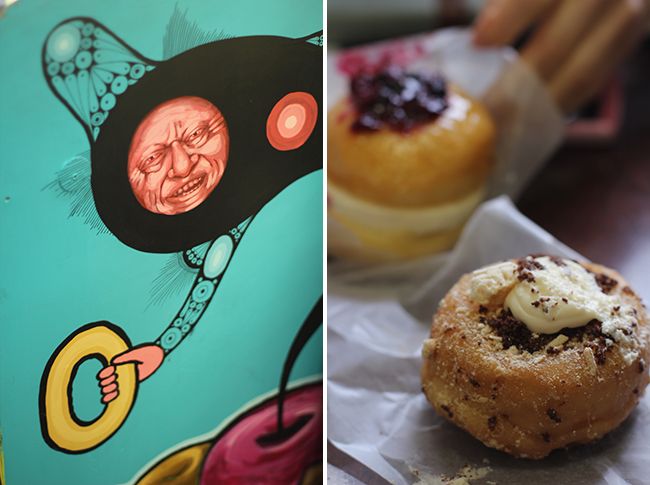 The donuts were 2.50$ each or 13$ for a box of 6. They have all kinds of flavors: white/milk chocolate mousse, cinnamon sugar, lime coconut, PB&J, lemon meringue, apple crumble, pecan caramel and more! Lily got a fruity cheesecake donut that had a layer of cream cheese in between and I got a Bailey's donut : D Both were moist, soft and flavorful, the bailey's one had a bit too much sugar glaze for my liking but I still enjoyed it very much!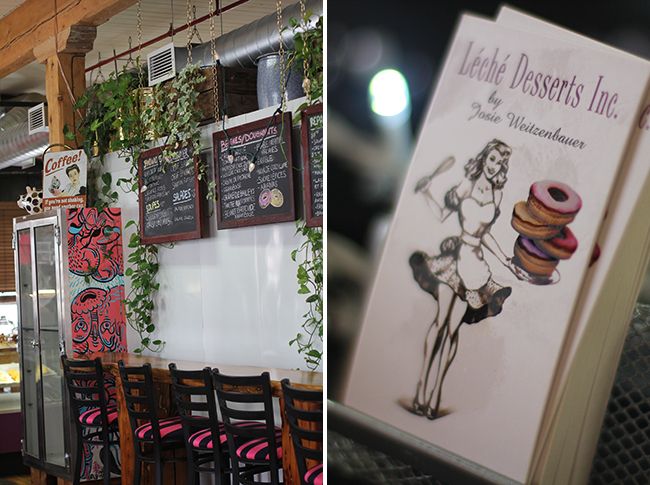 I love their logo, somehow I love drawings of pin-up girls : - D So unique, just like everything else about this place!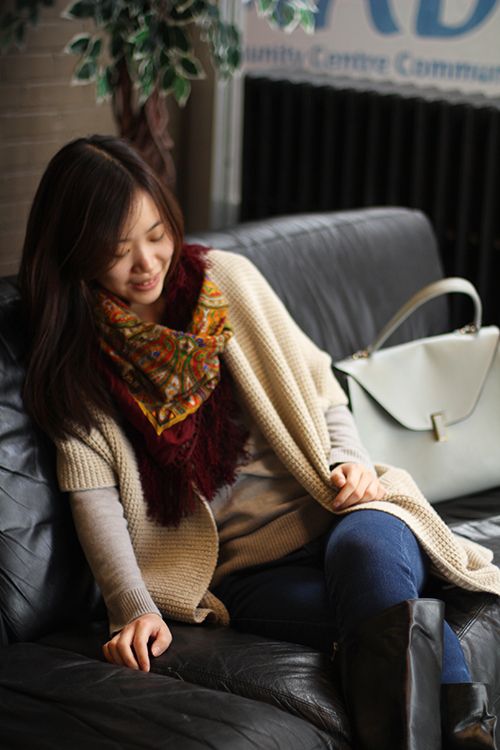 Cozy sweater for cozy days. Lily, Niv and I went to watch Safe Haven so I wanted to dress comfortably. I tend to get motion sickness so I rarely watch movies at the movie theatre :-I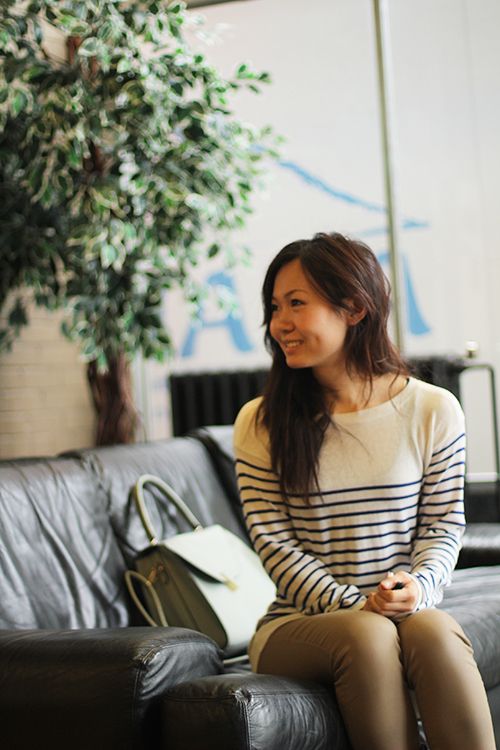 See what Lily is wearing on her blog!
We hung around the dining area and the lobby, chatting, studying and taking some pictures : ] That's my favourite way to spend a casual day!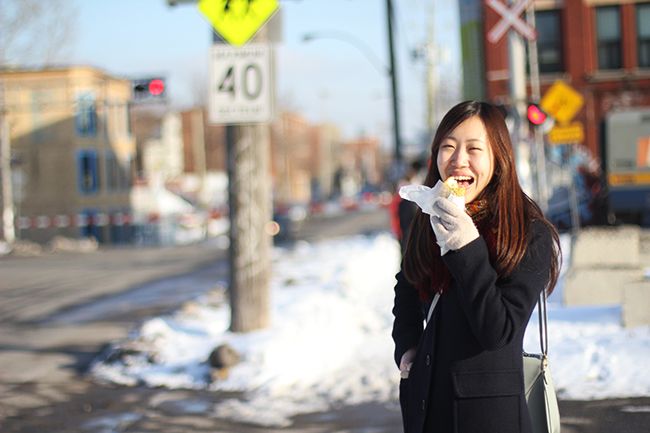 Before heading out, I got a fresh pistachio with vanilla custard donut and it was SOOOO YUMMY! The custard wasn't too sweet and the donut wasn't soaked in glazing. The top was gently sprinkled with some sweetened pistachios and the vanilla custard oozed out of the donut when I bit into it :3 I should've gotten a box of 6! I'm already planning to go back very soon : Q *drooling* !

Today is daylight savings time and you know what that means: spring is just around the corner! I'm so excited for the good weather and plenty of sunshine (after the rain)! My rainboots are ready to tackle the spring showers!
Edit:// My housemate went to Leche after I raved to her about the donuts and apparently they don't make the cheesecake and pistachio ones every day! The cashier jokingly said that it's to make customers come back :-P We went on a Tuesday so if anyone is curious!