You know it's exam time when your face slowly turns into a pepperoni pizza and you're so behind on your endless lectures that you would do anything to be book-smarter! Last Friday, I dressed up like a library girl in hopes of motivating myself to study at the library *yep I'm that desperate*. Did it work? Not at all TT___TT Lily and I got hungry so we went to Le Cagibi (Lily's suggestion) for some food and the rest is history.
Scarf: Lowry's Farm (Japan)
Knit: Zara from last year
The weather was finally "warm enough" to wear the Muji coat I got in Japan. I realized that I don't have a lot of interview friendly clothes and with internship interviews coming up, I invested in a classic simple navy coat : ]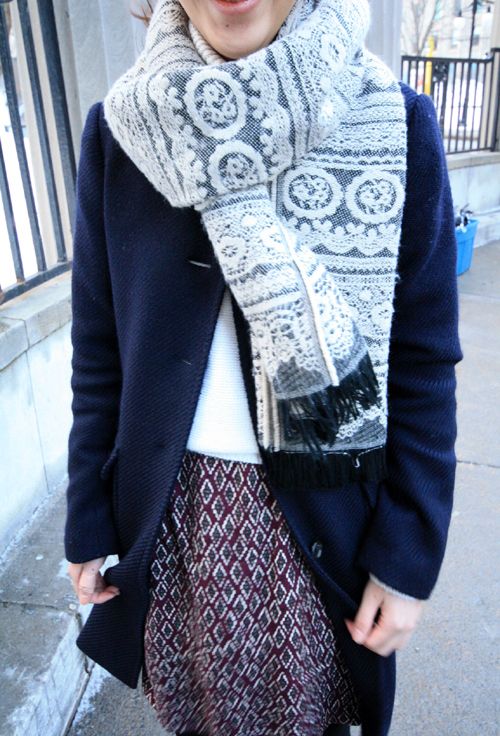 I got this dress from Zara last week, I love the Aztec pattern! My housemate Diane says it's totally grandma-esque but I still like it. I wore the dress with my white knit turtleneck that I folded the sweater over the dress's waist tie so it looks like a cropped turtleneck shirt. There's nothing worse than whacky body proportions! I attempted print-on-print by pairing the simple look with my lace-printed scarf.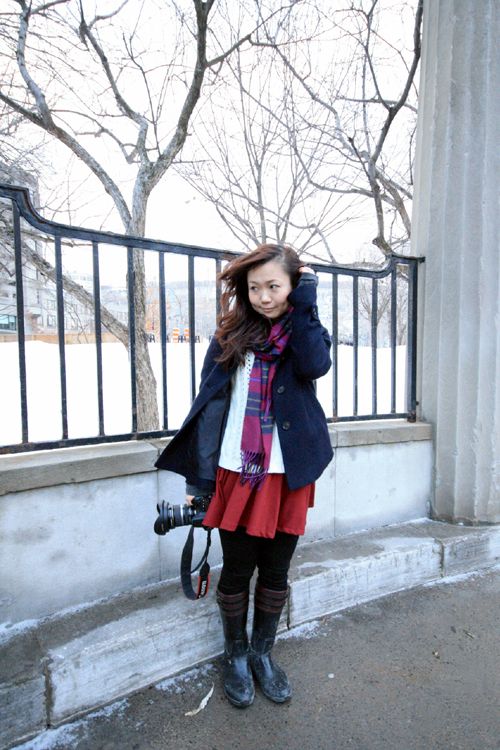 Lily got the cropped version of the Muji coat and we accidentally matched, TWINSIES FOR THE DAY!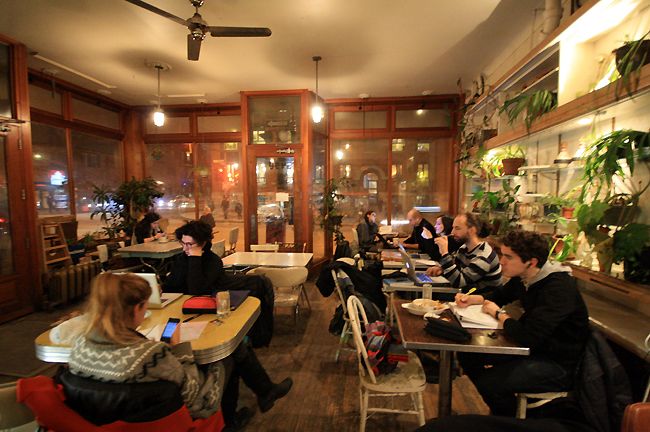 Le Cagibi, 5490 St Laurent Blvd, Montreal, QC H2T 1A5
I can't believe that I never came to this place! It's such a gem in the Mile End! Not only do they serve breakfast to supper to midnight snack, they also have alcohol and a backroom with local bands playing regularly! They also blast a variety of cool music from Cyndi Lauper to Kanye West to indie stuff that I cannot identify. I wanted to bob my head left and right to all the cool beats but I refrained myself from looking too retarded and disrupting the cool mood >D<!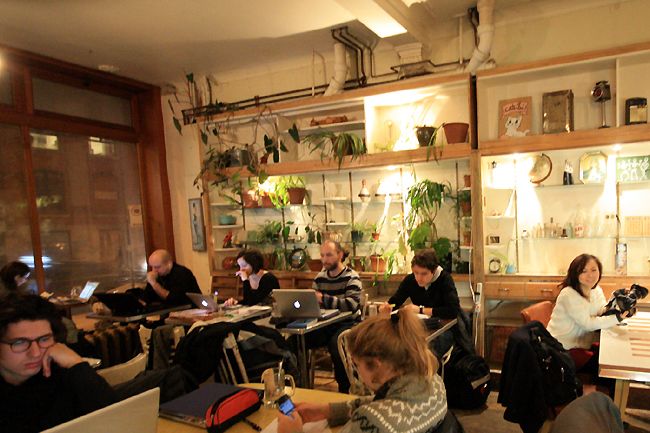 I wish my pictures could capture half of the atmosphere! I didn't know what cabigi meant so I googled it up and it's a french word for storage room woooohhh~ If only my storage room looked like this!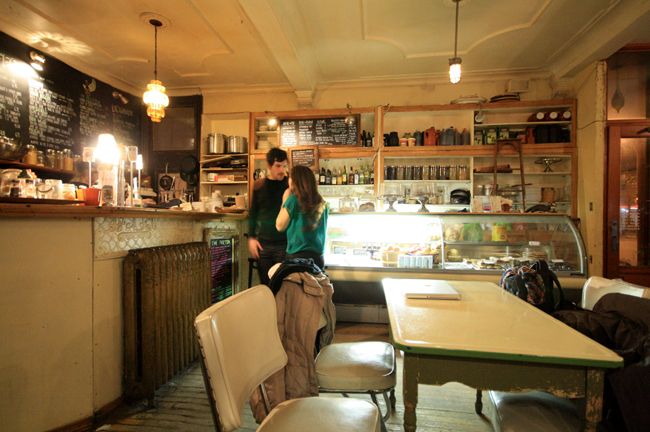 What's even cooler is that this place opens until 1am on most weekdays :-D There's not a lot of independent cafes that are open till this late in Montreal! BROWNIE POINTS FOR LE CAGIBI!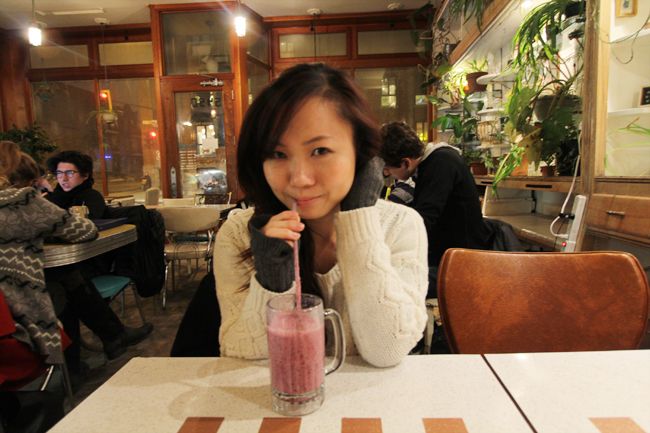 Lily with her mixed berries and banana soya smoothie : P It was quite pricey (5$) but the rest of the meal was 8$ (tax included) so it's okay to treat ourselves ;D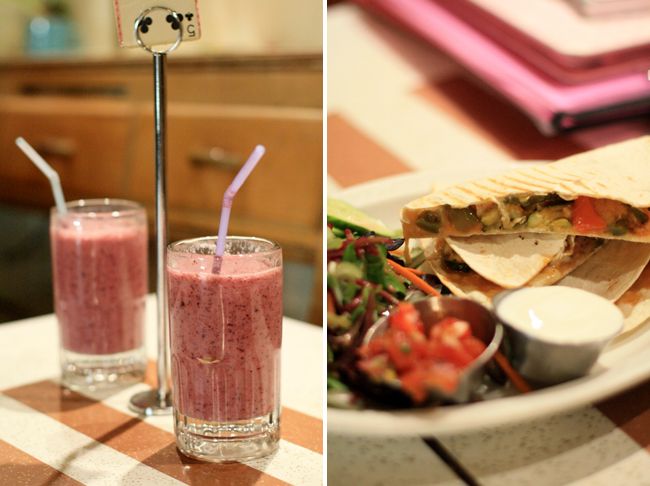 The food was quite delicious : D I took quesadillas filled with mixed spicy vegetables (bellpeppers, onions, sweet potato) and cheese in a grilled tortilla, served with mango salsa, yogurt & salad, my taste buds were delighted. The quesadillas were sweeter than I thought and I like my supper salty so Lily and I shared our food : ] I'm a meat lover so I was a bit disappointed that there was no meat (since I didn't know it was a vegetarian place). MEAT MEAT MEAT! They say in Japan that if a woman eats a lot of meat, she will bear sons :I I hope that's not true... I'd like to have a daughter >___<!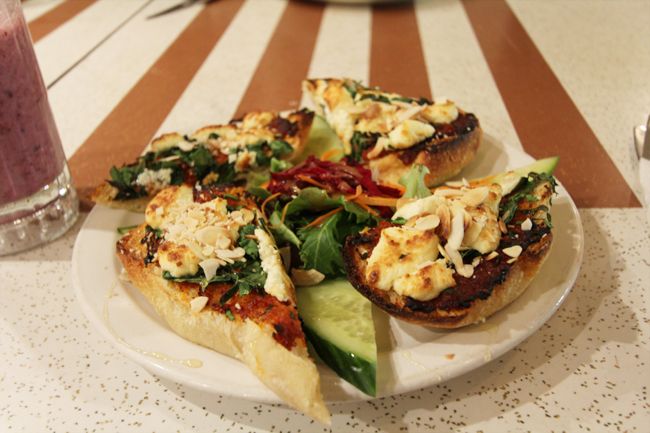 Lily's delicious Croque-Chevre; sandwich with spinach, goat cheese curds, honey, crunchy almonds and sundried pesto. It was so flavorful and who would've thought to put honey on cucumbers? I'm smearing some on my cucumbers next time!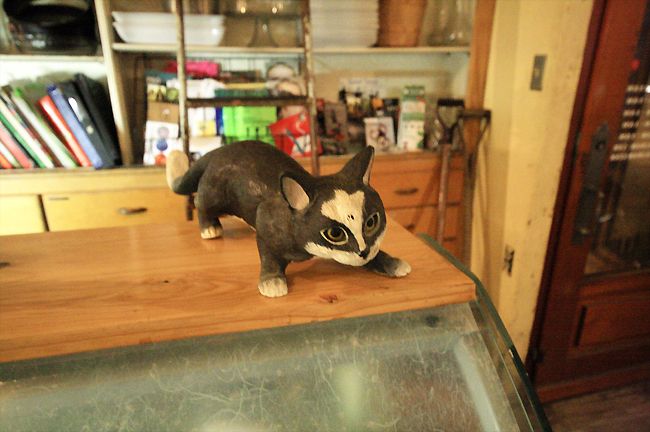 There were cats everywhere!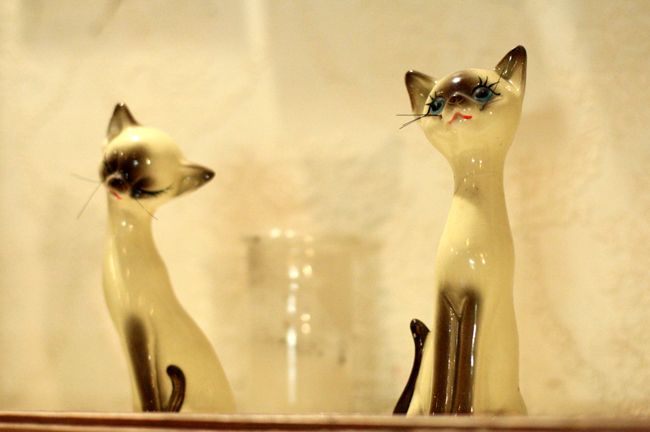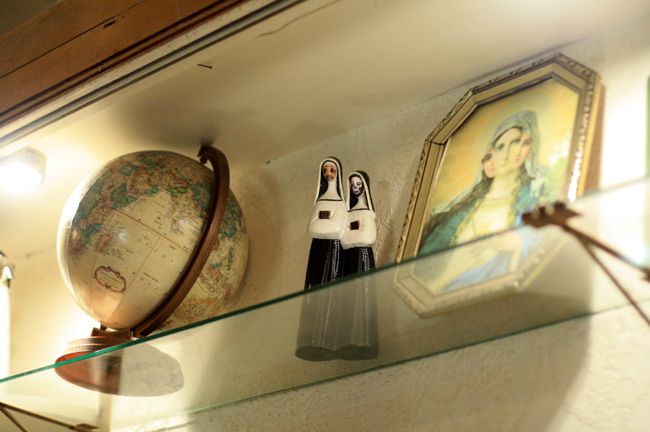 Lily told me a really dirty nun joke a few moments before we saw these nun figurines :-P One has a face like those Mexican dead dolls!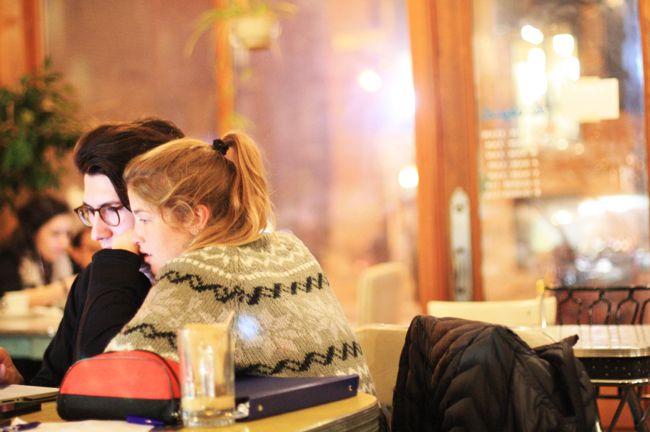 It's exam period! SO MUCH STRESS!
I've noticed a correlation... no wait, it's a full-bloom relationship between my online shopping habits and stress: they are directly proportional to each other! I've been swiping that card virtually every week >____< And doing that makes me even more stressed because I want to save and because I'm on a self-inflicted fashion diet! I need more self-control and I'm gonna take this very seriously from now on! *Since I announced this on my blog, I will have to keep my word! Or hide my purchases ;D But I'm not dishonest panda!*
FASHION GOAL FOR 2013: Buy clothes that fit your life&style, not what trends dictate you to wear : ]