Already the last part of my Japan trip : c ahhh it passed by so quickly!
On our third week, we went to Kobe to celebrate the New Year and then returned to Tokyo. If you go to Kobe, you've gotta try the beef! Kobe beef is unlike anything else, it's UBER delicioussssss, the juices gush out and melt delightfully in your mouth! *sorry vegans & vegetarians, you didn't read anything*
Kobe is one of the first cities to open up to the West hence the architecture is very westernized. Because it was New Year's day, a lot of the places were closed and the city felt a bit empty. We decided to go to the port because it was famous and as soon as I saw the wheel from afar, I shotgunned it! WE HAD TO RIDE THE WHEEL!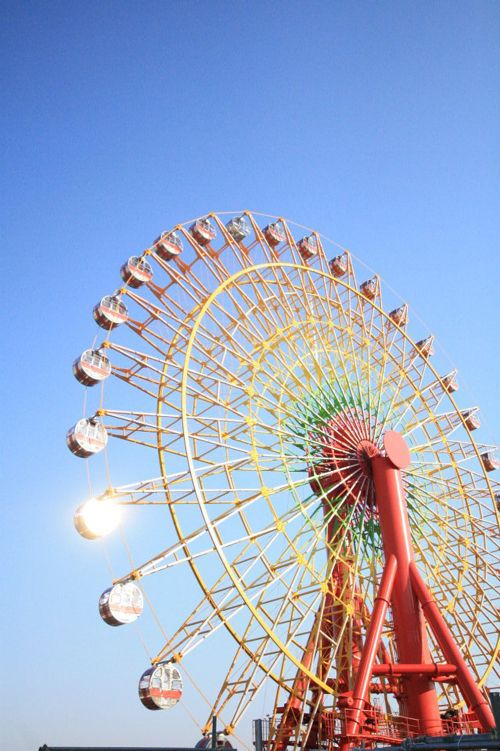 I'll let you guys in on a secret: ever since my teenybopper manga-loving teenage years, I've always wanted to one day ride a ferris wheel in Japan with my boyfriend :-P The boyfriend part didn't happen but the wheel part happened and I'm satisfied! YAAAAAAAAAAAAAAAY DREAM 99.9% COME TRUE!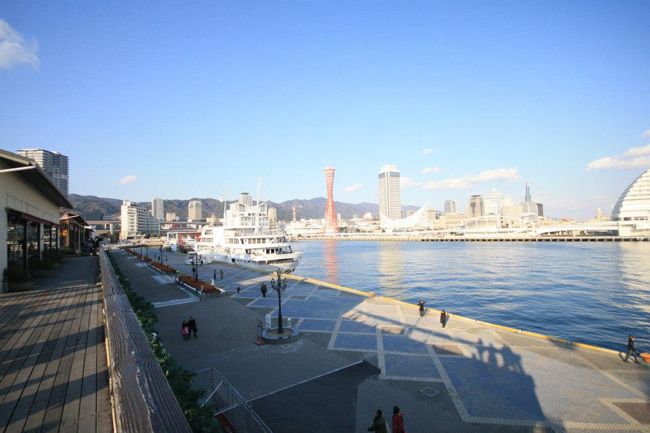 The port is so clean and nice : - ] There are shops and restaurants around and also a 3(?) floor arcade with purikura machines. You can bet that me and Lily went for another round >:D!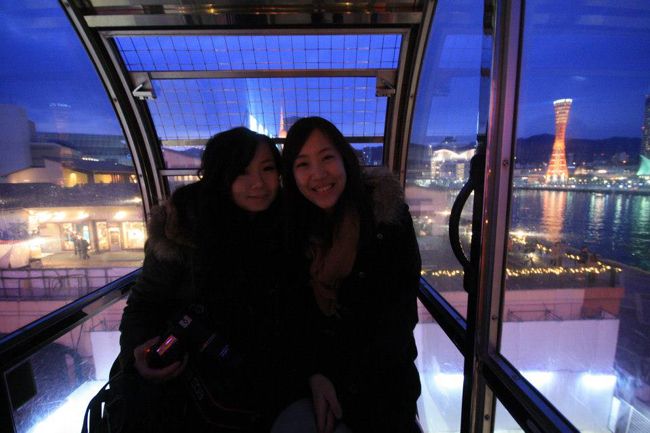 We got a special transparent cabin and it was so pretty : ) They should build a ferris wheel in Montreal's old port!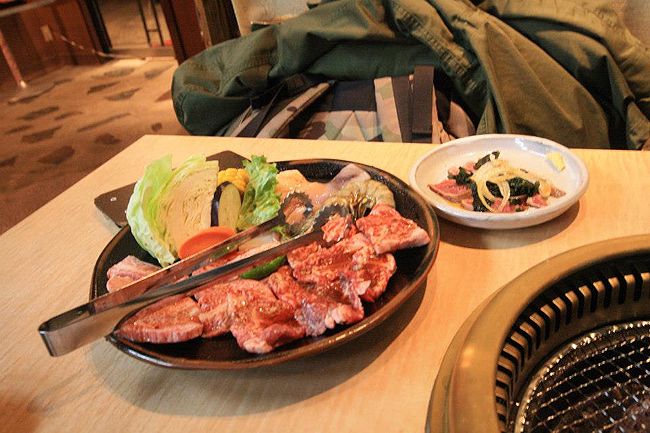 The sole reason I wanted to go to Kobe is THE BEEF! At first, Lily was hesitant because she's not a meat lover (unlike me!) but I convinced her that we should try since we're in Japan and it's New Year's day! SHE DID NOT REGRET! SOOOOO GOOOODDDD TTOTT!!!!! The plate we shared was 5800 yen and I don't even think it's the best cuts because someone at our hostel told us that she got 4 mini pieces for 6000 yen. Still, it was sooooo yummy TT___TT!!!!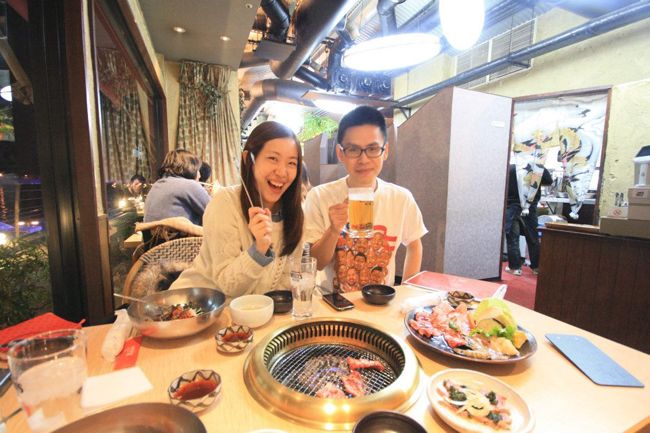 People told us that the cattle die a peaceful death and they get pampered all their life (hence the softness of their meat because they undergo little to no stress). Apparently, they drink alcohol and get massaged :D Interesting... ONOMNOMNOM!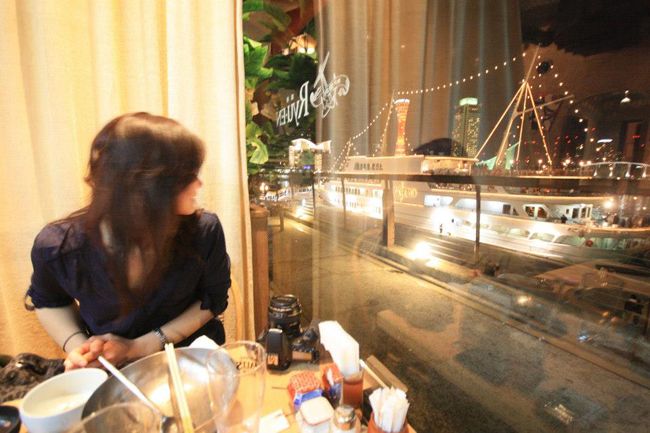 The restaurant had a beautiful view of the port :D AHHH now this is what I call spoiling ourselves!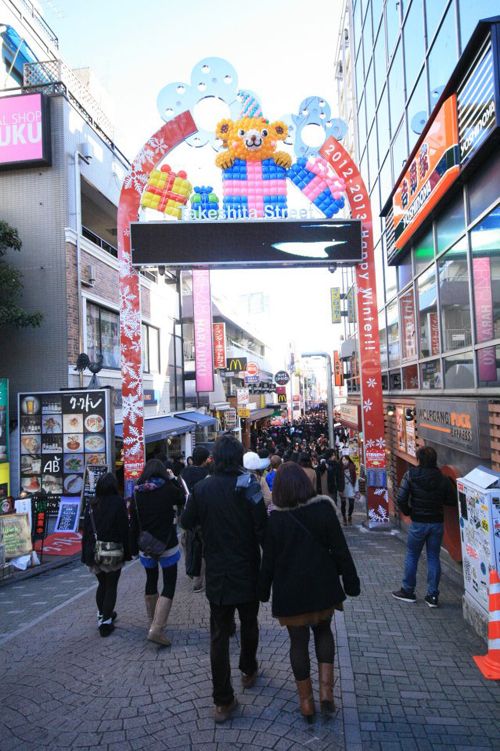 This is Takeshita-dori in Harajuku, one of the busiest and famous shopping streets in Harajuku. Most clothes are very cutesy, Lily and I weren't too impressed... It was crowded with high school kids because of crazy flying sparkling sales (yep that's how they call em)!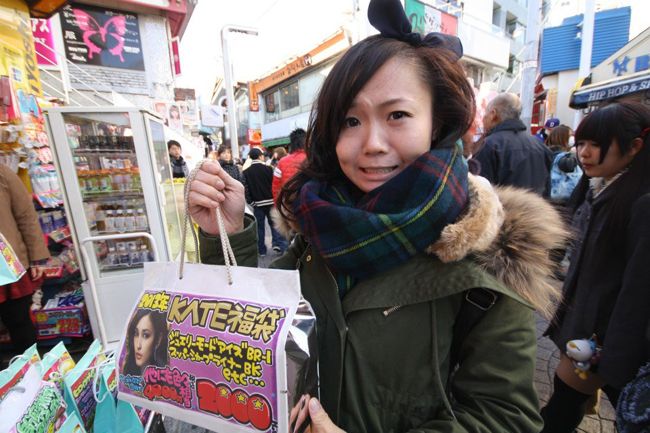 Lily getting overly hyped up by fukubukuros. These are mystery bags filled items that are usually worth double than the price they're being sold. I got a bag for 1000 yen and Lily got one for 2000 yen. Both our bags contained a Disney mug which was totally random (I guess they put it inside to make it heavier) and Lily even got a duck shaped soap dispenser HAHAHA! We both got mascara, cotton pads, nail polish remover (it works really well so I'm happy :D) and a beauty drink. The surprise aspect made it way funner than the actual content!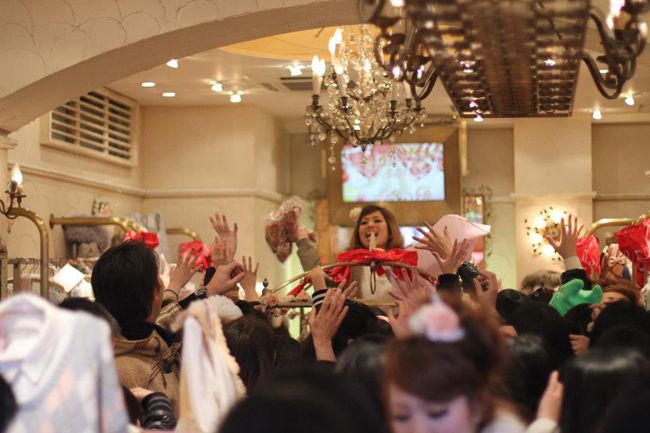 Crazy crowds in one of the shops (Liz Lisa). There were even men trying to grab the goodies that the saleslady was throwing O_O. Such dedicated boyfriends (I hope they are boyfriends otherwise it'd be creepy haha)!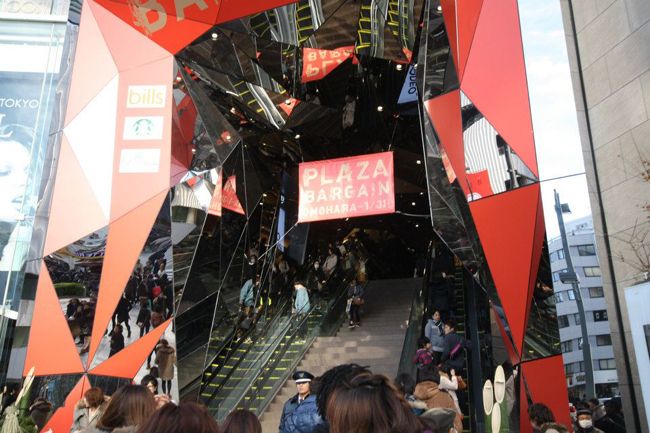 Newly opened Toyu Plaza, the entrance is so cool :-D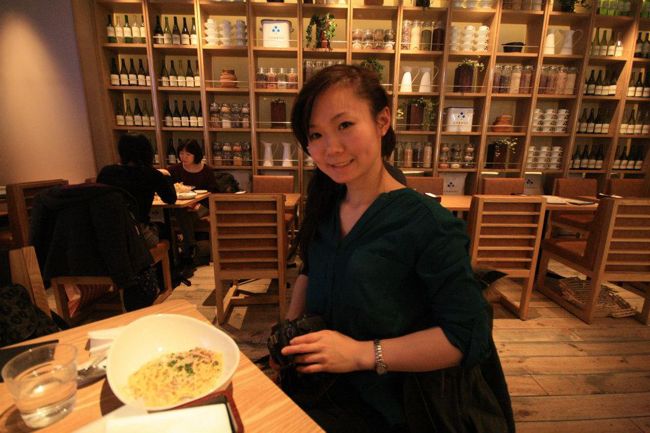 FOOD FOOD FOOD! I find that the pasta I ate in Japan was better than the pasta I had in Venice ~___~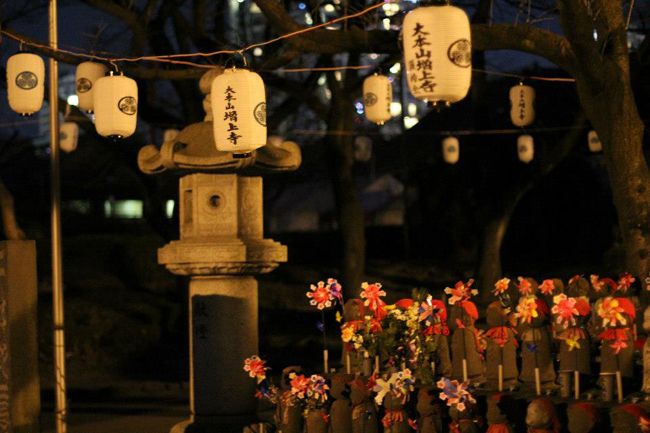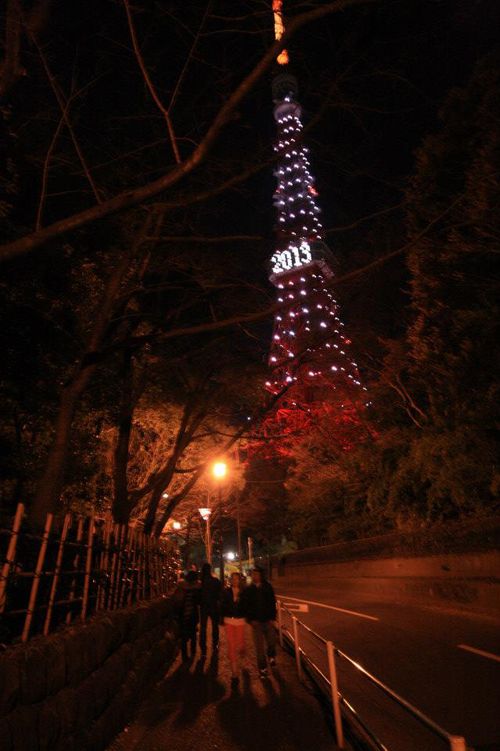 We went inside the Tokyo Tower during the first part of our trip but we didn't get to take any pictures outside with the tower. So we went back and snapped some quick pictures! I shall spare you guys from all the camwhore-ness haha!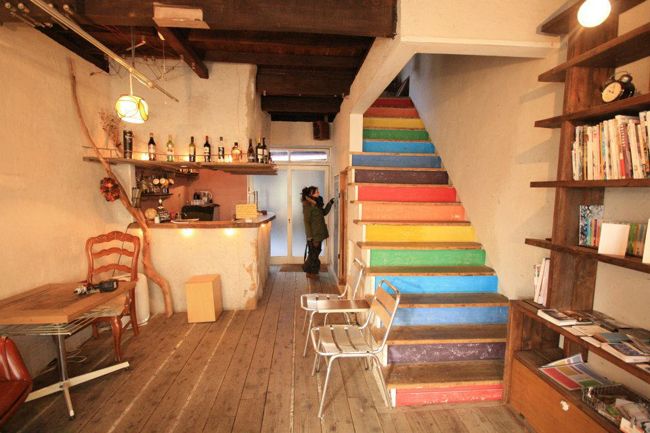 We stayed at a really cute Japanese style hostel called Toco in Iriya on the Hibiya (grey) line. It's very close to Ueno and Akihabara so the location is quite good. The staff is very friendly too =]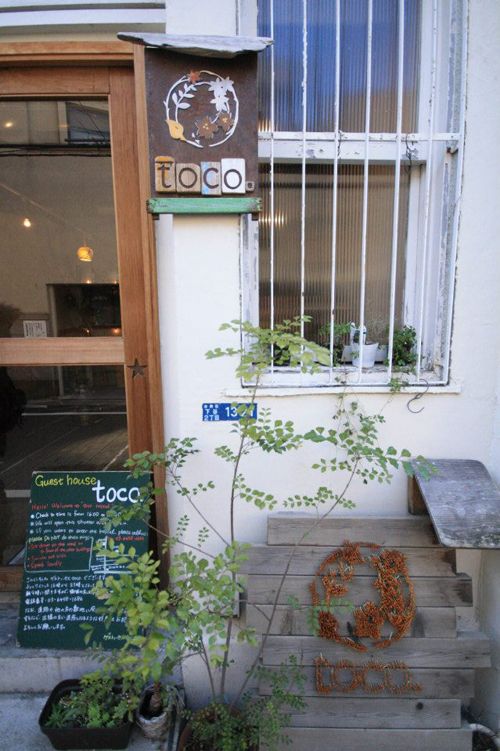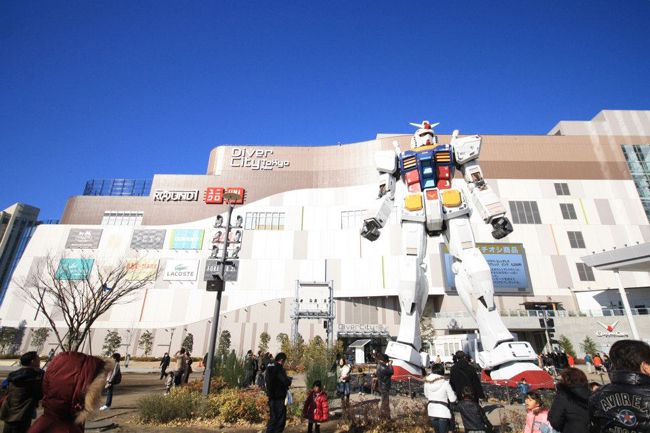 ODAIBA, WHY DYU TEMPT US WITH SO MANY MALLS???!!! Yep so Uniqlo had a mega sale on their awesome stretchy heat tech legging pants but me and Lily decided to be good girls and not buy any = MAJOR REGRET TT____TT!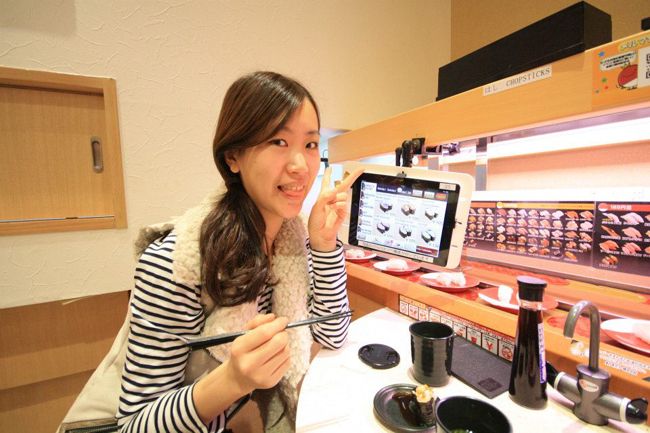 AHHHH SUSHI CONVEYOR! So much fun! I really liked this conveyor belt sushi place way more than the other one because we could order via Ipad (no awkward body language needed) and our food would be delivered via these mini Shinkansens!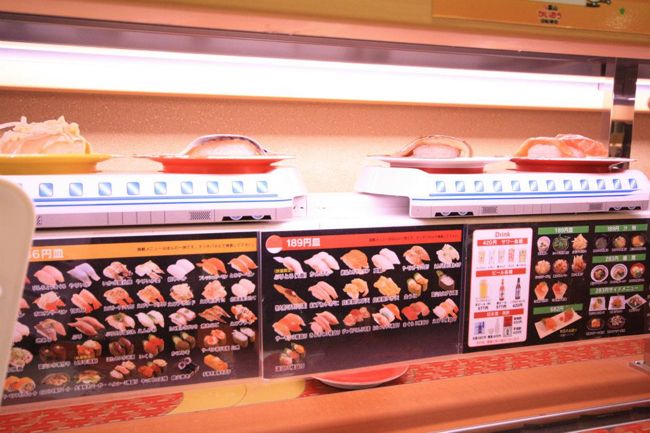 GAK! So much fun to see the food get delivered on these mini trains :D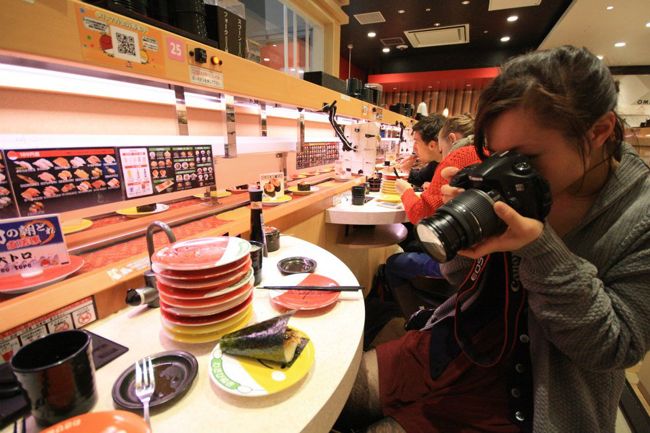 You cannot go to Japan and not pig out on sushi!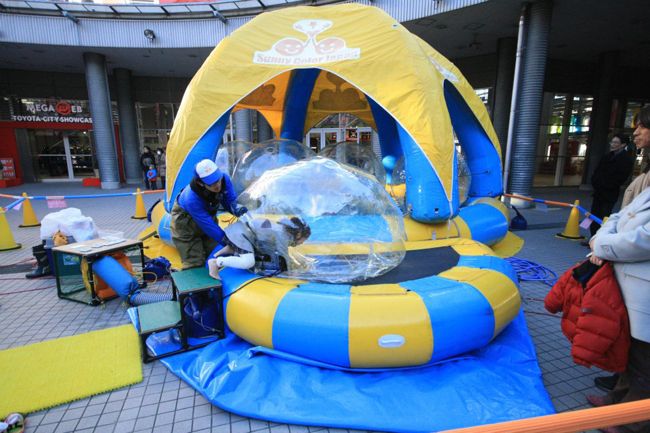 OMG I was so amused with this and wished they had an adult version! I would totally go inside :-D!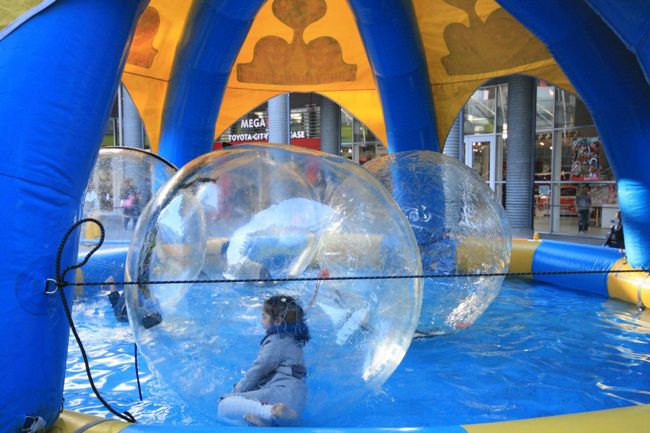 One particular girl (not the one in this picture) was having THE TIME OF HER LIFE! She was rolling and running and rolling some more in her plastic ball. It was hilarious seeing her fall and flip over, she was so jolly too : 3 KAWAII!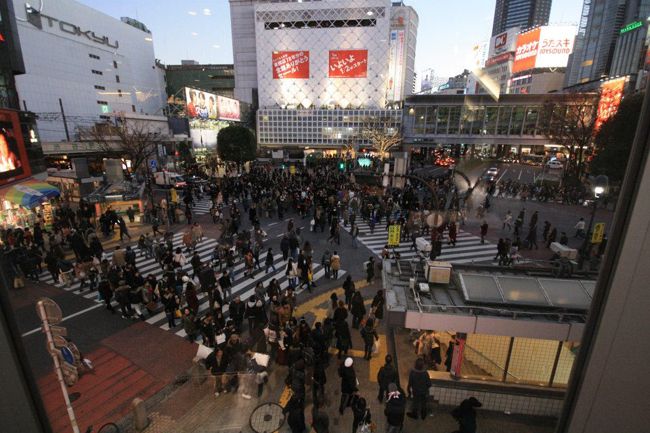 Sipping on some Starbucks in Shibuya, there were a lot of gaijins in this Starbucks. I enjoyed eavesdropping on other people's conversations!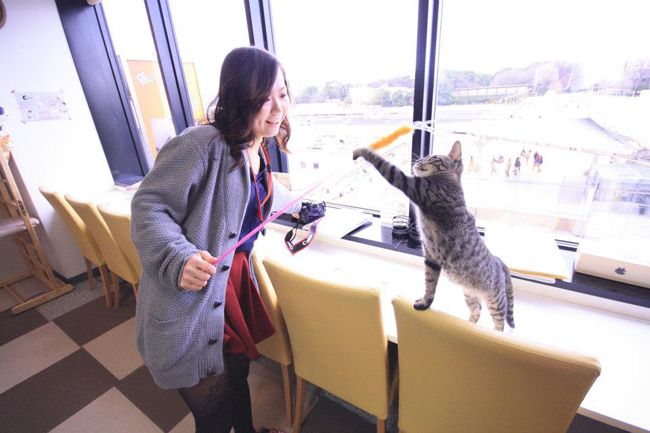 We couldn't leave Tokyo without visiting a cat cafe. Our previous attempt to find a cat cafe in Harajuku only brought us into a really sketchy building. We actually found this cat cafe while biking around our hostel. We biked to Ueno (it's only a station away) so I don't know the exact address of this cat cafe : C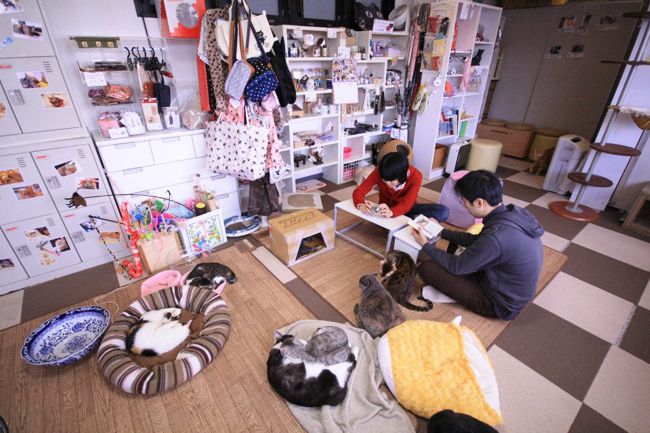 The cats just minded their own business and totally ignored me : I I guess they don't like pandas... They are probably sick of entertaining humans!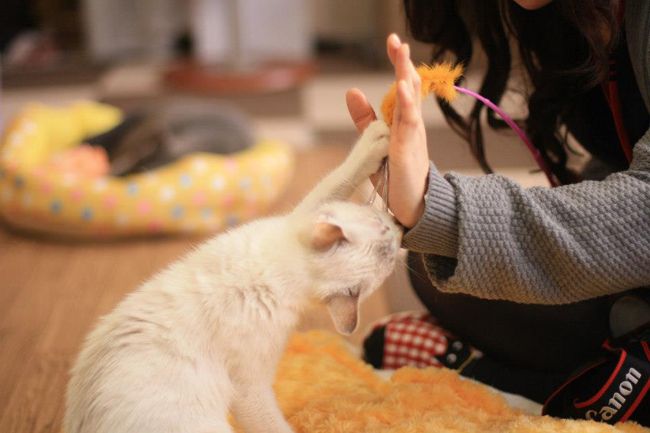 The kittens were super energetic!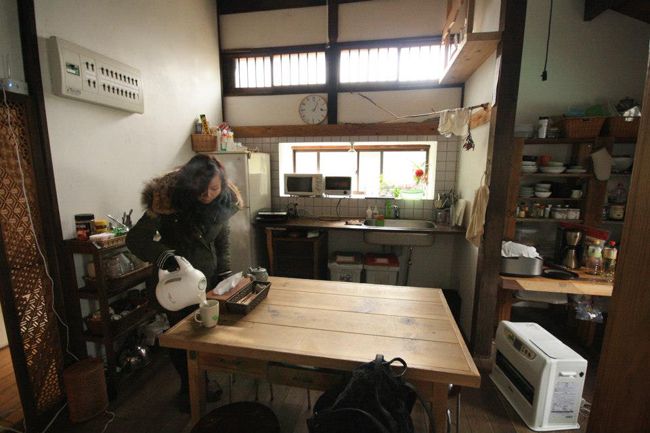 It was reallyyy cold in our hostel, because it's Japanese style, they didn't have central heating (there was heating in the rooms) so the common areas were freeeezing >___<!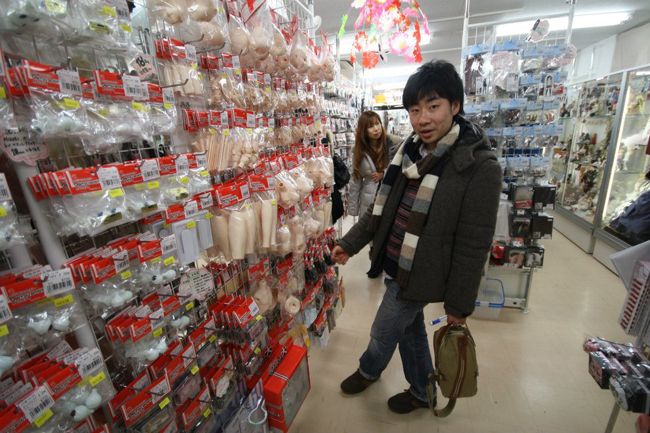 Our friend Nobu bringing us inside a doll shop in Akihabara. It was FILLED with doll parts from panties to eyeballs! I think I would've loved it as a kid (move over barbie, you're not high-tech enough) but now I kinda find it a bit creepy. And I kept wondering how the shop owner keeps tab on his inventory O_O!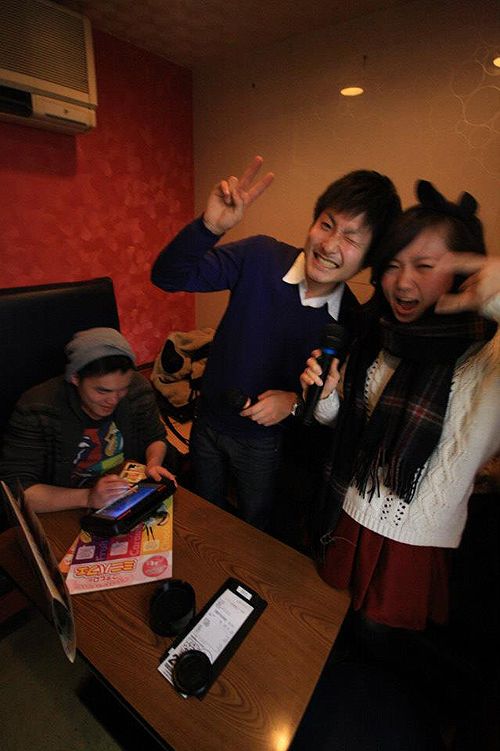 We ended our trip with some all-you-can-drink karaoke! It was sooooo much fun!!!!!! I regret not doing this more often but I'm really glad I got to karaoke in Tokyo!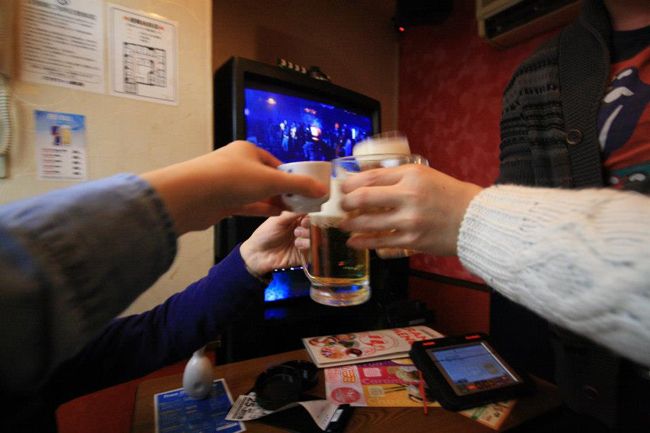 KANPAIIIIIIIIII!!!! MAY 2013 BRING EVEN GREATER ADVENTURES!
I'm really glad that we got to meet so many helpful, friendly and nice people during this short 3 week trip to Japan. Without all these new friends, I'm sure our trip wouldn't have been as memorable! I highly recommend that while travelling, you make friends with the people at your hostel (be it locals or foreigners). It's interesting to learn about their culture too! It was truly a nice experience and it opened my perspective on a lot of things.
I'm so grateful that I was able to go to Japan, I hope that people who wish to go also pursue their dreams. It's completely worth it!