As a fashion enthusiast, you can never escape trends entirely. Often, we fall victim of trends no matter how badly we want to think that our style is unique. Whenever I look at my old pictures, only one thought crosses my mind: "WTF was I wearing?"

But, I think that is actually what makes fashion fun, the fact that it is never static.


One of the biggest trends this summer is the high-low skirt. I wasn't planning on buying one but why do those Zipia models make everything look so gorgeous D:?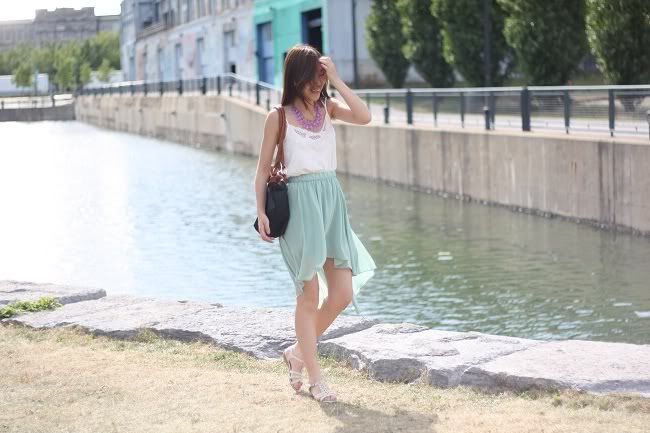 Top: Forever21
Skirt: Zipia
Sandals: Korea
Bag: birthday gift from Monkey

I had bought this Zipia skirt months ago but I never wore it because I didn't really like the color :X I expected it to be sky blue-ish. It wasn't until I received a beautiful lilac necklace for my birthday that I got inspired to wear it. Green and purple compliment each other well.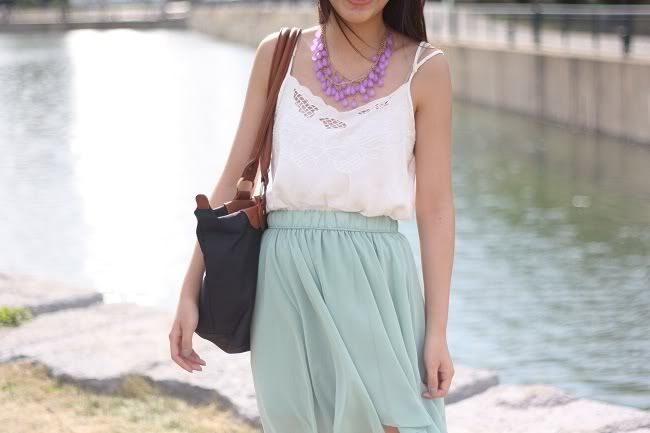 I would've liked to wear a lace bustier with the ensemble but I worked with what I had in my wardrobe (remember: challenge part 2!)



It's actually pretty fun to wear a high-low skirt, I'm not self conscious that the wind is gonna blow my skirt and give out a free show =P
The gorgeous pictures are by Miss Adri! Here's a preview of her outfit: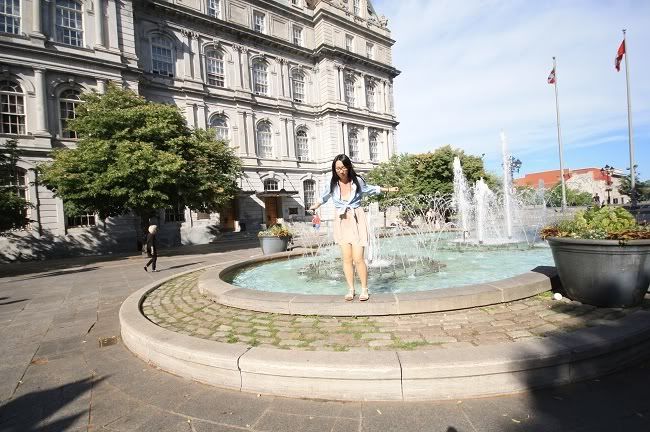 She didn't allow me to post the scandalous picture of her jumping from the fountain exposing her upper thighs ;D If you wanna see some legs, go visit
her blog
to see what she was wearing :)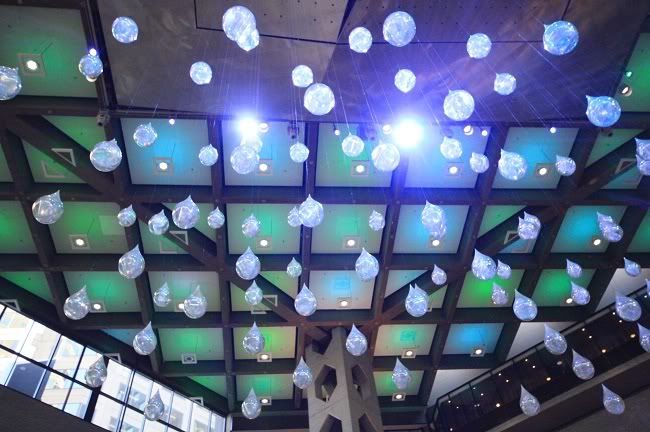 Speaking of fountains, they recently renovated Complexe Desjardins' fountain. It's so pretty, rows of giant colorful water drops move up and down the ceiling! They move really down and I kept scaring Adrienne by asking her stupid questions like: WHAT DO WE DO IF ONE OF THE DROPS FALLS ON ONE OF US?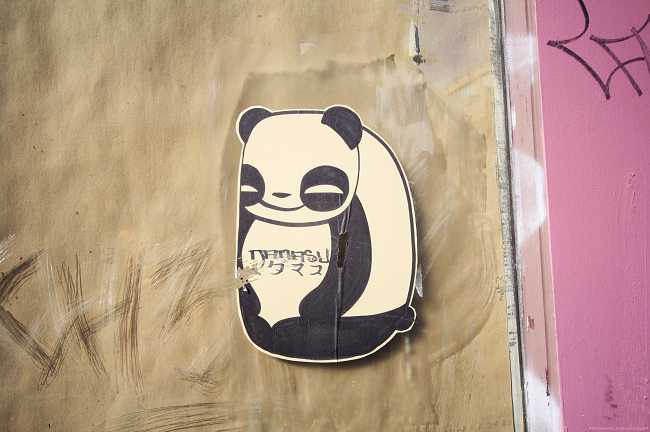 Oh hey look a panda!
I wanted to take an OOTD among the chess pieces when I passed by it before. When we walked past it again, people were playing a game.
Trying to ruin their game >:P -evil panda-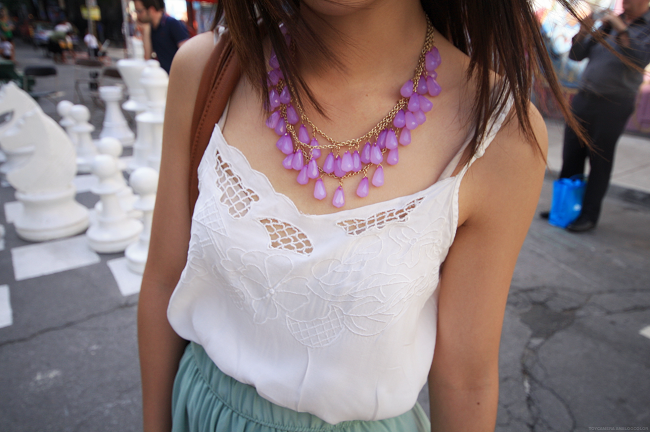 A close up of my necklace : )
Just noticed that it looks like the floating drops at Complexe Desjardins =D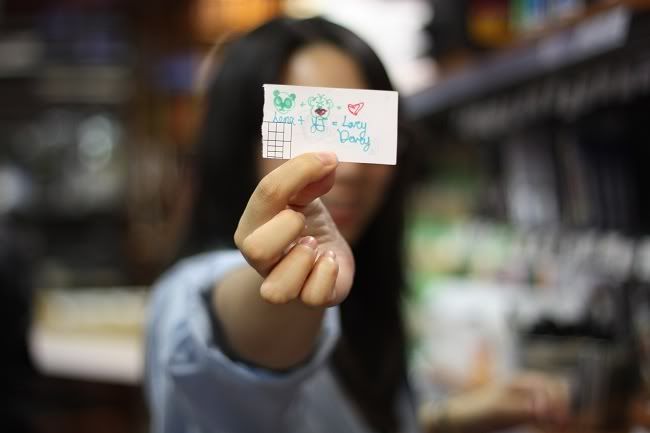 Adrienne and I wanted to go to the museum of fine arts but the free exhibitions were closed : P HEHE we're cheapos! So instead we went window shopping. We stopped at Omer Deserres and she drew a panda and a monkey on a piece of paper =P It's so funny how she drew the monkey with fat lips(tick)!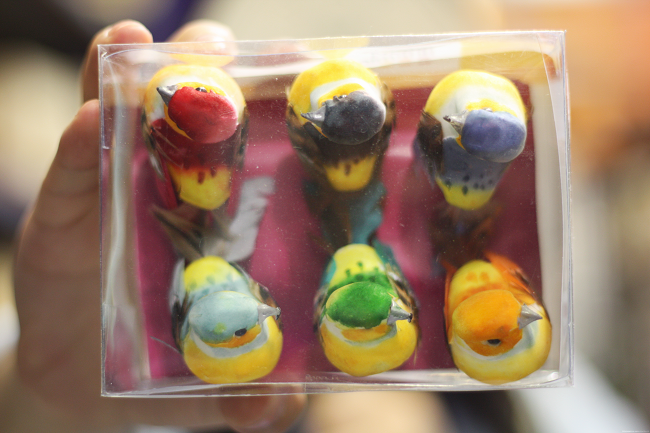 I bought some water color paper at Omer Deserres for a lil project I have in mind. But not only that, I actually failed the second part of my challenge (yes, RIGHT AFTER I make a big serious post about my crazy shopping habit *SLAPS SELF*).
Adrienne was supposed to be the voice of reason, and she gave me all the pros and cons of why I should and should not buy it. In the end, she was more leaning towards BUY IT!
Here's a preview of what I bought :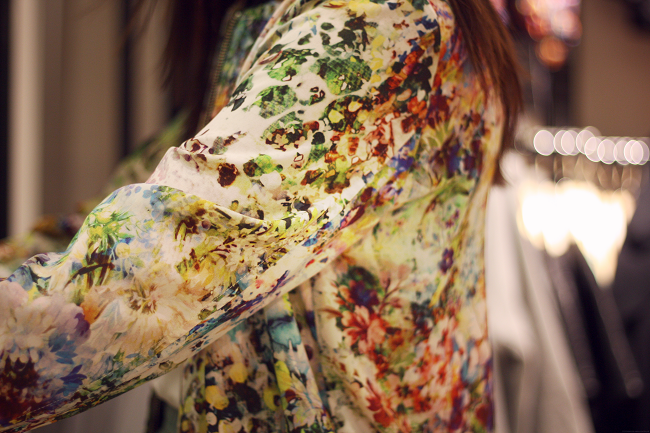 Stay tuned to find out how imma pair this : ]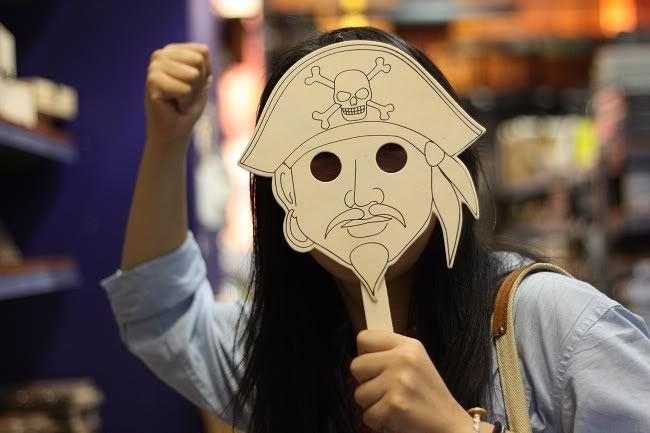 I'm continuing the challenge but with a time limit this time (1 month of nadaaaaa)! If I fail then
Captain Adri
is gonna make me walk the plank!!!