I tried really hard to think of a title for this post but I couldn't think of anything!
Instead, I tried to emoticon-fy my current mood: dying of heat. I think this heatwave is melting my brain because I can't seem to focus on anything right now ~___~
This is an outfit I wore a few days ago to go to class. Somehow decking myself in cool (blue) colors made me feel more refreshed? HAHA psychology at work right there ;D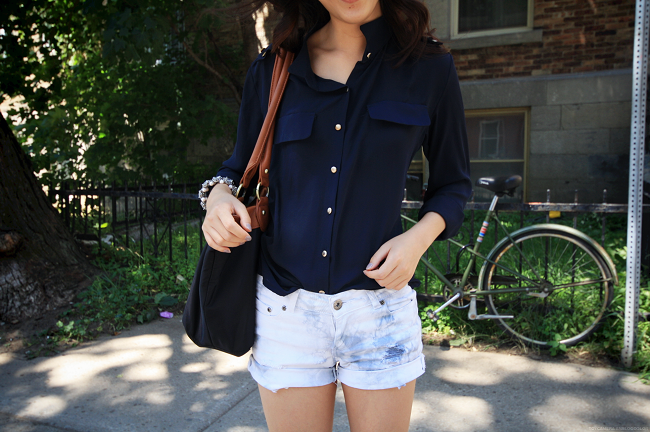 Blouse: Zipia
Shorts: Urban planet?
Bag: birthday present from Monkey
Keeping it casual for school : ) It's so cold in the classroom yet so hot outside, I never know what to wear. Yes the weight of a thin sweater on top of my laptop + DSLR feels much heavier D;
I really like these two items from my wardrobe but I don't wear them often because I tend to forget about my old clothes when I get new clothes. This is why I'm glad that I'm challenging myself to wear everything in my wardrobe, I get to rediscover old favourites : )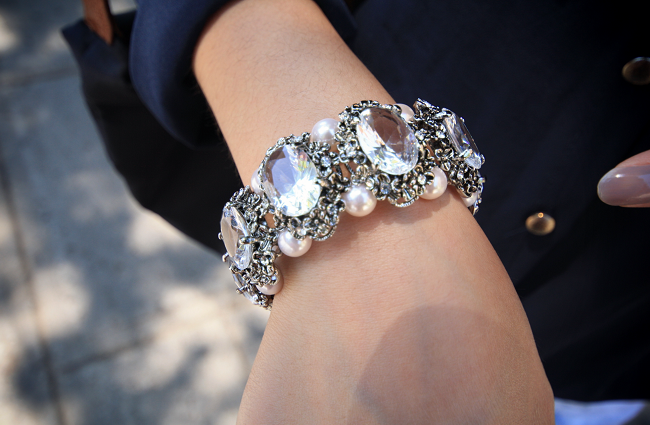 I don't wear a lot of accessories because I'm lazy (simple as that). But this gaudy Zipia bracelet really caught my eye! It instantly adds some pizazzzzzz to any plain outfit!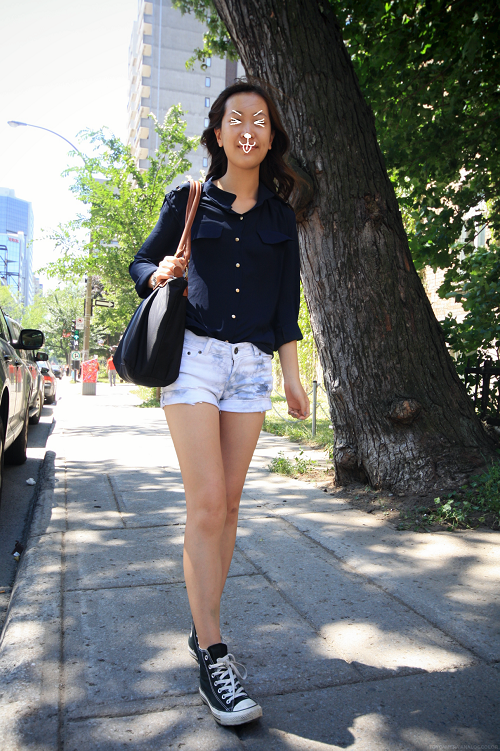 The return of the >___< face on my pictures HAHA! Yea, sometimes I like to talk (giving directives) while Monkey's trying to snap a picture for my OOTD. It often results into awkward mouth motions. He's been getting better at taking pictures but I am still a very bad model BWUAH! Now I can't even poke fun at him anymore : C
Next week, I have my midterm so I don't think I'll be updating much.
Leaving y'all with this boring post while I melt awayyyy~~~