I try to avoid being one of those girls that cannot live without their boyfriends by having a good balance of friends + boyfriend time. However, due to my VERY INTENSIVE summer class, I have been pretty darn busy so no time for anything outside of studying. So when our 16th monthasary rolled in, I urged Monkey to plan a date :-P We don't celebrate every month but we do acknowledge the passing of another month together. I used to scorn monthasaries but now I think there's nothing wrong with keeping tab. The key is to never expect anything!
But sometimes I do 'cause he's just so transparent >: P
So Monkey likes to bring me to places by pretending we're lost/just walking around when in fact he SEARCHED IT UP! His favourite keywords are: free activities :P He also claims that his date plans are all from his head but I can tell you for a fact that he does not keep a list of cute cafes/restaurants in Montreal.
I do that X-D
We went to the Architecture Museum and then he brought me to Cafe Santropol, a quirky cafe with a really cute terasse.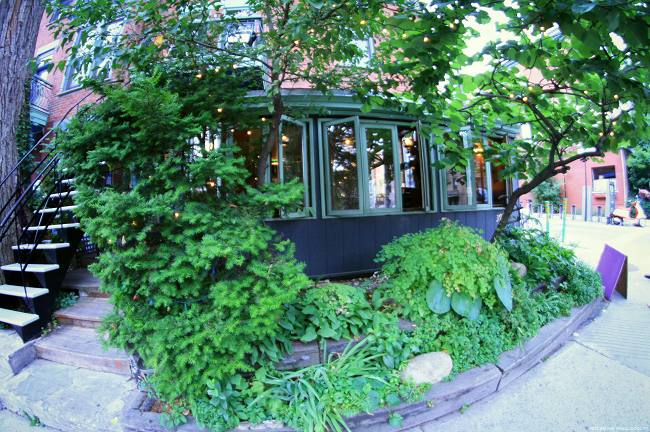 From the outside, you can barely guess that it is a restaurant!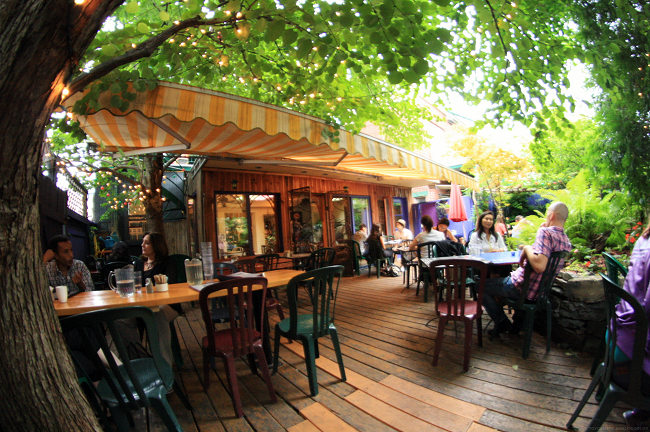 This place is well known for their sandwiches with cream cheese (is what Monkey said). We weren't seated at the best seats but the atmosphere was still very nice! I think it would be a perfect place for a first date! Hence the name of this blog post :D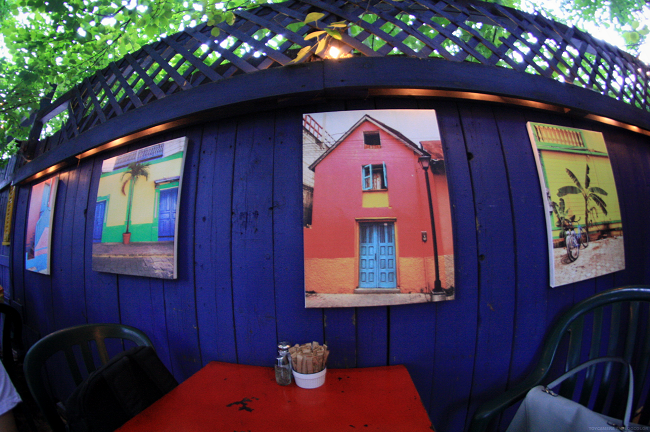 Monkey mentioned how the photographs looks like those colorful houses in Mexico. When I went home, I google colorful houses in Mexico and came upon Guanajuato! The houses are so cute and so colorful! I jokingly said that in the future, we should color our house like a lego and start a colorful house trend in our neighbourhood : P Monkey dismissed the idea but then thought it was pretty genius for raising up our house price =P
They had Christmas lights on the trees which made the atmosphere so quaint-y. I wonder how the terrasse looks like when it's dark, must be so pretty : )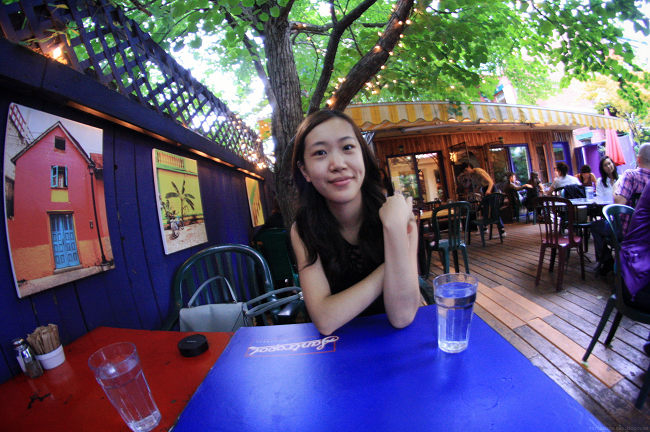 Waiting for the food, all their sandwiches contain cream cheese and they have lotsa vegan options! Since I had a huge canker sore on both my tongue and mouth, it felt good eating food not drenched in oil *cough*my workplace*cough*!
We got the smoked salmon sandwich and the Santropol sandwich (roastbeef). Both were very delicious and the salad dressing was tasty too! This place is very affordable and everything is around 10$ :D I was so impressed by Monkey for bringing me here (how did he find out about this place? I don't know, he won't tell me). He knows I love places with cute interior decor and he likes cheap stuff so both of us were satisfied!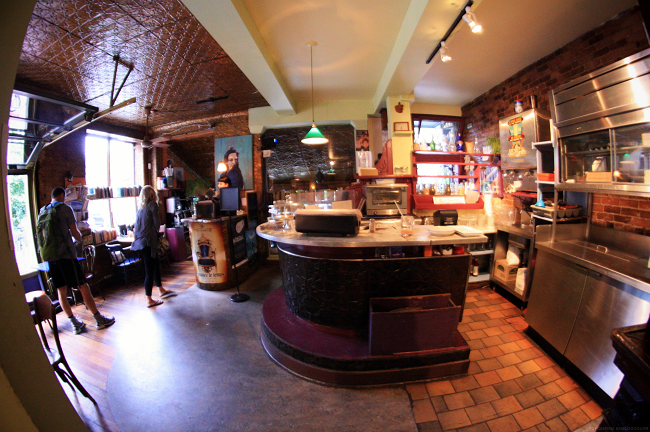 While walking to the bathroom, I paparazzi-ed some more >: ]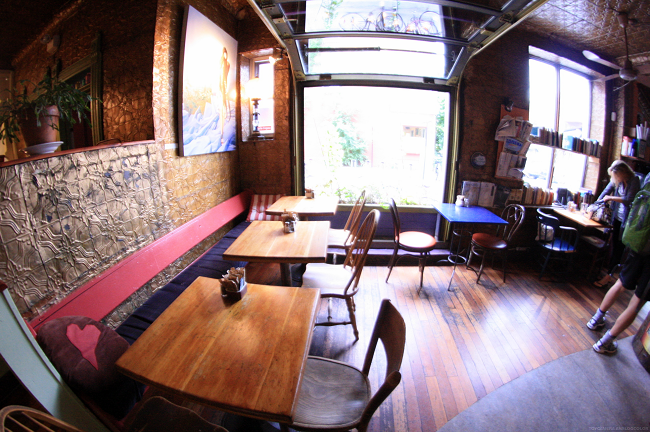 This seating area is so much prettier in real life (the overexposure of the window light ruins the mood)!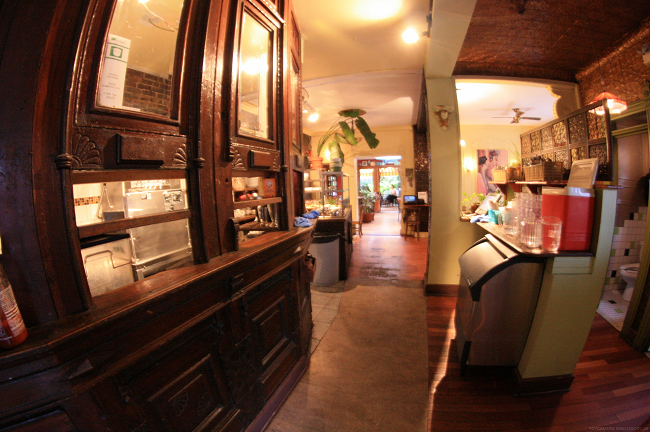 I recommend everyone to try this place because you really cannot lose, the service is friendly and efficient. The food is tasty, affordable and healthy (if you disregard the cream cheese ;D). They specialize in coffee and tea too! The atmosphere is cozy and judging from the guy in my picture, they have Wifi. The patio is like a pretty forest in the middle of the city and there's even a fish pond!
When we were done eating and we headed to the cash, Monkey sneakily walked past the cash (looked as if he was gonna dine and dash) whereas I stood there going HUH o___o???? The cashier then smiled and went: oh, he already took care of it! STOOPUD GUY IS ALWAYS PRANKING!
We went to Old Port to digest a little bit~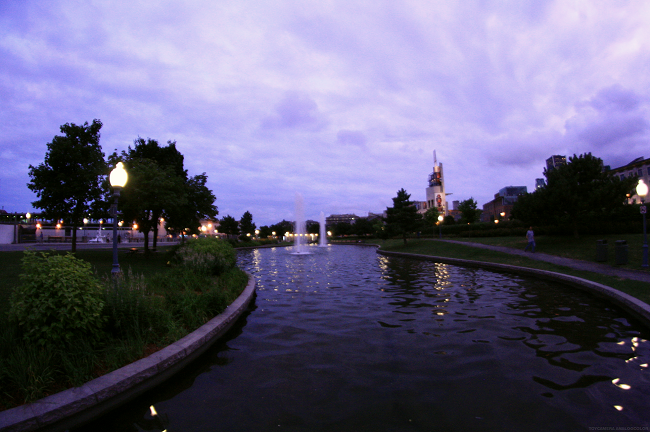 Old port surprisingly has many things to offer and it's a nice getaway from the busy city (yea... not that busy actually haha).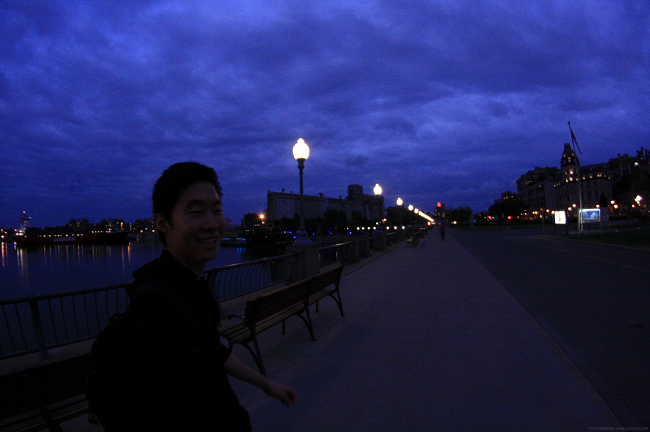 My Greek Mythology class is ending soon : C I enjoyed it very very VERY much even with the intensive readings/quiz/midterm/quiz/essay! I will probably vanish again (MUST GET A IN THAT CLASS)!