Yesterday I celebrated my 21st birthday in the company of my closest friends + papa + my boyfriend: 3 I wanted to keep my birthday low key and intimate so I only invited my close friends who all knew each other and were comfortable around each other. I have had birthdays in the past where I invited a mish mash of different groups or those clubbing joint parties parties but I didn't enjoy them. It was more stressful than anything so ever since then, I'm keeping my birthdays small and low key.
I had a mini photo shooting date with my boyfriend on Mont Royal in the morning.
Warning://Elements of PDA
A cheesy gif
(his concept) to give you an idea of what we were doing the whole time LOL.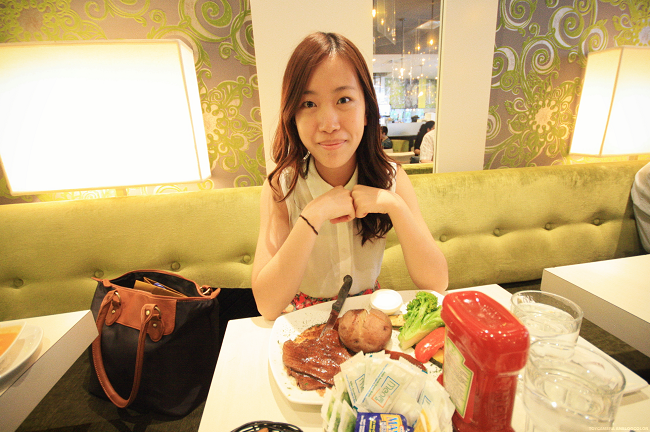 I wanted to eat at Alexandre on the patio but it was full by the time we got there after the photoshoot so we settled for Universel. I like Universel, they always have good food and they give enough to fill my tummy : )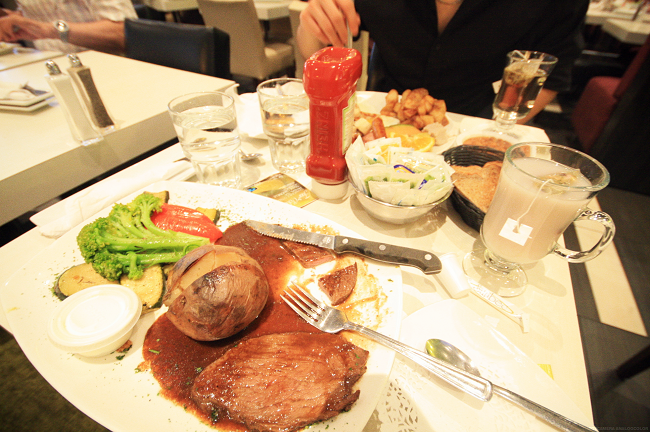 My roastbeef with veggies (I was trying to go for some healthy option, the delicious gravy probably ruined my intentions haha).
I wanted to pay for Monkey's meal but as always, he never lets me pay on special occasions >: I
We just walked around in Old Port afterwards and in the afternoon, I went to eat with my friends at Pizzadelic.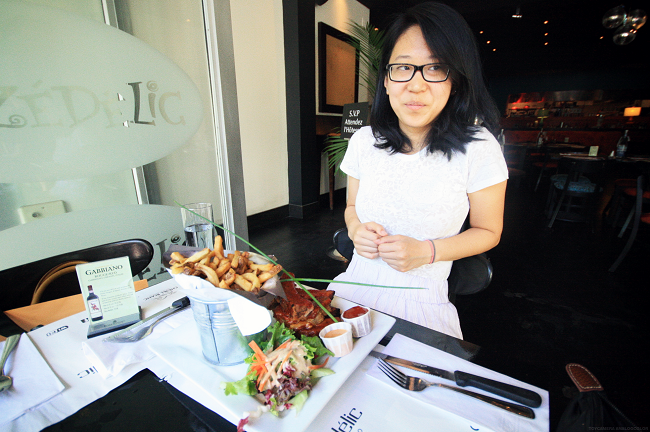 I don't recommend this restaurant! Their food was mediocre and way overpriced. Nothing was cheaper than 14.95$, I mean 18 dollars for a simple SMALL ceasar salad? It wasn't even fancy looking D:! The pizzas were very mediocre and overcooked. The sides were all burned and even my non-sensitive tastebuds tell me that they've tasted better from those instant ones you buy at the super-market. The waitress was friendly but not attentive, we were waiting for her to refill our cups the entire time and she didn't even sing happy birthday with us :P I felt bad because I wanted to pick a cheaper restaurant for once but I misread the menu (I think I read the lunch menu). The restaurant was quite empty on a thursday evening : P
Atleast Lu's spicy ribs were alright and her fries were good : P Not going back fosho!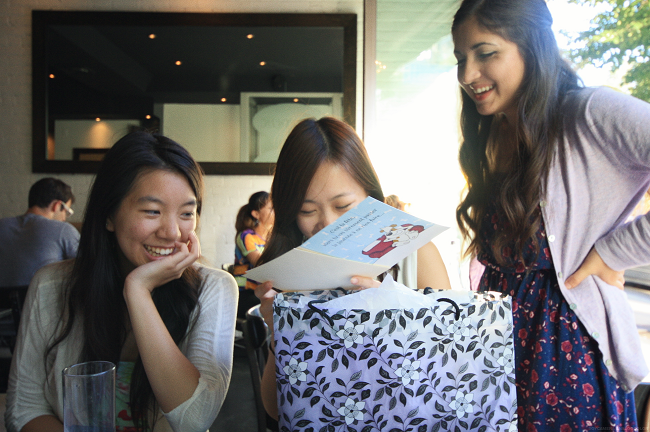 My friends got me a noodle goodie box filled with make-up and accessories! I've always wanted to put make-up but my total noobness discouraged me from ever buying them :P I'm really glad because now I don't have to spend on those things YAY!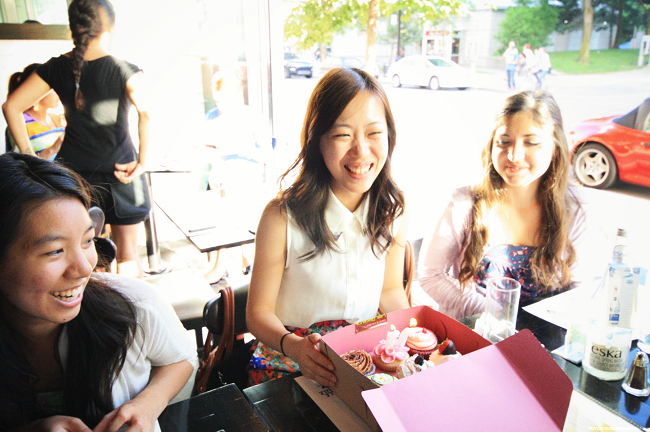 My friends got me 6 types of cupcakes from Les Glaceurs and we passed them around rotation style and got to taste each of the flavors!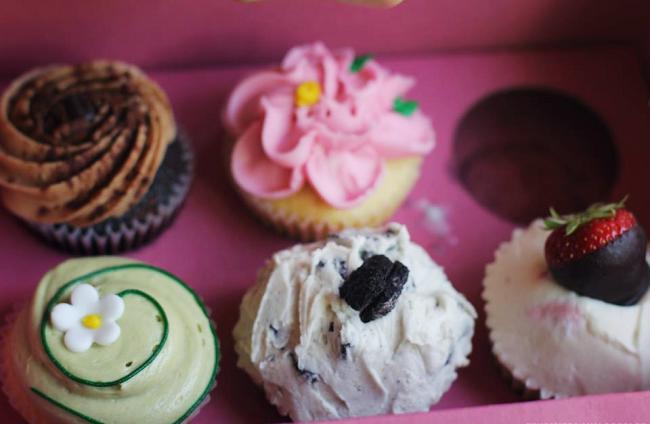 (Going clock-wise from the top right) Moka-Choco, vanilla, red velvet, ??? some eager beaver picked that one up, sttrawberry shortcake, oreo cookie and green tea! My favs had to be strawberry shortcake and moka-choco : )
We caught up a lot since the majority of us haven't gathered together for months! It was really nice but too bad time passed by so quickly and soon, we had to go do our THANG: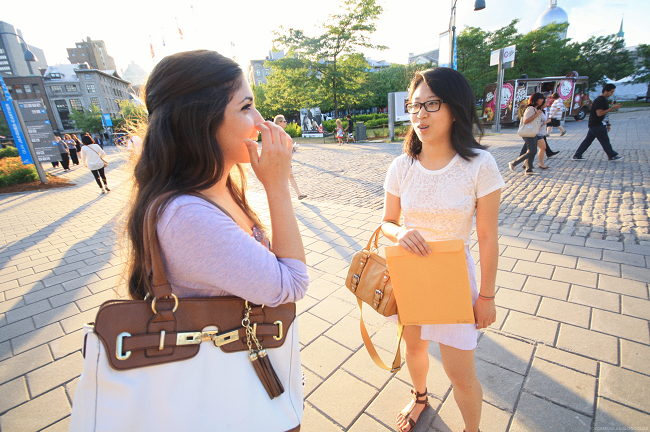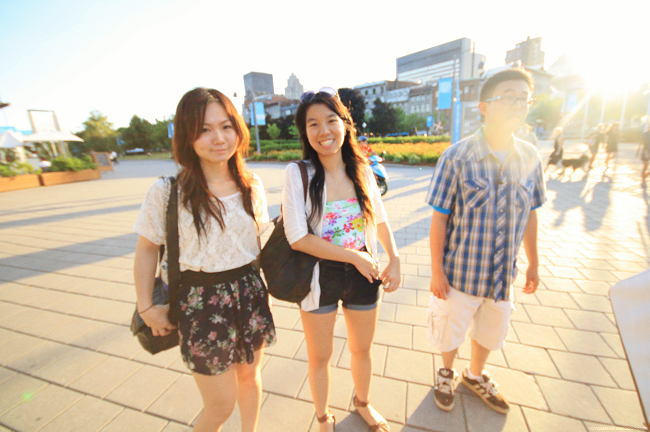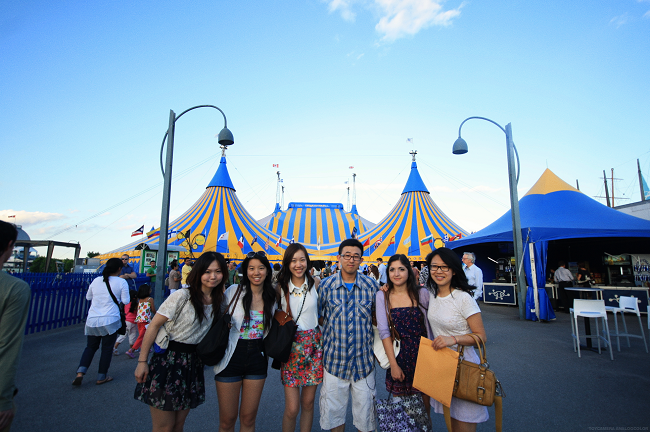 In fact, if you have normal vision, then even the worst seats are pretty okay because the tent isn't too big.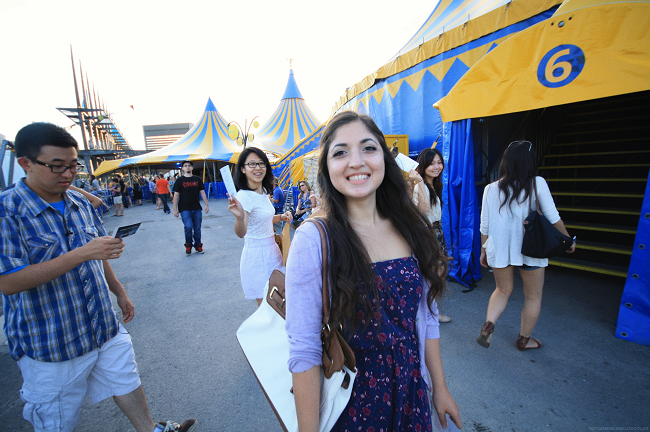 Eager to go inside~
We were lucky because the show wasn't sold out so the workers there seated us in the more expensive section way in front (8/9th row)! The view was of course much better because I'm nearsighted and I kept rejoicing my in head over the fact that I'm sitting in a seat worth 110$/each person while I only paid 31,xx$/each person!!!!!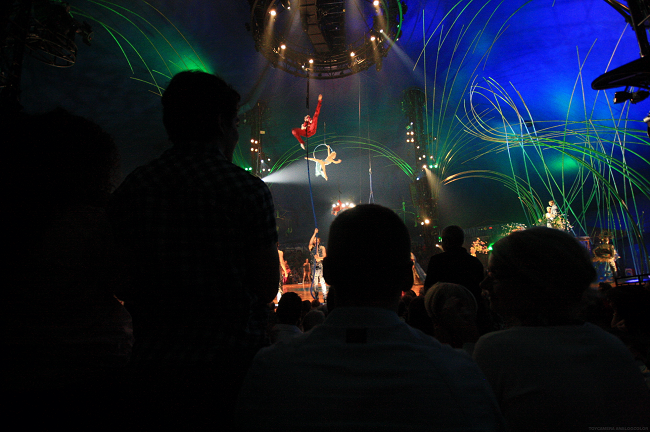 We weren't allowed to take pictures inside but I still managed to sneak one >:D
"Amaluna invites the audience to a mysterious island governed by Goddesses and guided by the cycles of the moon. Their queen, Prospera, directs her daughter's coming-of-age ceremony in a rite that honours femininity, renewal, rebirth and balance which marks the passing of these insights and values from one generation to the next.
In the wake of a storm caused by Prospera, a group of young men lands on the island, triggering an epic, emotional story of love between Prospera's daughter and a brave young suitor. But theirs is a love that will be put to the test. The couple must face numerous demanding trials and overcome daunting setbacks before they can achieve mutual trust, faith and harmony."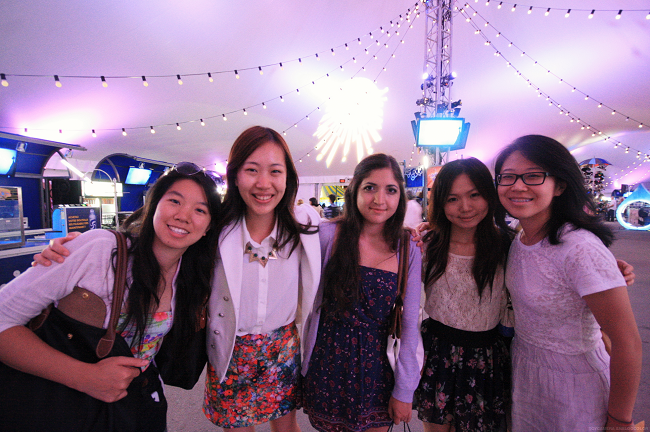 The show was INCREDIBLE! I had never been so entertained in my life! I didn't want it to end and the entire audience was clapping until our hands were sore. I was constantly in awe of the amazing performances and tricks! It was funny too because of the clowns X-D! Their crazy acrobatic tricks tangled with graceful dancing! Some parts were very suspenseful too! You bet I'd definitely go watch another Cirque du Soleil performance!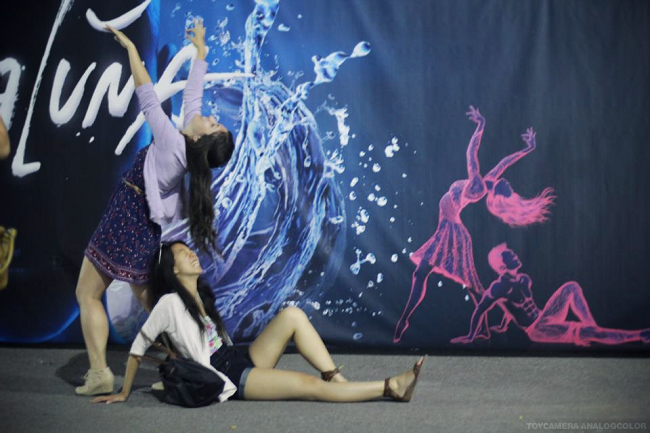 It's funny, in the middle of the show Lu said: "I am giving up being an accountant and joining the circus!" So here we are, trying to mimic those two circus performers on the poster X-D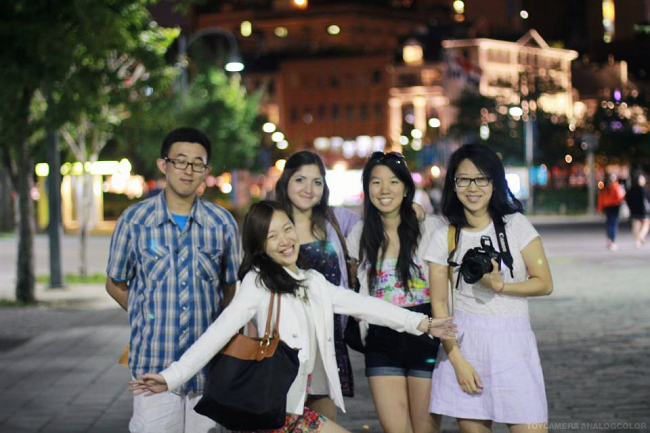 Credits to lily for this amazing picture with her super expensive canon body + 50mm f1.4~ LOOK AT THAT BOKEH!
I'm really glad everyone enjoyed themselves a lot and time really passes quickly when you're having a blast!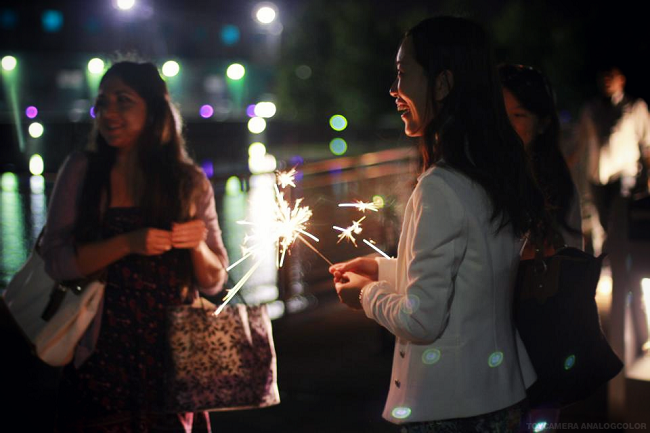 Picture credit: Lily
After the show, we camwhored a bit in Old Port and played with sparklers! It was so much funnnnn! We were really lucky that day because nobody thought of lighters and there was no smoker in sight. We asked this couple that looked like they were on their first date for a lighter. The girl said she didn't smoke and the guy was like: oh I have one. And the girl turns and was so surprised HAHA=P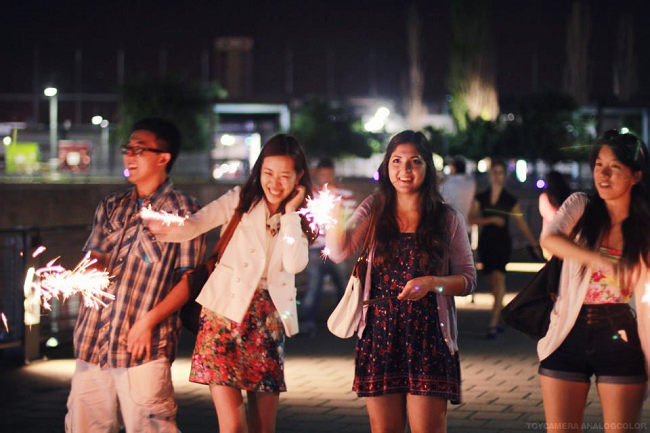 Picture credit: Lily
Attempting to spell out my name : P DID NOT WORK! HAHAHA NEXT TIME WE NEED 5 PACKS OF THESE SPARKLERS!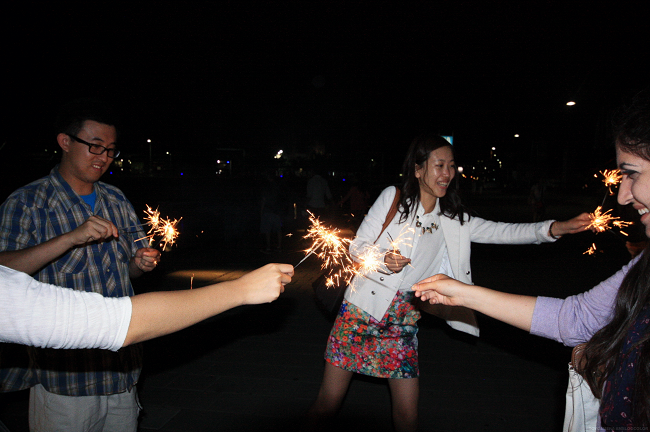 I just thought this picture was hilarious. It looks as if I'm rubbing that sparkler in Niv's face and she's enjoying it!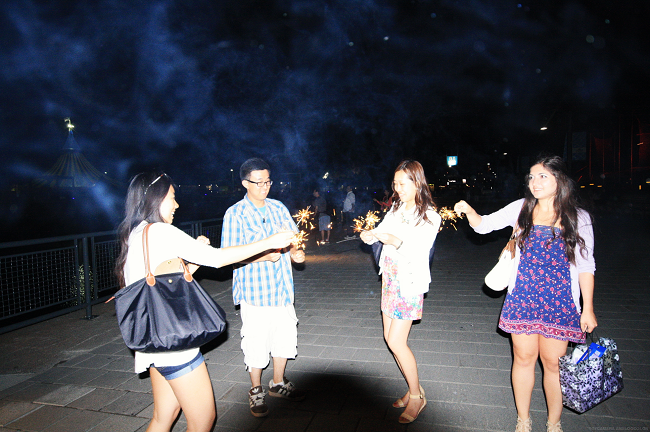 LOOK AT ALL THAT SMOKE: HIGH TIMES IT IS!
I spent a really amazing day with people that I really cherish + I got to see Cirque du Soleil!
I'm already sad that it's over : C