It's SUPER hot these days but inside they blast AC so high that it feels like winter =3=;;; I always want to bring a light jacket/cardigan but carrying it outside makes me sweat like a pig~
Still not too sure what to do with this temperature problem LOL : C Suffer the heat, or suffer the cold? D:
I went on a trip to Toronto for 3 days with my boyfriend + 2 friends and lately I've been a bit lazy with my OOTD's so no decent OOTD : P The whole trip was filled with foooooddd~ My favourite part of travelling is eating haha :P
Warning: this post is heavy with non-fashion related pictures and blabber!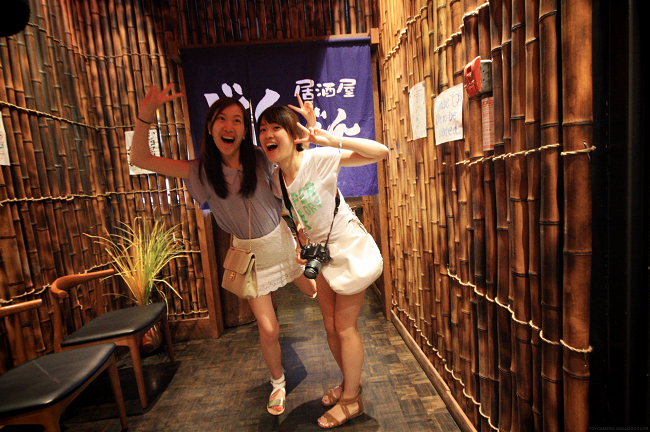 The first thing we did when we got to Toronto was check in at the place we rented via Airbnb.com and EAT! Carmen's cousin recommended this japanese resto: Don Don Izakaya. It's really close to Eaton center and they have really nice interior decor. The price was reasonable :P Bleh how come Montreal has more non-sushi based japanese restaurants?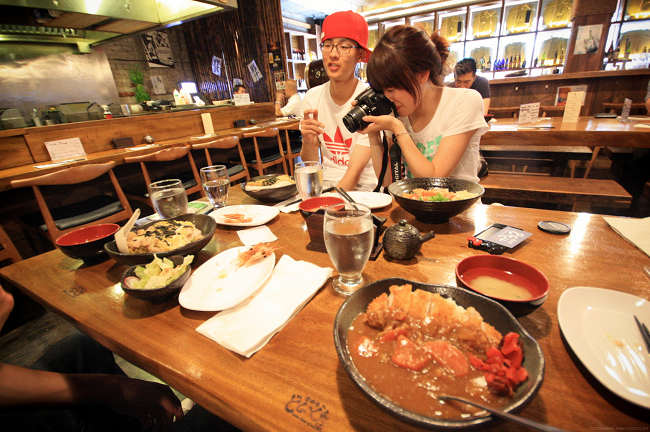 My curry and pork cutlets were delicious :D The interior was so pretty and they had perfume in their bathrooms~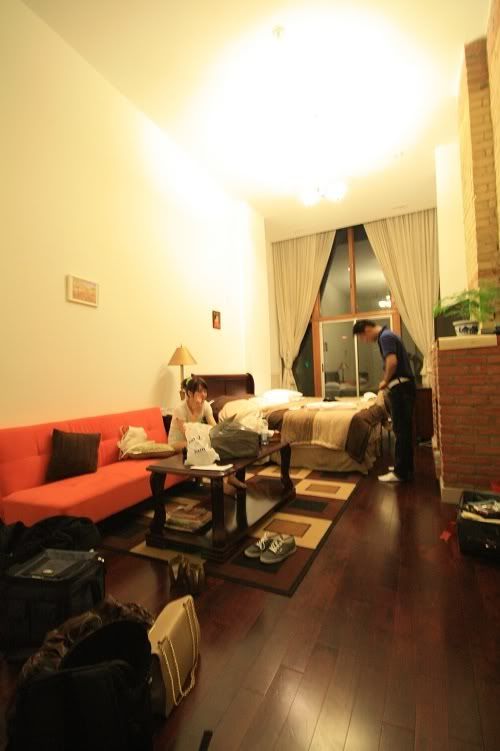 We rented room number 2 at the Heritage Yonge House via Airbnb.com. The room was super big with a high ceiling, bathroom, patio, TV, fireplace and couch. It was really clean too and only 79$/night (yes per night not per person per night :-D)!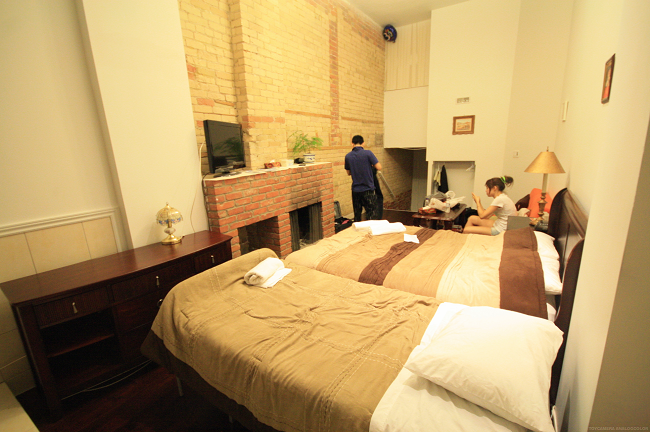 Lol Monkey had to sleep on the crack between the single bed + queen sized bed :P
We went to Ktown and got some snacks & drinks. THEY HAVE HI-CHEW BARS FOR 79 CENTS D:::: I love hi-chewwwwww!!!
We went to the Ontario Arts Gallery (it's free on Wednesdays from 6-8:30pm). It was really big and quite interesting. Monkey was super bored though. We ate at Owl of Minerva, a korean restaurant chain in Chinatown. The portions were so big that none of us finished our bowls ('cept the fat Monkey). I got a kimchi jigae, it was super yummy and had tofu + noodles!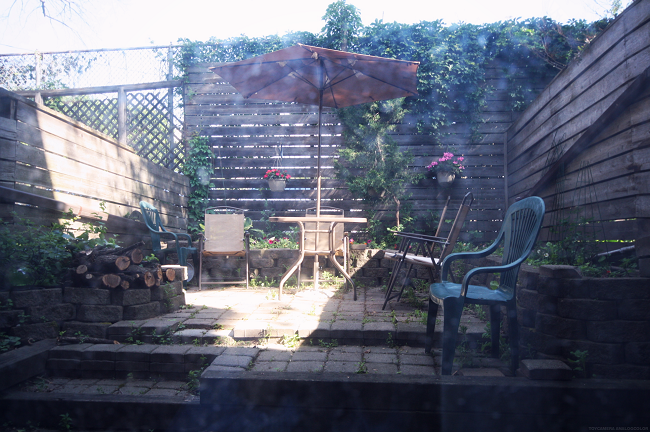 The view of our patio during the day time~ I never actually went out on it because we didn't have time at night (too scared of mosquitos) and mornings were always rushed.
On the second day, we went to the Toronto Zoo. They are supposed to get pandas in 2013 : C
It was very big and filled with energetic kids : p It was scorching hot and at one point this kid whined: "I CAN'T BREATHEEEE AGAINNNN" :P It was kinda funny!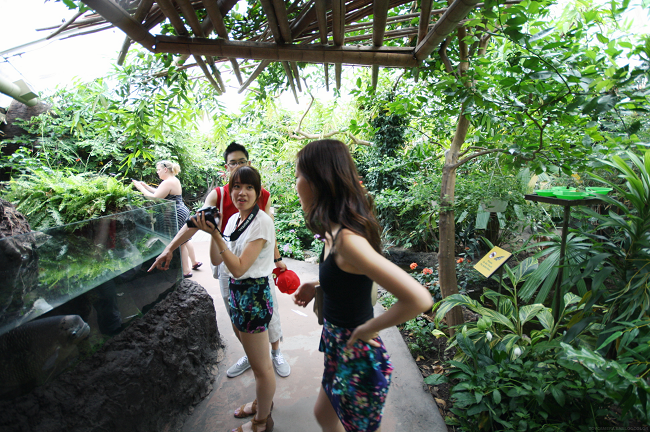 Carmen: LOOK AT THE FISH!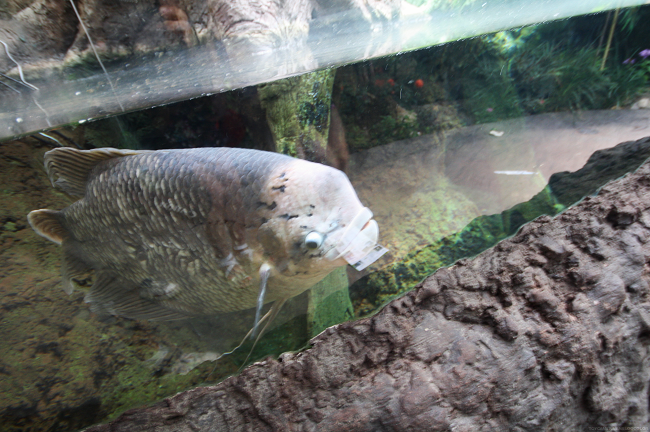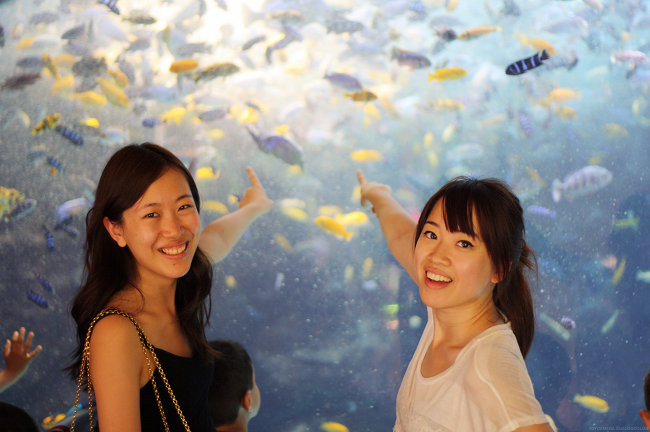 It was lunch time for the fish and when the food got dumped into the aquarium, they all swarmed around it creating a mega whirlpool of fish!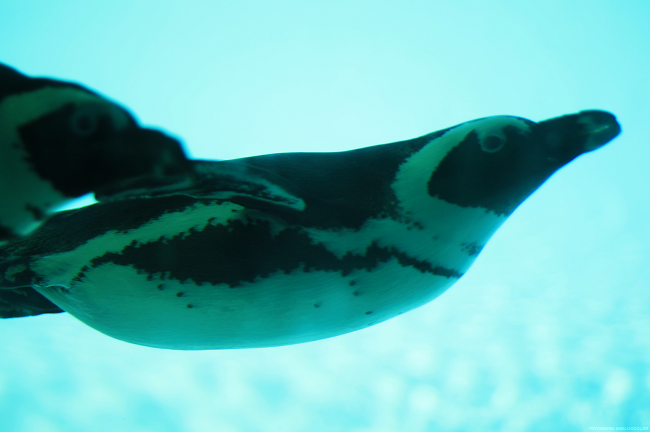 Most of the time, we were trying to find shade or exhibitions with AC, thinking that the penguins&polar bears must be living in AC. NO SUCH THING! They were all trying to hide in the shade.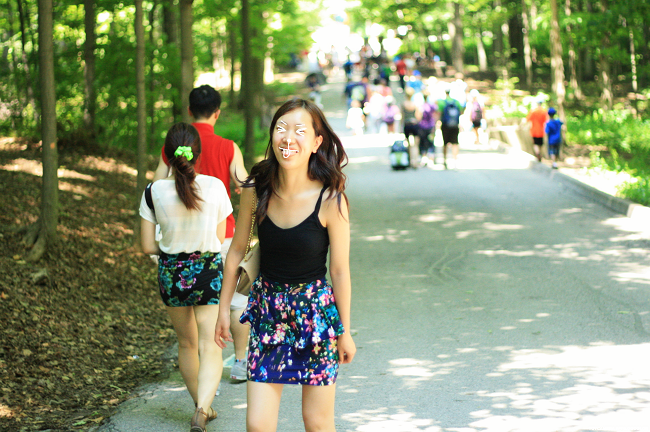 Only picture of my outfit, I already got a tanktop + sandals tan. Carmen and I matched by coincidence hehe :P Finally wearing my peplum skirt from G-market :D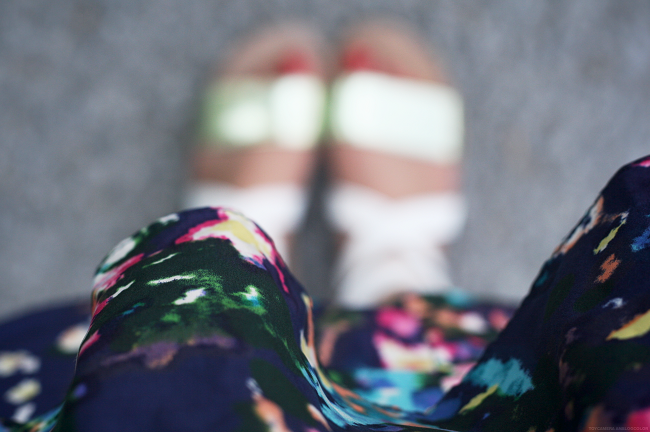 PRETTY PRETTY PRINTS! GAK, blue is my favourite color and when it's splashed with other colors, it's just perfection!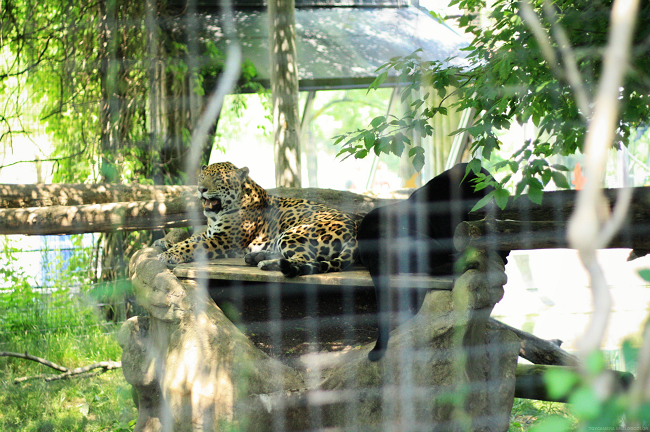 Cheetah and black panther chilling in the shade. All the animals were trying to stay away from the sun as much as possible.
In one of the cages, they put 2 fatty beavers, they looked so sad : C I felt super bad. The box was literally 1 meter by 1 meter : C As a kid, I thought the zoo was all fun and games but now after seeing all those animals in cramped spaces, it's quite sad : C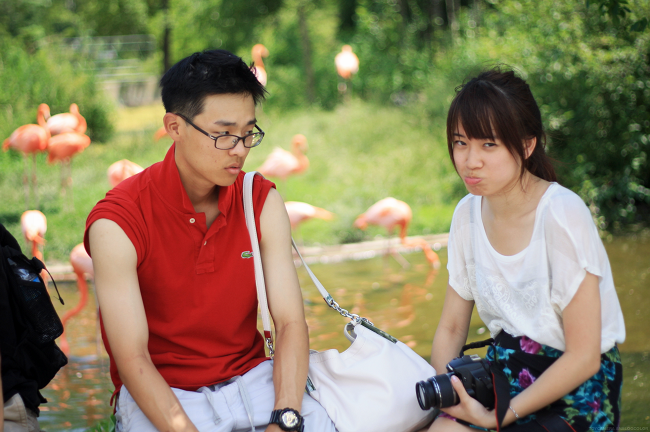 SOOOOO HOTTTTT, DYINGGGG, THE SUN IS MELTING US!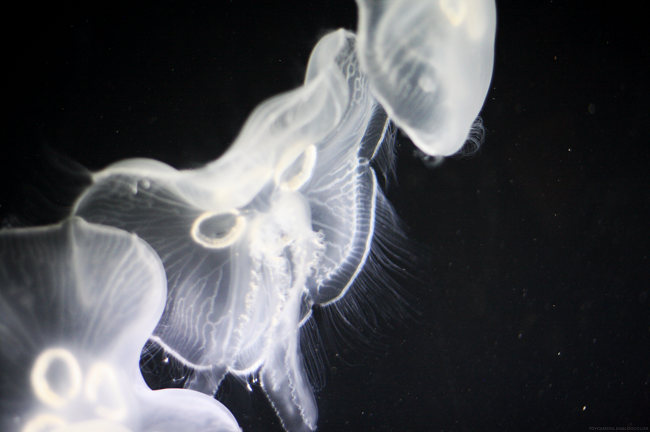 The jellyfish were so cool :D The way they float (030)~~
After the zoo, we went to Pacific Mall to get some lamb skewers & fish balls. When we wanted to leave, it started thunder storming like CRAZYYYYYYYYYY! We got wet and because of the AC in their busses/metro, me and Carmen were freezing >___<;;;
We met up with Henry who came from Waterloo to hang out with us. We wanted to eat at Jack Astors but the wait list was 30-45 minutes. We decided to find a better place and ended up walking for 30-45 minutes trying to find a place HAHA.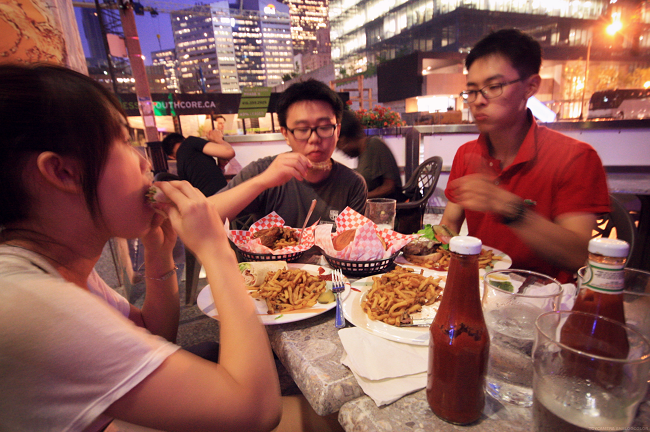 In the end, we were all starving! Toronto is really nice and big. Even though I went last year, a road trip and a bus trip feels completely different :P
The night ended with us drinking (again) and watching the Maury show, Mythbusters and Futurama.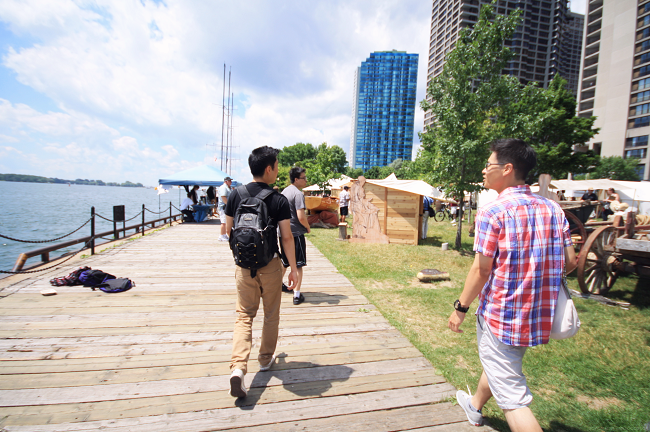 Our bus was at 5 pm the following day so we didn't have too much time. We just ate at Eggspectations, walked along the riverside and went back to Ktown for snacks :P
Also, Monkey looked high and low for a Wendy's. He LOVES their spicy chicken burger.
LOL at the difference in facial expression.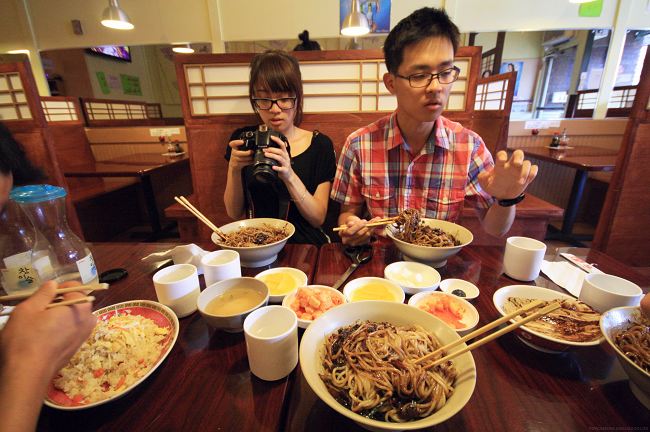 We went back to K-town for snacks and jajangmyun. It was so delicious, the noodles were of the perfect consistency and eggy taste. The sauce wasn't too sweet or too salty with just the right amount of sauce D: AND THE PRICE: it was only 5.25$ >____< Montreal only has one place with jajangmyun (Chez Bong) and it's definitely not as good TT___TT
TORONTO, I'D COME BACK JUST FOR THE FOOD =P