Behind my house, there is an elementary school and they are currently constructing a new wing. From about 7am till 7pm, all I hear are construction noises mixed with screaming children. It's so loud that I cannot even open my window and the sound shakes my window sometimes =___=;;; Bleh! But it's looking almost done so I cannot wait for the day they finish everything! I'm sure by then, I'll be complaining about the screaming kids (which I already did).
I went biking around the city with my friends on Wednesday. It was so much fun :D Seeing the city on bike is different versus walking! I helped my friend take pictures of her & her boyfriend so she can make a scrapbook :)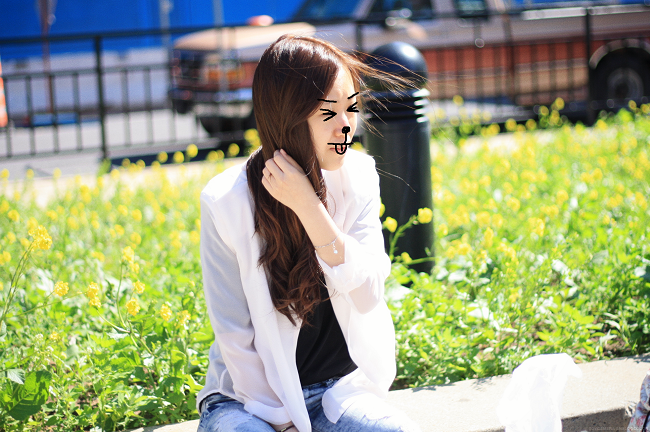 (hey this picture isn't too bad, thanks Monkey
)
We used our city's Bixi system: it's basically stations where there are bikes, you pay and you get a code to take out a bike but you have 30 minutes to park it in another station. There are multiple stations scattered all over the city. Sounds like a good concept right? The number of glitches surpassed its benefits therefore I doubt I'll Bixi again :B It was fun while it lasted!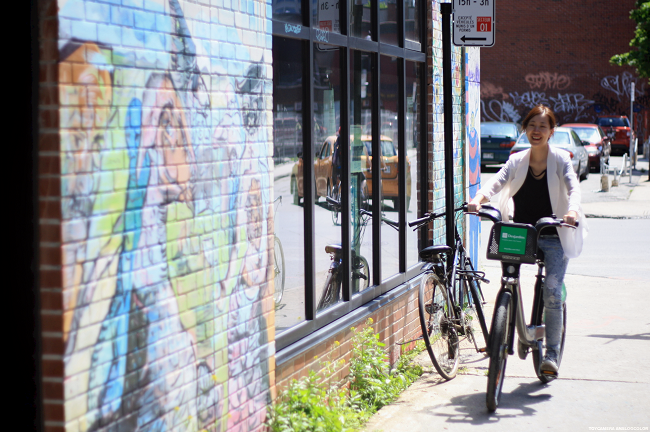 There was a crazy thunder storm the day before so we were lucky that on this particular day, it was sunny and warm!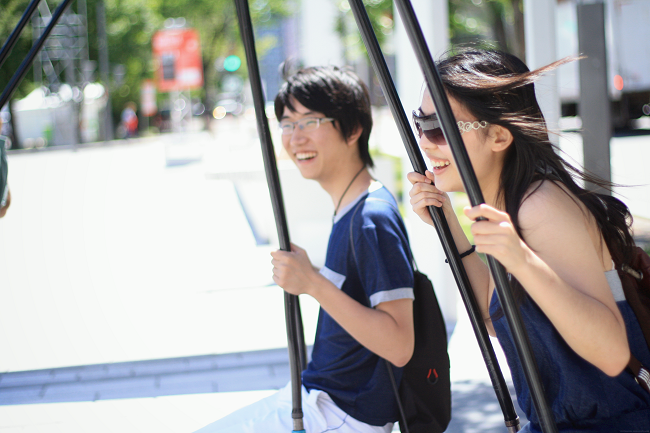 My friend and her boyfriend bought a matching set in China, haha it's so Asian but I'm a sucker for these things too X-P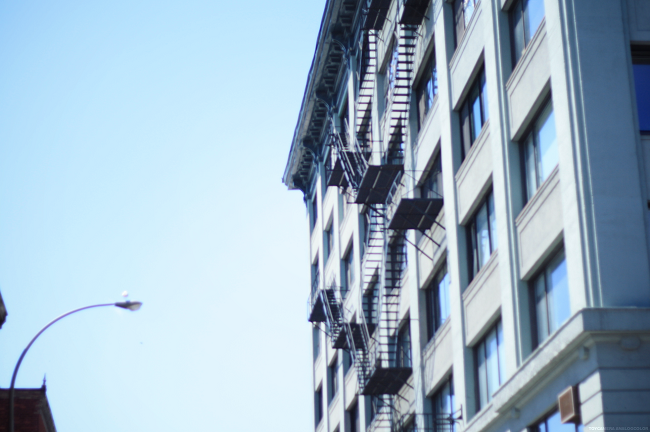 I thought the stairs were funky and reminded me of New York : P
The following day, I hung out with Niv and Lily again. We went into Forever21 and styled Lily (pictures are below) and then we went to eat at Lola Rosa, a vegetarian bistro tucked behind the streets near McGill university. Never would I have voluntarily gone to a vegetarian restaurant because I love meat too much D: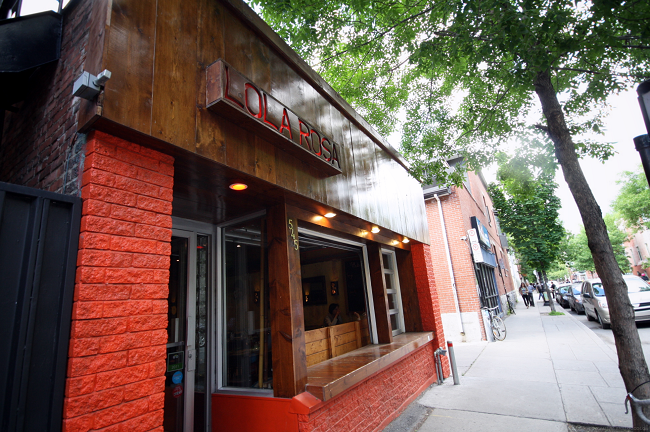 Lola Rosa Cafe
545 Milton
I was so pleasantly surprised, the prices were reasonable and the portions were generous, the service was nice, friendly and quick. They even deliver on bike! :D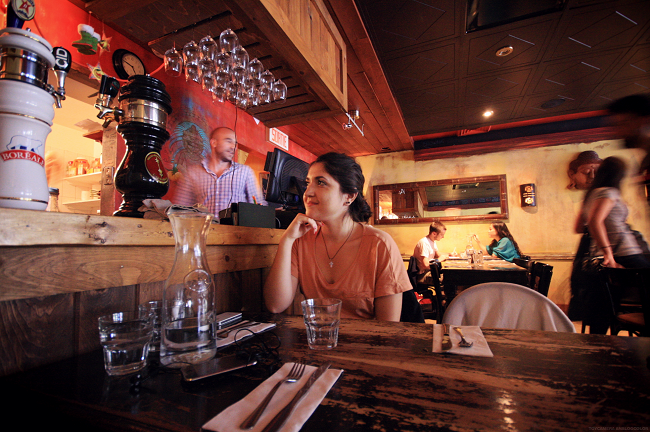 Picture of Niv's meal ended up blurry so I'll put a picture of her haha >:D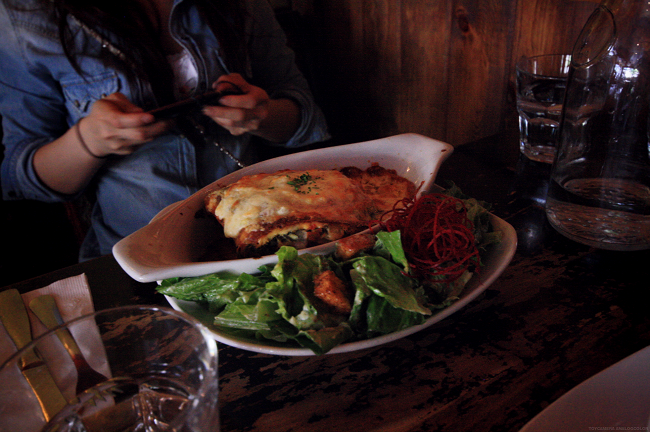 Lily's lasagna, it was very creamy and cheesy but delicious :D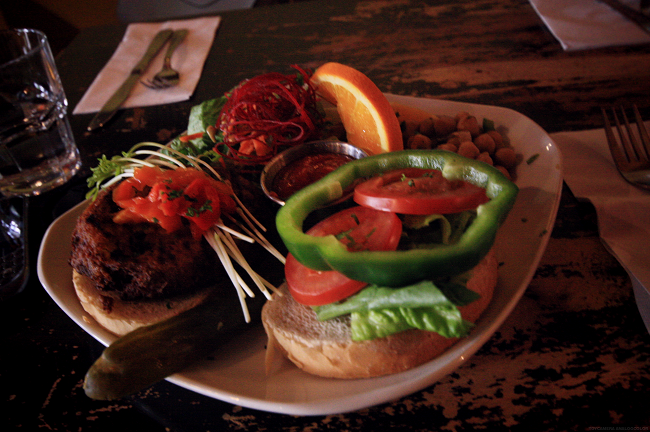 My veggie burger: the pattie was made from potatoes and some peppers, it was really yummy though a tad dry because of the bread they used. I actually finished everything on my plate! It was good :D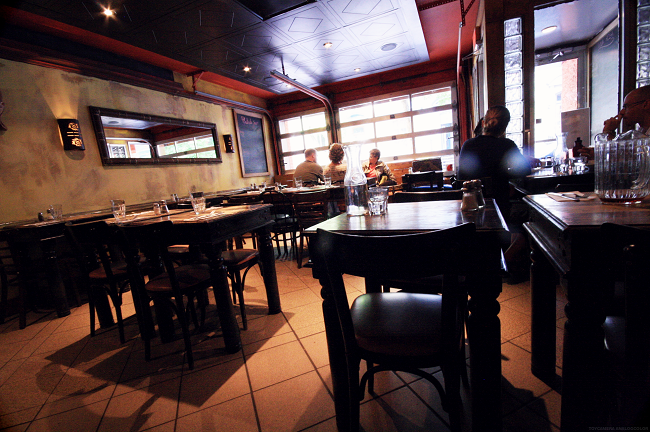 Definitely gonna come back some other time to try the other stuff on their menu!
Before we ate, Niv and I styled Lily at Forever 21 and snuck pictures >:D HAHA! The pictures don't do the outfits justice because they were taken hurriedly ~3~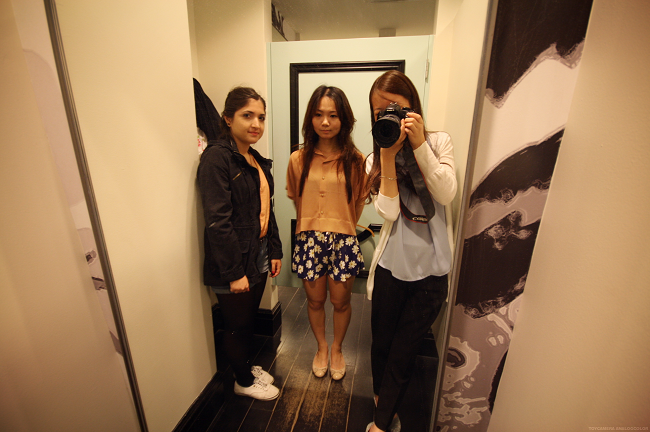 First look: very sweet and feminine. The flowers were white and yellow on a cerulean backdrop. The cropped blouse was also very simple with dollman sleeves (can't see very well from picture). This look really suits Lily's personality :D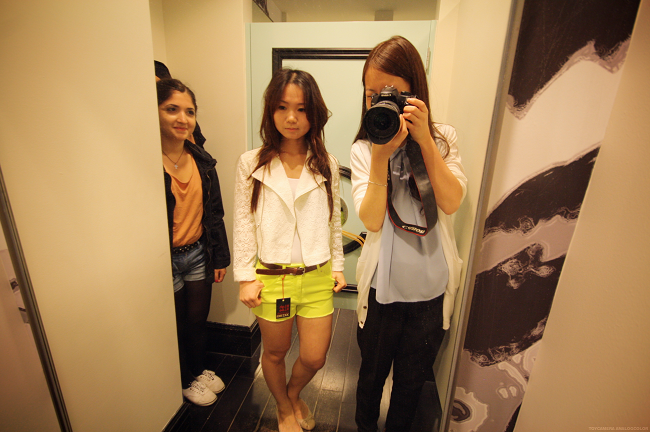 Second look: Lace moto jacket with neon yellow shorts (brown belt came with the shorts). The cut of the jacket was too big but otherwise, I really like this look and would definitely wear it myself!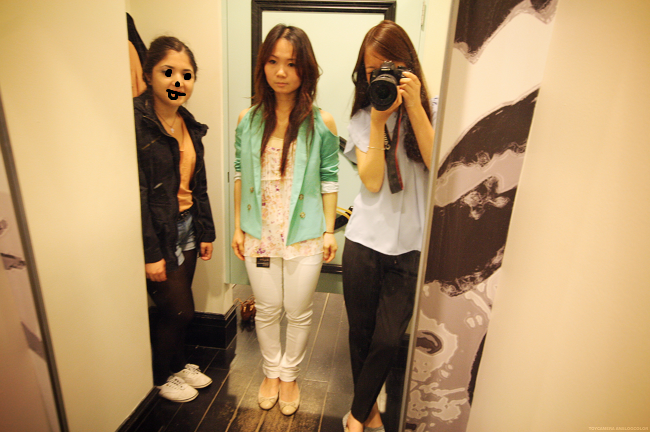 Third look: We were inspired by the colorful cut-out blazer and worked around it! You can't see the print on the tank but it's peach and purple flowers, it is really cute!
Playing human dress up is really fun! Lily walked outta the store with some of the pieces we suggested! After styling Lily, Niv and I realized how easy it is to style others but so hard to style ourselves!
I recently bought TONS of new clothes yet it seems like I still got nothing to wear D: I just can't seem to match things the way I want X___X BLEH! This styling session made me realize that I should play with the stuff that I already have in my closet instead of constantly buying new things. I should buy things that tie together pieces that I don't know how to match in my closet. Having said that, I walked outta Forever21 with a new pair of sandals ~____~
SLAP ME PLEASE!