YAYYYY I got my
G-market
package today : ) I'M SO HAPPY! I've been splurging way too much lately (got my lens, g-market, asos sandals etc.)! I'd like to think of it as: celebrating a
successful school year
: D This is probably the first summer since
forever
where my mom didn't nag me to study harder once school starts!
G-market is one of my favorite online places to shop, it's like a Korean Ebay but better! I have picture-linked the shops so you guys can buy them too if you're interested~ Furthermore, if anyone would like a tutorial on how to order from G-market, I'll gladly show you guys how I do it : P
I WHIP MY HAIR BACK AND FORTH (out of excitement)! So excited that I'm already wearing them to go out later tonight! (I washed the tank and it dried super fast 'cause it's really hot today :D)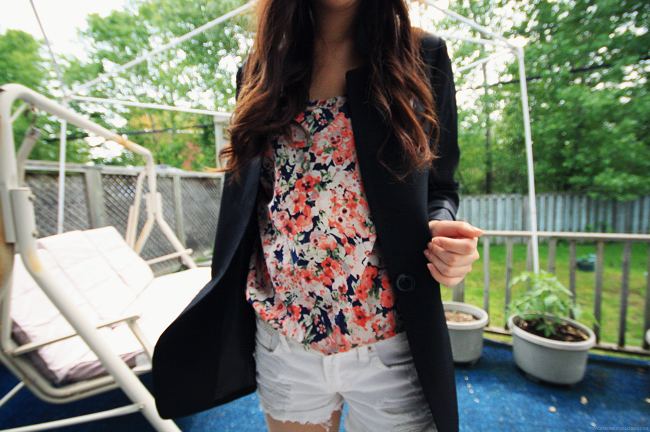 Everything I'm wearing is from G-market. However, the shorts were from my trip to Korea 2 years ago. I dunno if I got fatter but they're SUPER tight! They have some pretty pushy/persistent yet very nice salespeople and the ahjumma that sold it to me was so insistent that I couldn't refuse D: As soon as I started looking at the shorts, she grabbed this cotton long skirt, pulled it over me and made me change into these shorts =O=;;; I didn't know how to refuse so I bought them (needed white shorts anyways, but these were overpriced). I'm such a push over ;___;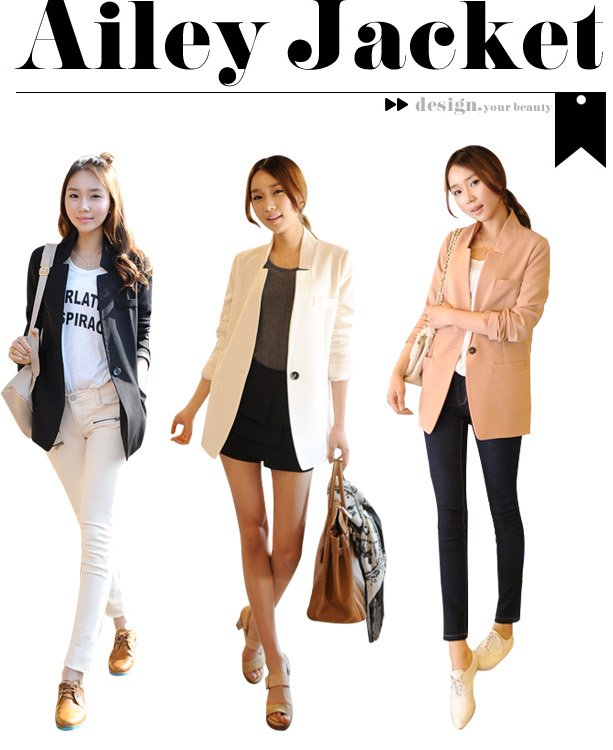 This blazer cost me a mere 19$ (excluding shipping), the shop had a sale going on (I think it's still going on)! The blazer is very well made and the material isn't cheap at all! I knew this shop was good since I had bought a burgundy coat during winter (it was only 30$ >D<)
5/5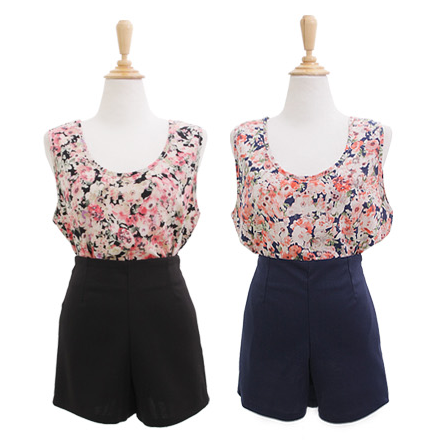 This tank is made from a rather plastic-y/synthetic fabric but it feels breezy against the skin. It cost more than the blazer LOL but I really liked the print (I love flower prints as you can tell by now : 3) Not giving it full marks because of the price >: P
4/5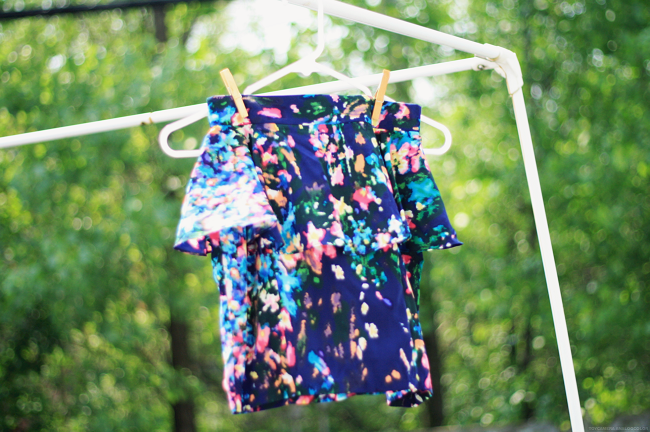 This skirt was the reason that pushed me to purchase from G-market. I really really REALLYYYY like the print! Blue is my favorite color and the peplum shape is so cute :D I couldn't pass it up!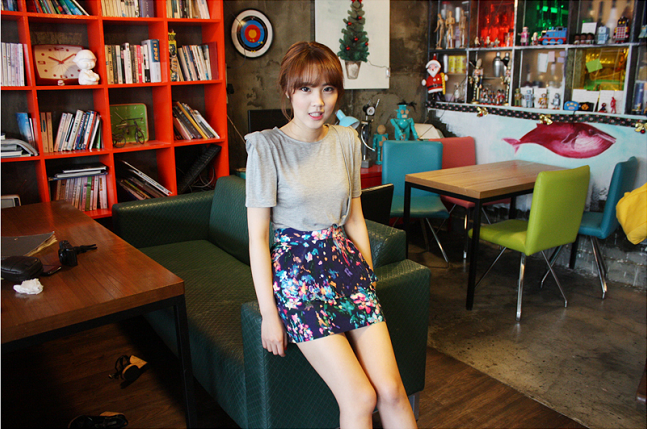 The skirt was very pricy almost 30$ but I doubt I could find something this nice in real life for that price! Even though it fits well, it's pretty tight/not stretchy at the bottom so whenever I sit, I have to be careful! There were also a few loose threads >: ( The shop boxed the skirt (was it really necessary?) which made my overall box very big therefore I got charged customs : C
4/5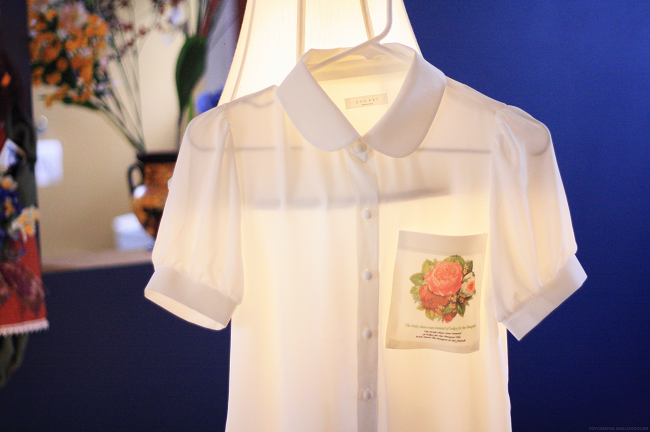 I like blouses with cute collars (doesn't everyone?) and I liked how sweet yet edgy it looked on the model : P Now if only I had a pair of shorts like her *points down below*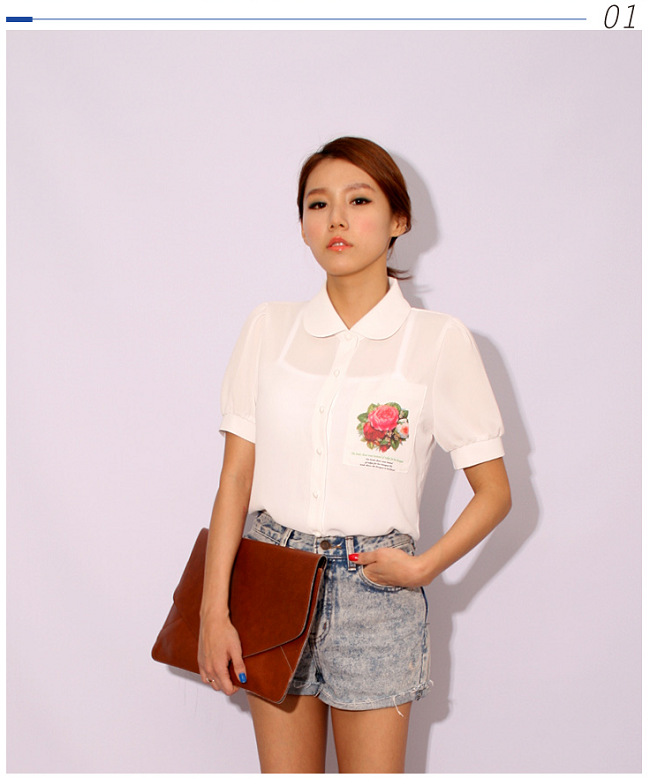 The blouse doesn't come with an inside tank and it's quite sheer. I never thought about it but there's some funny engrish on the pocket, darn it! The chiffon material is very soft and there are no loose threads YAAAAY!
5/5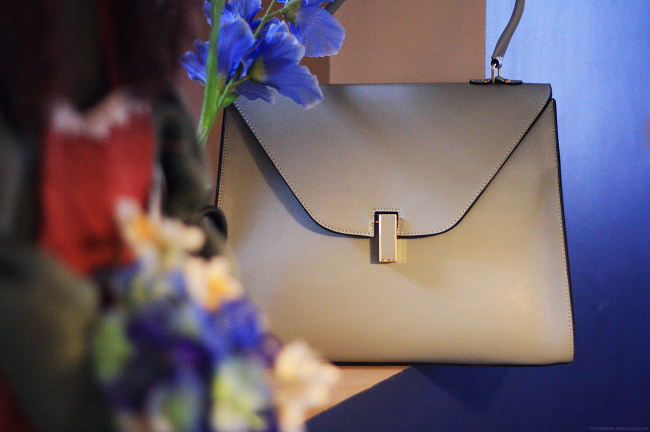 I had wanted to buy a big neutral colored bag for some time now (just to throw in everything + camera without a fuss). This bag turned out to be way bigger than I expected and the color was also different (greenish undertones)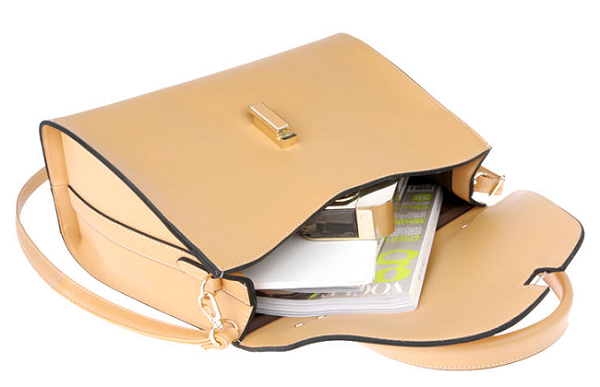 (stock picture is of the bag in orange, mine is light grey)
Hmm I just noticed now, you can fit a magazine (and still have tons of space)! No wonder it's so big haha! The quality is pretty good and it doesn't look like those super thin cheap looking fake leather bags :-)
4.5/5
As you can tell, all the items I received are very true to their stock pictures! Perhaps the only complaint I have is that the color is sometimes off (but that's what you get for online shopping) + G-market does not refund the excess money you pay for the shipping.
The entire order cost around 110$ with shipping costing 40$! I also have another blouse and a tee but they're too simple to review : P
NOW EXCUSE ME WHILE I GO EAT INDIAN FOOD WITH MY SEAL BUDDIES :D (Vy + Zee)