GREEN seems to be the color of the day: MONEY & my shorts & iced green tea matcha!
I woke up early today to call my bank for some charges they sneaked on me during the weekend : C Fortunately, I got it removed and when I verified my bank account later, I saw that I finally received my tax return WOOT WOOT =D! Not only that, I participated in a media communication study today and got paid 22$. I also met up with Zeal 'cause he owed me 18$ :D
YAY my wallet is fattening up, slowly but surely! My dad wanted me to treat him food for teaching me how to drive so I gave my parents 50$ so they can knock themselves out at a buffet (they always go to buffets). My mom was so giddy : P
Monkey had an interview for Godiva today so I went downtown earlier to support him! The interview went really well according to him and the manager is a korean lady. Her husband said they still needed to review 3 others before they can make a decision. Later on, she whispers to him: "I think I'll hire you, can you work tomorrow?" But he couldn't so she said she'd call him : ( Monkey insists that I am only encouraging him to get the job so I can leech on the chocos! THAT IS PARTIALLY FALSE D: LOL
Since we were downtown, I took the opportunity to snap an OOTD!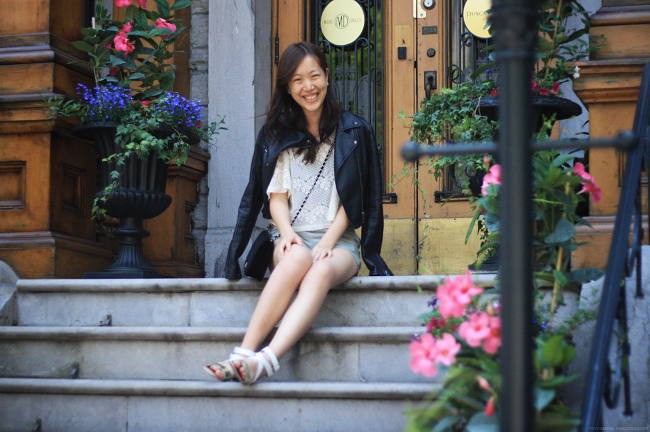 Thanks Monkey for the non-blurry pictures :P
Don't be fooled by my leather jacket, it was EXTREMELY hot in the afternoon ~____~ I thought I was gonna stay out late to hang out with Lumama (whom I couldn't contact till later 'cause she forgot her phone). Even though temperatures get very high during the day, at night, it's always chilly so I brought the jacket for the night time!
I didn't end up meeting Lu 'cause I was really tired and just went home~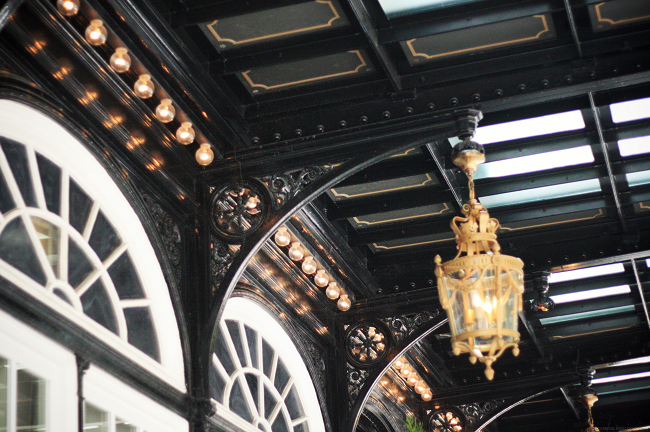 The Ritz Carlton hotel entrance~ Passed by while heading to school for the media communications study, thought it was a really nice backdrop for an OOTD!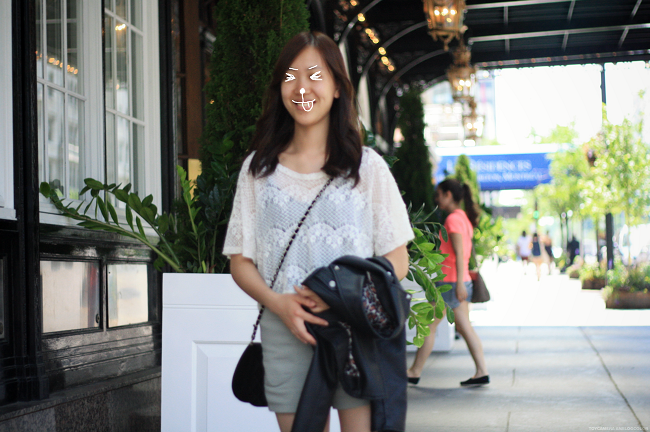 So then, I asked Monkey to sneakily take some pictures pretending to be tourists : P It was so awkward since the street is busy and people were staring while Monkey was sticking out his butt trying to photograph this awkward panda :B
Hey why is the plant in focus? >: (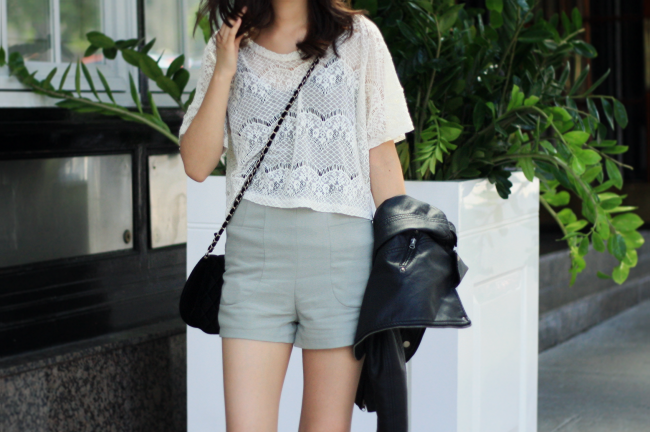 Lace top: Zipia (2 years ago)
Shorts: G-market
Leather jacket: random store in New York
The shorts look grey but they have a green undertone. As always, buying from the internet yields color discrepancies because I thought the shorts were mint green! They were reallyyy cheap on Gmarket (8,900 won ~ 8 CAD). The shorts are very nicely crafted with no loose threads and I've seen shorts retailing for 20+ over here looking shabbier! I really like the big pockets in the front, anything with pockets makes it WAY better!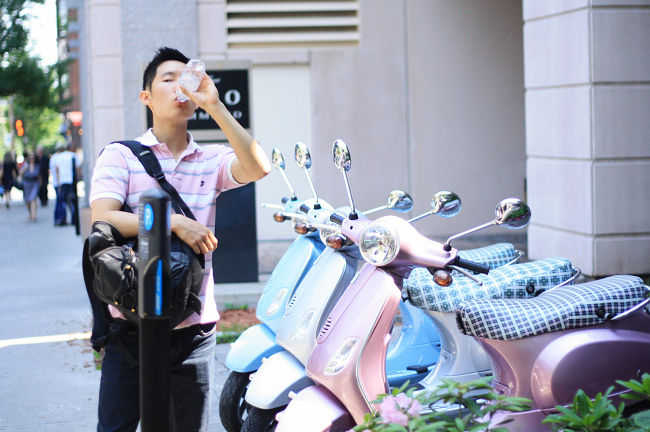 The photographer taking a break infront of these cute pastel colored scooters! It somehow matched his shirt so I snapped a picture :D I'd like to ride one of these scooters, it looks like fun!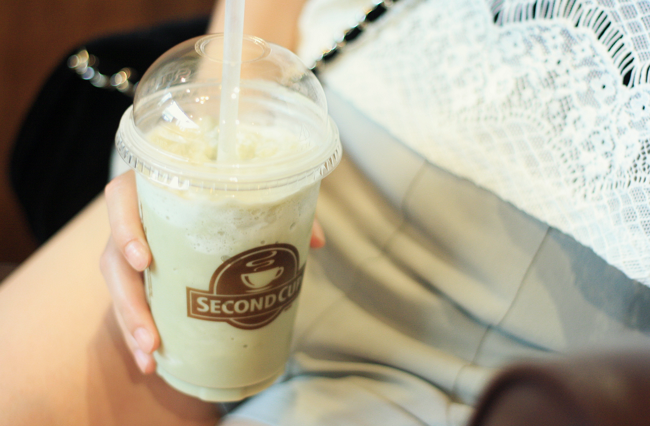 I was so happy with all the money I earned today by doing nothing that I went and treated myself to some expensive coffee hihi. Lol yes I'm a cheapo that usually sticks with Tim Hortons, in fact, I prefer water over any other drinks.
Hey, my iced green tea matcha matcha-ed (hehe punny) with my shorts ;D
I didn't stay out long and went home after, sad that I didn't get to hang out with Lumama today : x