Other than sleeping and eating, one thing I enjoy is restaurant hopping (or flogging in ugly terms HEHE). Today, me and Niv went to Au Festin de Babette, a cute shop with sweets such as pastries, jams, chocolates and ice cream because the weather simply couldn't be better for ice cream! Finally, the sun is shining, the birds are chirping and everyone is happy! Yes I know it was nice during the weekend too but I worked so that doesn't count BWUAHAHA! With all these updates about the weather, I should just apply to work for meteomedia! Move aside Desjardins, I don't need you! >: P
hehe feeling a bit bitter about my candidature for a cashier job that was declined. C'mon, just 'cause I don't have a car doesn't mean I can't count money ;(
Au Festin De Babette
4085 Saint-Denis Rue
Montreal, QC
Niv and I got a sugar cone with 2 scoops of ice cream each for 9.20$ total :-P Pretty pricy for ice cream considering in Europe, the same amount would've cost less than 2 euros!
I got a King Kong (banana with choco chips) while Niv got orange-chocolate. She said that her ice cream just tasted like ordinary chocolate ice cream. The texture was pretty unique, it was chewy : P Never had chewy ice cream before : P It was WAY too sweet! Diabetes on a cone! We both didn't finish our cones~
Cardigan: G-market, white jeans: Sirens, beige sandals: Korea
No OOTD because I was feeling lazy (woke up super early to get some business done), thus a very casual outfit : P Color palette similar to ice cream hehe : P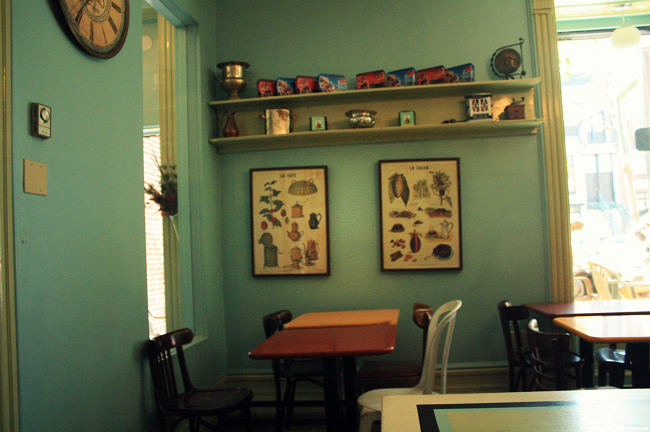 I like all the random details in the shop : D I am always fascinated by interior decor that feels as if things are randomly thrown together but ultimately mashes well :)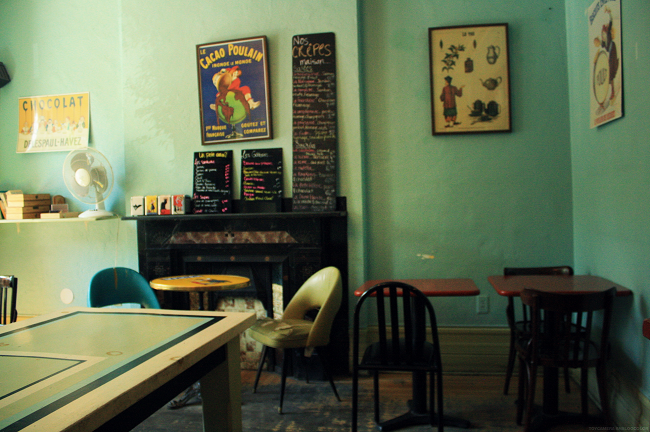 Niv and I took the best seat of the place >:D There was a patio too but the ice cream would've melted before I even lick it!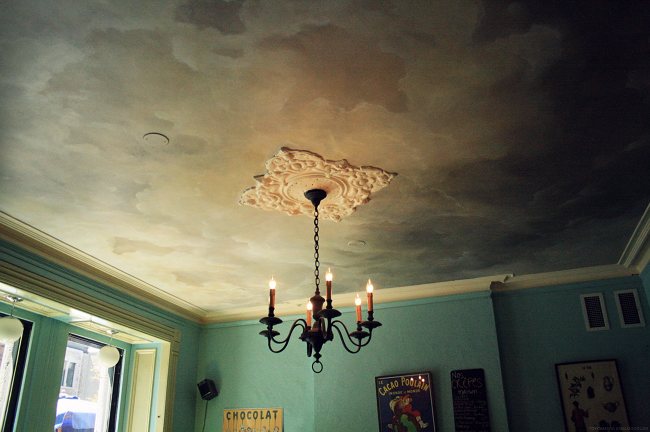 I have a thing for taking pictures of Chandeliers :D I really want to have one hanging in my future cute cozy house : ]
Cute teapots : D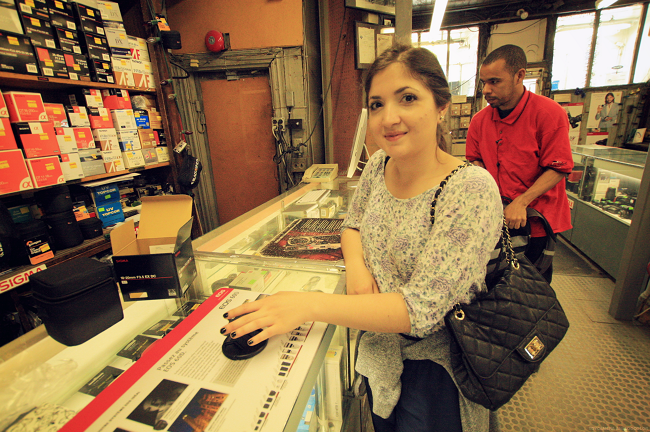 (note: I was standing ~30cm close to Niv @#$%%&// GAKK I WANT THIS LENS SO BAD)
We spent the rest of the afternoon walking around, sitting in Old Port and just enjoying the cool breeze on a sunny day. We passed by Simon's camera store and I wanted to try out the Sigma 10-20mm f/4-f5.6 EX HSM AF Lens for Canon! I'm planning on getting this baby but I wanted to test it out first. They sell it on ebay for ~520 with shipping excluding customs and it is 680$ with a 10-year warranty at Simon's camera shop. I'm not quite sure what to do, buy it online... vs. buy it irl?! That 10-year warranty is tempting me alot! I bought my dslr not even 3 years ago (warranty looooong expired) and it's already very laggy and I think my sensor needs some cleaning. I have enough money to buy it now but it's as if I'm waiting for a magical sale to happen!
My Sigma ultra wide angle baby, I REALLLLLYYYY WANT YOU <3 Please be mine soon : C
-CREEPY PANDA OUT-