I started watching Switch Girl this week and I really like it because I think I can relate to the female protagonist (though not 100% because dramas exaggerate everything). For those who don't know what it is: "Switch Girl!!" revolves around a high school student named Nika (Nishiuchi) who appears to be a stylish and fashionable girl at school, but that's really a fake persona that she uses when she's in public. At home, she "switches off" the facade and her returns to her true sloppy nature. -
Tokyograph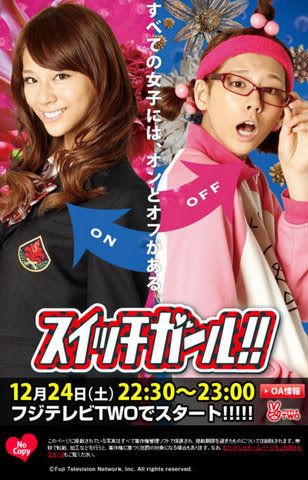 This drama is really funny/exaggerated and it's short so it goes well with my short attention span : P I dunno about y'all but I am totally a switch girl! At home, I wear super old baggy tees with sweats/shorts, hair in a bun and when I go out, I try to look as presentable as possible. I blame it on my mom who always told me there's "home clothes" and "outside clothes" : 3
Are you a switch girl too?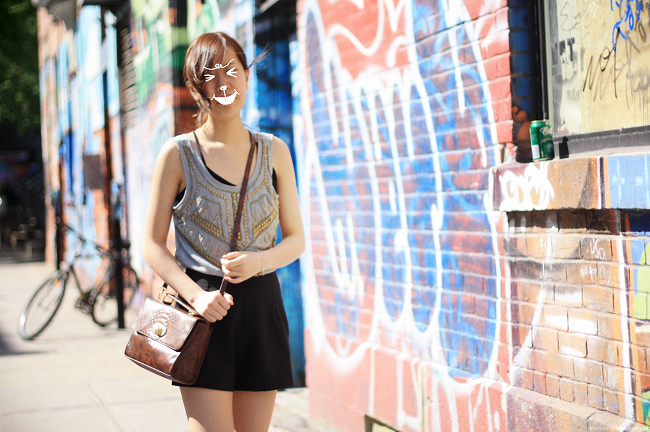 Embellished tank: UO (from 2 years ago)
Shorts: Korea
Bag: from Monkey
This is one of my favorite tops (everything that blings, shines, sticks out, has a print, I likey). I used to have a love-hate relationship with Urban Outfitters (now I rarely shop there). They have some really nice over-priced stuff and the sale items aren't bad but they were always bad quality =/ I think I threw out all my UO stuffs LOL! This is the only one I kept, it was only 10$ YAAAYY! You can't see it but there are threads are sticking out and missing beads on my top. I still like it and shall wear it until all the beads fall off hehe :3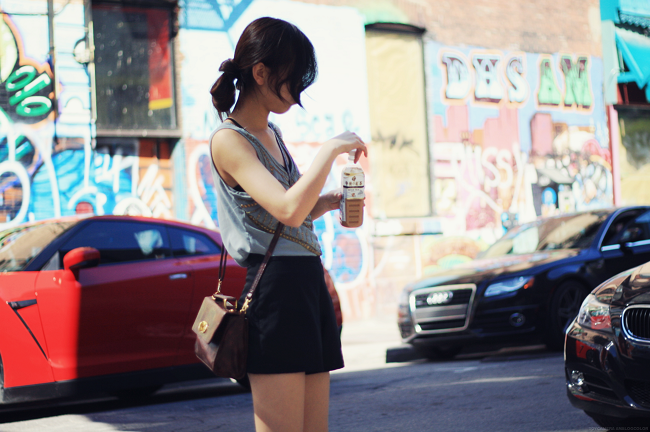 Monkey and I spent 20 minutes at this spot trying to snap a good/focused picture :S Getting thirsty from all that modelling, gonna drink some milk tea. KIRIN MILK TEA! I LOVE Kirin Milk Tea <3 It's so good yet pricey,
AKIIII
you made me crave it!
I met up with Minji, my ex-roommate for supper. She's going to Europe next week (I am sooo jelly, even though I went last year)! I wanna go on a trip this year too >D< BWUAH! It was fun catching up with her : 3
-PANDA SWITCHES OFF-