Today, I was supposed to go watch Hunger Games with my boyfriend since everyone's been buzzing about it however not even 15 minutes into the movie, I got major motion sickness. I started sweating and breathing hard so we just left the theatre >: I blerghity! NEVUH GONNA BE IN DA LOOP!
Recently I've been watching some girly japanese movies such as My Rainy Days, April Bride and High School Debut. I used to LOOOOVEEEE japanese entertainment when I was 14-16 and even dreamed of becoming a mangaka : P YEP, those days are long gone but watching those movies made me quite nostalgic : D and somehow that translated into today's very fobby/overly cutesy outfit X-D.
I don't usually dress like this... I think :B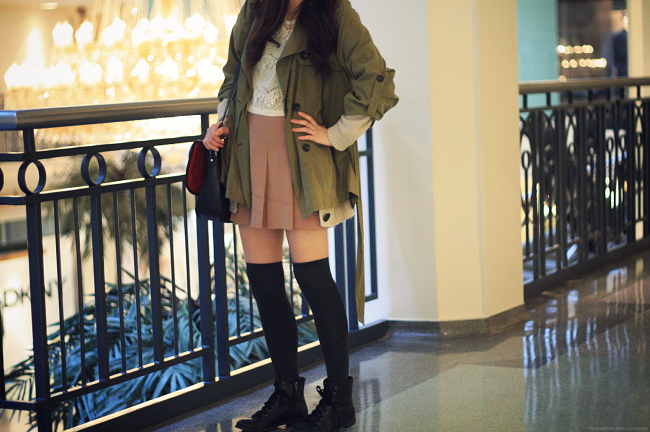 Jacket, cardigan, lace top, bag: Zipia (from 2 years ago)
Skirt: Forever21
Shoes: Gmarket
Because I'm a lazy panda, Zipia catered to all my clothing needs (too lazy to go look around irl for stuffs when things are just a click away). That's why most of my items are from Zipia, but I've stopped shopping there regularly because the prices have practically doubled over the years :X and my paycheck did not!!!!!
Since I always wear the same bags, the same accesories and the same shoes : P I'll leave y'all with one detailed shot and I'll never have to put another again HIAR HIAR!
Thanks Monkey for taking my outfit pictures : 3
I never really paid attention much to Cours Mont Royal but it is actually quite nice~ I loved the ceiling details and they had a huge
BLING BLING
chandelier!
Since we didn't finish the movie, we just walked around until one of us screamed: "I'M HUNGRY!" I bought a coupon for Gourmet Burger and it's a pretty cool place :) You get to make your own burger~ I love buying coupons from sites such as Teambuy, Groupon etc. They allow me to try new restaurants without having to spend so much. I took the Italiano recommended by my ex-roommate and it was pretty good, my burger had walnuts in it : 3!!! FANCY SCHMANCY!
Ended the night with some bubble tea and chilling with friends! And then, while drinking my milk black tea, I realized that my clothes were milk tea colored : P MAH FLAVAH OF THE DAY!