All my gay
(cheerful)
clothes are ready to come out of the closet *puntastic* but they'll have to be patient because the weather is not too friendly! It's been pretty cold, gloomy and rainy for the past month : C This bad weather was good for locking myself up during finals but now that it's summer, I want sunshine and warmth!
I didn't have a lot of time today to take pictures (yes I did, boyfriend just failed at taking pictures again... It's not entirely his fault because I'm also a bad model: MINUS + MINUS = DOUBLE MINUS! We went to our friend's house because he's leaving to Germany and HK for the rest of the year. It was a chill hangout, a true SAUSAGE fest (ordered pizza & convos about dicks every 10 minutes)!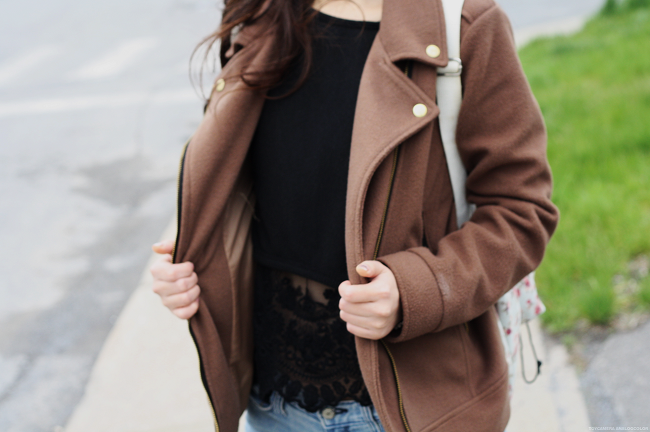 Jacket, transparent scallop hem shirt, jeans, backpack: Zipia
(everything is forever from Zipia D::::::)
Short black shirt: Ardene
Brown, orange and yellow aren't my colors (my skin is too yellow), however Zipia modelled this jacket in a beige-y color so that's why I bought it : C It's much darker in real life but albeit still a very nice jacket.
You might've noticed that the bottom part of the shirt is transparent : P HIHIHI, that's because I layered a transparent tank under a dip-hemmed crop shirt. Since they're both black, it blends together with the bottom part giving off a subtle sexy look : P (Don't worry, I'm not an exhibitionist :P)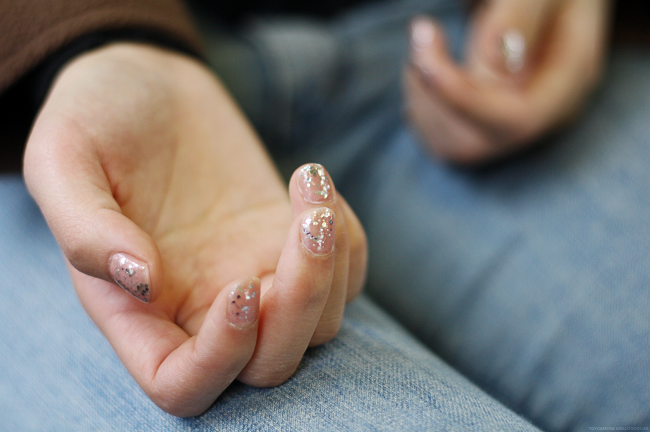 CROTCH SHOT! JKZ, it's a nail shot : 3
I went to Niv's house yesterday and we had deep convos while I painted my nails with her GIGANTIC nailpolish collection! These sparkles are so much fun and made my mood much better : >
Sorry for a rather boring post, I will come up with a funner one next time : D
-PANDA OUT-