Even though it is summer, it hasn't been very easy to get a hold of our friends because they're all very busy either with school, internship or travelling : X Get-togethers with friends are always celebrated around food BWUAHA! Korean cuisine is always a good choice because everyone loves korean food no? : ) We decided to go to the 5000 ans on St-Denis. The exterior attracted me : D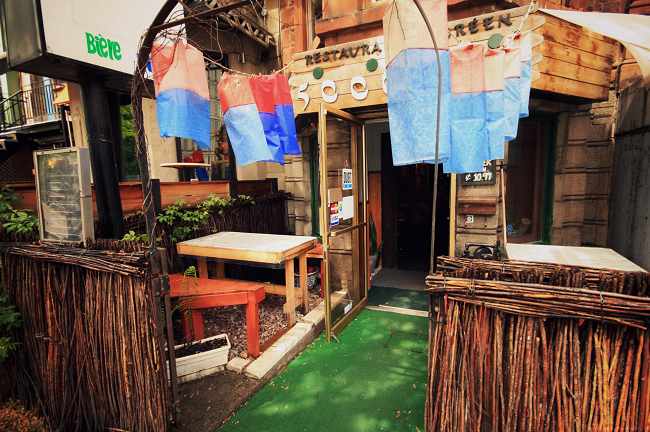 5000 ans, 3441 Rue St-Denis

There are actually multiple 5000 ans', I didn't even know : P I only ever went to the one on St-Catherine. However, I like this one better because the service was really good and the price is mid-range! The ahjumma was nice and cute C: Furthermore, the interior of the place reminded me of a BBQ place my dad and I went to when we were in Korea 2 years ago : D Ahhh twas a fun time!


Their miso soup was REALLY delicious! I like how they served pickled lotus roots : } No other Korean restaurant I went to served lotus roots *jumps of excitement*!
Niv ordered a bibimbap, Lily ordered kimchi jigae and I ordered the kimchi pancake. My pancake was quite fatty so it filled me up easily. Niv's bibimbap was REALLY good! Lily's kimchi jigae was a bit too spicy and pasty but we all got fairly big portions.
I liked the wall, it was filled with Korean characters!
-sigh- I revealed my face yet again D; (attempt to be mysterious: failure)
5000 ans opens for lunch (11:30am-2pm), closes and then opens once again for supper time (5pm-iunno).
After eating, we were heading downtown to chill some more but came across Manga The by chance. The concept of this tea shop is, you buy teapots and enjoy reading from their big manga selection. You can buy the manga if you'd like and if you buy 3, they give you a free pot of tea : D I really didn't know Montreal had places like this!
(Though it doesn't surprise me since we have annual otaku-thon events)
We tried their traditional tea and aromatic tea. I can't remember the names because I went to the bathroom while the girls ordered. One of them was lychee flavored and it was SOOOOO GOOD! I couldn't stop drinking and pee-ing hihihi (: D)~~~~ *peeing*
Manga Thé
2011 Saint-Denis, Montréal
I've always been an avid manga reader : P I can't remember the ones I've read 'cause I've read too many (mostly Shojo). I even wanted to be a mangaka when I was a ditzy teenager (now I'm a ditzy young adult) : P -sigh- I also drew a manga for a boy as a love confession (naturally I got rejected =D WEEEHEEEE)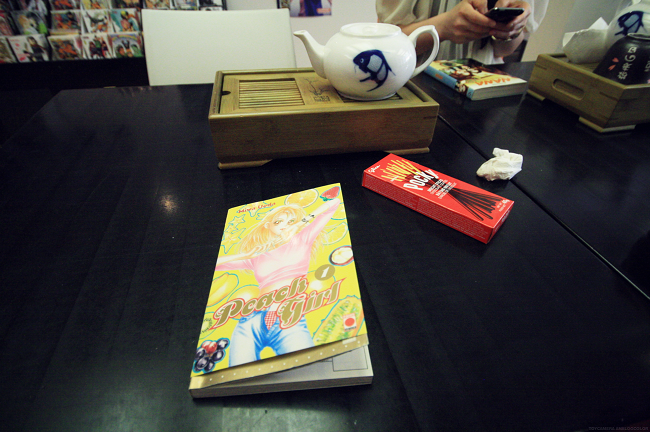 It was so chill! They also had snacks : 3 Definitely gonna come back here >:D
Top: Forever21
Jeans: Zipia
This is what I wore today (+ a thin jacket). I LOVE PEPLUM! I think it's one of the best trends this year (well it has been trendy for the past few seasons already). So far, I've only seen one person wear something peplum : P I just think it's very flattering because it cinches at the waist therefore creating a nice figure : )
I found this lil number at Forever21 last week for 17,xx$ It was a size medium a bit baggy on me but I really liked it so I bought it anyways : P Usually I'm not too crazy about Forever21 because I find their quality to be disappointing but occasionally they do have some gems :> HIHIHI~
Close-up on my accessory, I'm reallyyyyy not a big accessory person (I always wanted to incorporate them but in the end I buy more clothes ~__~). Monkey bought me this necklace, well it was more like: I bought it for myself and he said that if he pays for my ice cream, I'll give him credits for the necklace : P Monkey calls me strawberry-nosed panda (I have a pimply nose with big pores & lotsa blackheads ;[ ), ain't that romantic?
I'm having lotsa fun discovering all these places in Montreal, hope you guys enjoy reading about it too (even if you aren't from here)~
-STRAWBERRY-NOSED PANDA OUT-