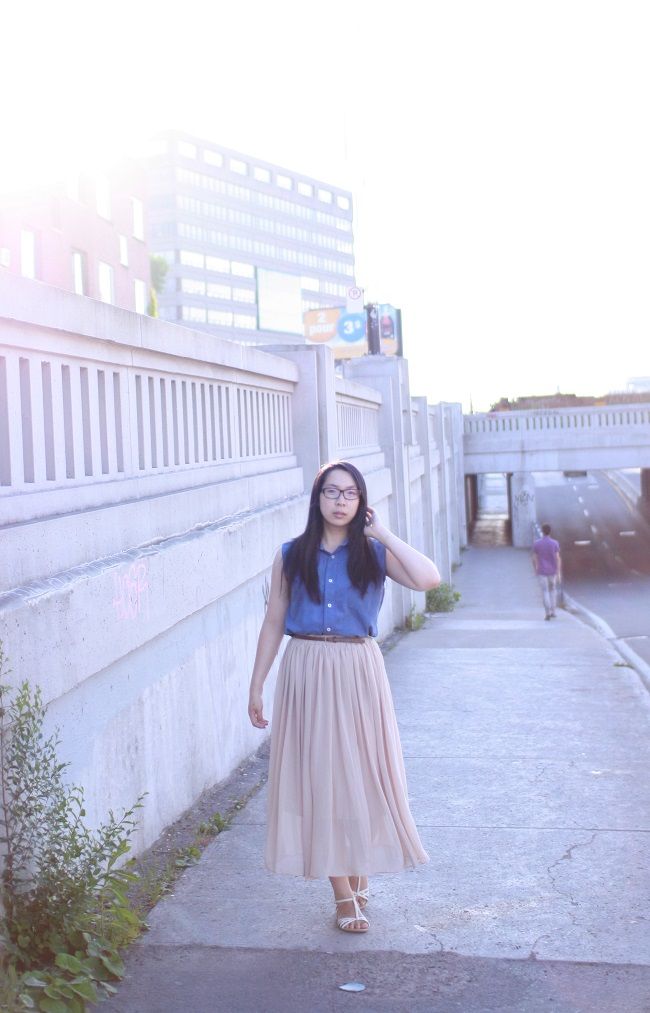 After Jean-Talon market, Adrienne and I walked heaps to find an ideal location for OOTD-taking (aka somewhere with no spectators). The sun was setting so the light was perfectly diffused!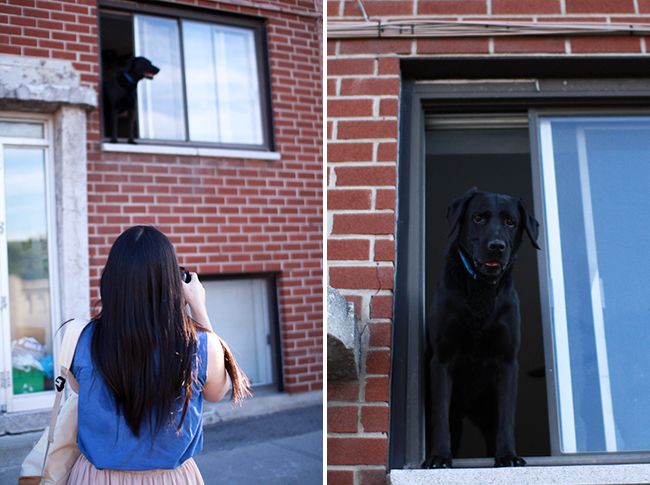 The only spectator turns out to be this dog. He literally looked like he wanted to jump out of the window and straight into Adrienne's arms. Adrienne is a big dog lover so she probably would've ran away with the dog XP *I kid, she's no thief*!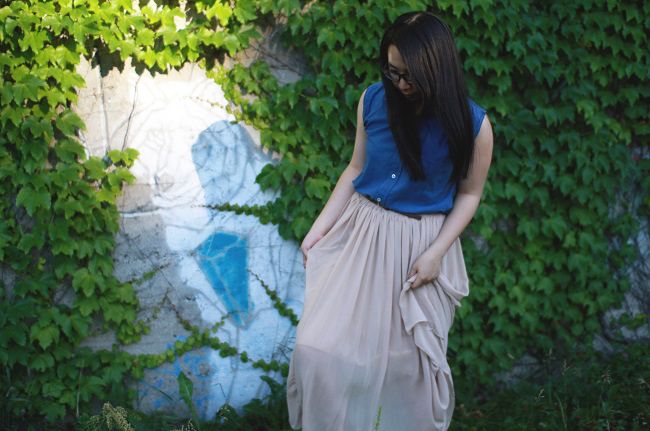 Just like the wolf art in the background, Montreal is a city with hidden elements of beauty everywhere.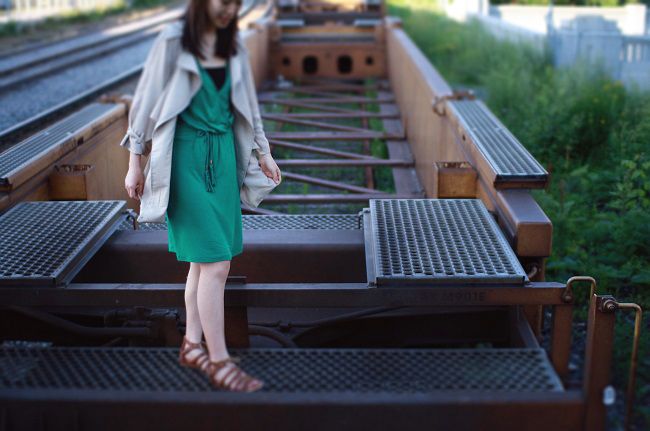 There was a stationary train so Adrienne and I decided to be daredevils and climb on top of it!
Dress: Mango (2 years ago)
Jacket: Zipia (2 years ago)
Not the most interesting OOTD. The weather is crazily hot nowadays (but at night, it's always chilly) so dressing for work can be quite a headache. I'm one of those people that sweat buckets after staying in the sun for 0.1 second *sadly*.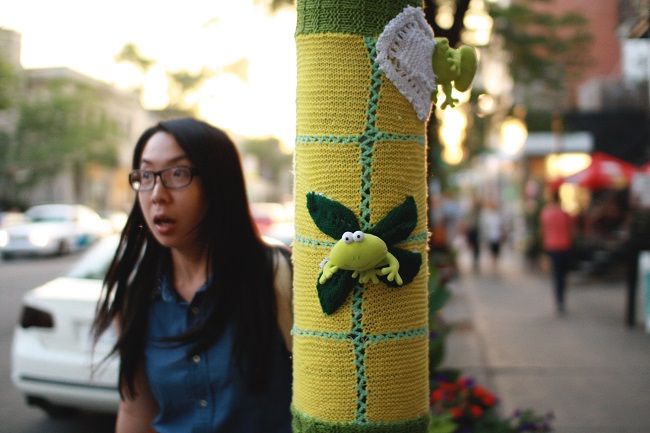 Althought it is summer to us humans, it doesn't seem like it for poles. All the poles on St-Denis street were knitted, the one above is my absolute favorite because of the frogs!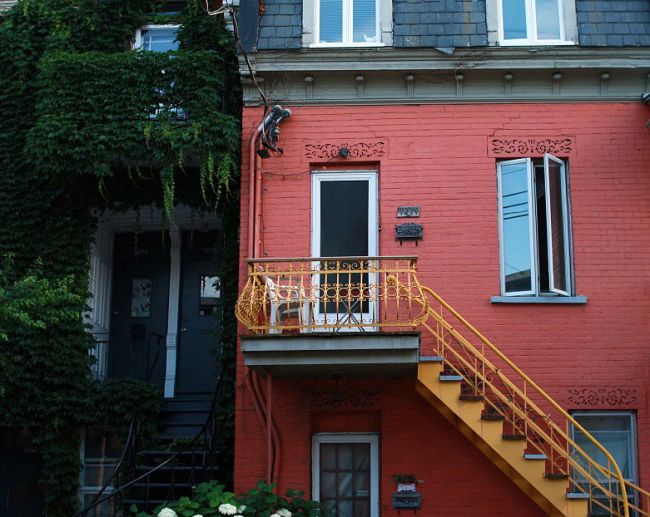 Spotting some colorful houses in the plateau area. There was a cute boy with a Captain America shield on a balcony. He was so cute : ) It's good to be a kid!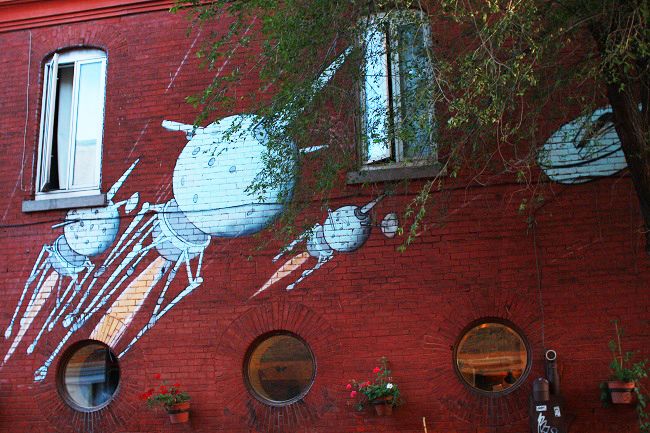 Cute round windows : ) I really want to have round windows in my future house! And some wall art too >:-D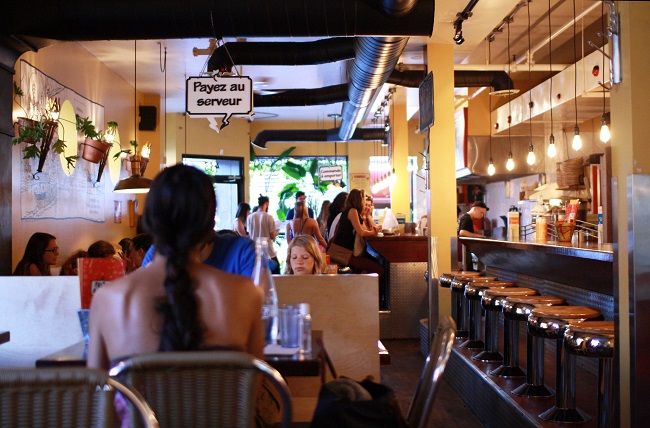 Getting some good ol' greasy comfort food at Frites Alors! after a long walk. I'm not a big fan of burgers or pizzas because they're so heavy but I love my heavy french fries! Potatoes are a god-sent gift!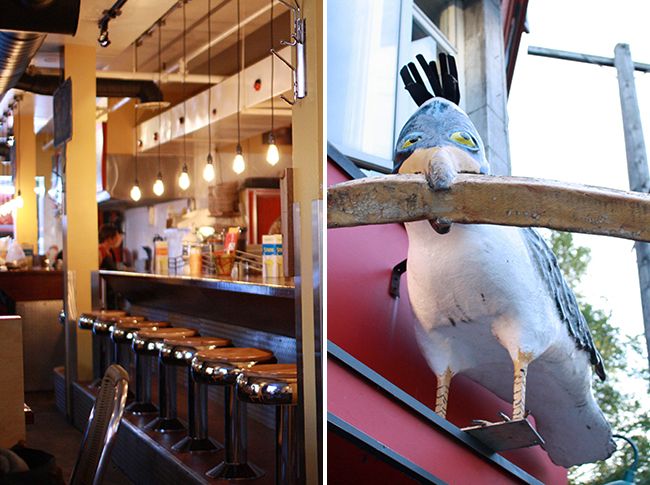 Adrienne and I shared a smoked meat poutine, it was delicious so we devoured it before taking pictures. I am starving right now so I'm glad that I have no pictures of food to post haha!
Currently, there are tons of circus performances all over town. We were lucky to catch an acrobatic act while walking downtown. The acrobats were really attractive so it made their act even more interesting huehue! Two guys whole holding onto a semi-thick pole and the girl would jump and flip in the air and land gracefully back on the pole!
There was a big motorcycle gang parked in front of an icecream shop, I thought that was kinda cute : )
Lately, I've been getting quite exhausted from work. Last week, I worked 7 days (60 hours) so I cannot wait for Sunday, my only day off. SOOOO TIREDDD but I'm almost done with my internship! Gotta keep persevering!