I was waiting for school to end so that I can blogsplode *Lily's term* but things aren't picking up as fast as I predicted. This summer, I'm doing a full time internship at a food company and although I thought I would be able to juggle blogging, social life and internship, I feel a bit overwhelmed ~___~ I wake up at 5:15am every morning and I sleep at 9-9:30pm every night to avoid being tired at work. I also work 11 hours on saturdays BUUUUT I'd rather be super busy than super bored doing nothing at home :P

My friend Lumama is going to Iceland for 2 weeks and I'm lending my DSLR to her so I don't know if I'll be able to post much in the next 2 weeks : O Before I disappear off the blogosphere, I will show you some pictures taken on Sunday:
This sunday, I went to a BBQ with my friends. The weather is permanently beautiful now! We totally skipped spring and went straight from winter to summer! Bummer because I wanted to layer spring outfits!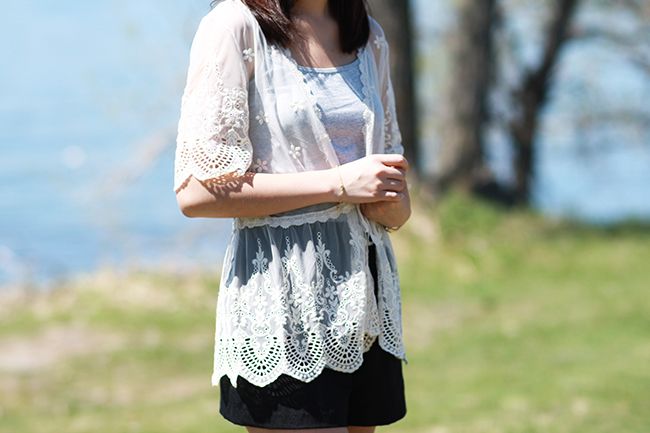 Lace cardigan: Forever21 *newwwww! first-purchase-since-forever!*
Black shorts: Korea (3 years ago)
I asked Monkey to take some OOTD pictures for me because I wanted to show the new lace cardigan I bought from Forever 21 :-P I am done with my 15/30 challenge and while walking around looking for office appropriate pants, I wandered into F21 and this cardigan grabbed my attention.
I have a love affair with lace and flower prints. They pretty much dominate my wardrobe :-P I actually have a skirt that's super similar to this cardigan which I promise I won't wear together bwuehehe!
I've wanted oxford shoes for AGEEEESS but I don't know why I never bought any...
Maybe because I thought they would hurt my feet, and indeed these hurt my feet >: P
They were on sale at Zara during winter so I snatched them up ASAP without trying it properly ~___~ There's something about that red tag that makes me really excited!
And finally, I wanted to conclude this brief post with Lenapanda's definition of a perfect summer dress! *I spazzed about this dress to all my friends so I feel like I need to spazz about it on my blog too!*
In the past, I used to like all kinds of dresses but now I like dresses that are nicely fitted! Dresses that accentuate a girl's curvature! This Topshop dress is demure and lady-like, I just love it! Too bad it's sold out : c booohoooo! I'm LOVING Topshop these days! I want to have all their stock >O<
It's time for me to hop into bed now ~___~ *so early bwuah* I want to post more OOTD's but my office clothes are really plain =P (office clothing isn't my style so I'm having a hard time picking what to wear... plus I can't wear skirts D: GAK SO LIMITED!) Perhaps once I get the hang of "restricted" office style, I shall compile some pictures :-)