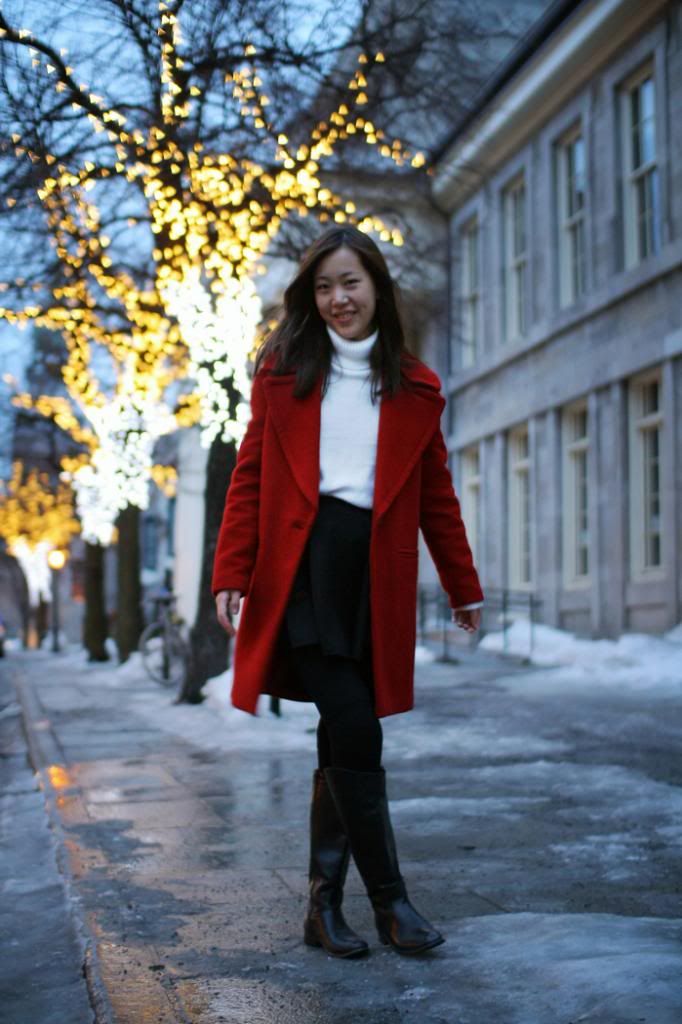 (I apologize for the blurriness of these photos, my sigma lens is quite soft at wide apertures)
These photos were taken a couple of weeks ago, when it was surprisingly warm. Hmmm warm days in winter are like appetizers, it builds your anticipation for the main course (in our case, that would be spring). Anyways... I've been looking for a brightly colored coat to contrast the bleak landscape so I got this Zara coat for 40$ in the sales rack. I love the giant lapels and the over sized fit! I saved this look so that I could post it on Lunar New Year's day hehehe~~~ Everything's gotta have a concept remember?
I really enjoy simple looks like these. Just throw on a sweater, a skirt with a statement jacket and you're ready to head out the door!
Coat and turtleneck sweater: Zara
Skirt: Japan
Boots: random closed boutique
This is a random and creepy poster Lily and I spotted a couple of weeks ago and since it's red, I thought I should throw it in:

I had written a lengthy post about luck but decided not to publish it because it sounded more pretentious than I had intended. Instead, I will leave you guys with a quote that I liked from the book Outliers by Malcom Gladwell: "The word luck fails to capture the work and the efforts and the imagination and the acting on opportunities that might have been hidden and not so obvious."

HAPPY LUNAR NEW YEAR! Instead of wishing you lots of luck, I wish that you can seize all the opportunities that come your way this year and turn them into fortune : )